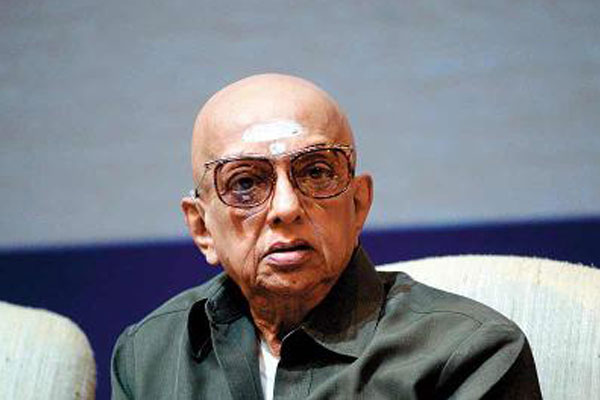 Cho Ramaswamy
Political satirist and founder editor of Thuglak magazine, Srinivasa Iyer Ramaswamy popularly known as Cho Ramaswamy passed away due to cardiac arrest in a Chennai hospital early this morning. He was 82 years old. He was an advisor to former Tamilnadu Chief Minister J Jayalalithaa. Cho is survived by his wife Soundara Ramaswamy, son Rajivakshan alias Sriram and daughter Sindhu.
Srinivasa Iyer Ramaswamy, popularly known as Cho Ramaswamy born on October 5, 1934, into a family of lawyers — his grandfather Arunachala Iyer, his father Srinivasa Iyer and uncle Matrhubootham were well-known lawyers — Cho also took up the legal profession with some success. For some time, he was also a legal advisor to the TTK group, before plunging fully into theatre. Later, he ventured into films and finally made his mark as a journalist by launching his own magazine.
He was admitted to Apollo Hospitals on November 29 for chronic obstructive pulmonary disorder (COPD). He was moved to the intensive care unit when his condition worsened. "He was watching the news and Jayalalalithaa funeral procession until Tuesday afternoon. His condition deteriorated and he was put on a ventilator," said a treating doctor. He died at 4am. Doctors said his chronic lung condition had been worsening for more than a year now.
His body has been taken to his house in MRC Nagar and the funeral has been scheduled for Wednesday. During his college days, he was a member of an amateur theatre troupe, where he befriended young Jayalalithaa who used to accompany her mother Sandhya for rehearsals. He had practised law in Madras high court for six years before joining TTK Group as its legal adviser for several years.
Even before he entered journalism, his work in the popular theatre was laced with political and social criticism. Winner of the B.D. Goenka award for excellence in journalism, he was nominated to Rajya Sabha by the BJP government led by A.B. Vajpayee.