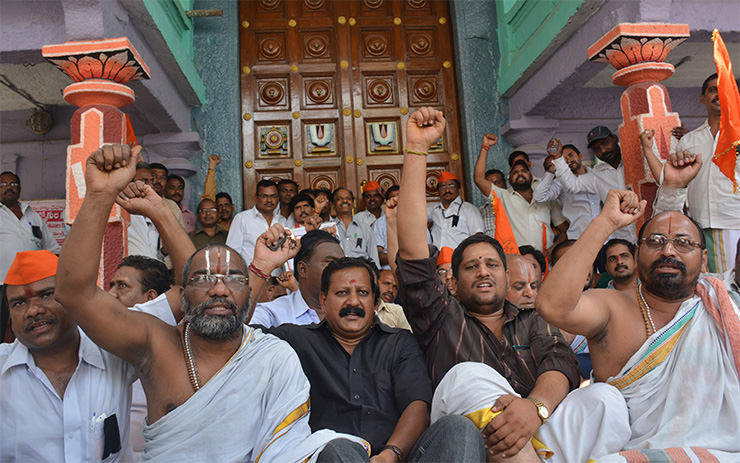 The priests of Telangana temples, who have been off the service of the Gods in the state, threatened to commit suicide in case their demands are not met in the next one or two days. On Sunday, Balkampet Yellamma temple  became centre of priests rally. Two priests even  climbed vimanam of the temple to threaten to take a suicide-plunge. Others stopped them from taking the extreme step.
Today, Congress also joined the movement of priests which reached seventh day on Sunday. On behalf of the party  Congress party former MLA Marri Sashidhar  Reddy and  chief spokesperson Dr Sravan Dasoju participated in the dharna along with party workers. Marri assured the priests that he would get the issue  raised  in the ensuing  session of Telangana Assembly. He criticized the government's indifference to the hardships the priests were facing with their meagre remuneration. " Congress supports the demands of priests which are genuine," he added.
The priests are demanding that their government should pay salaries through treasuries. Instead of addressing the issue, the endowments department  has warned them of sacking  if they don't join the temple duties from Sunday.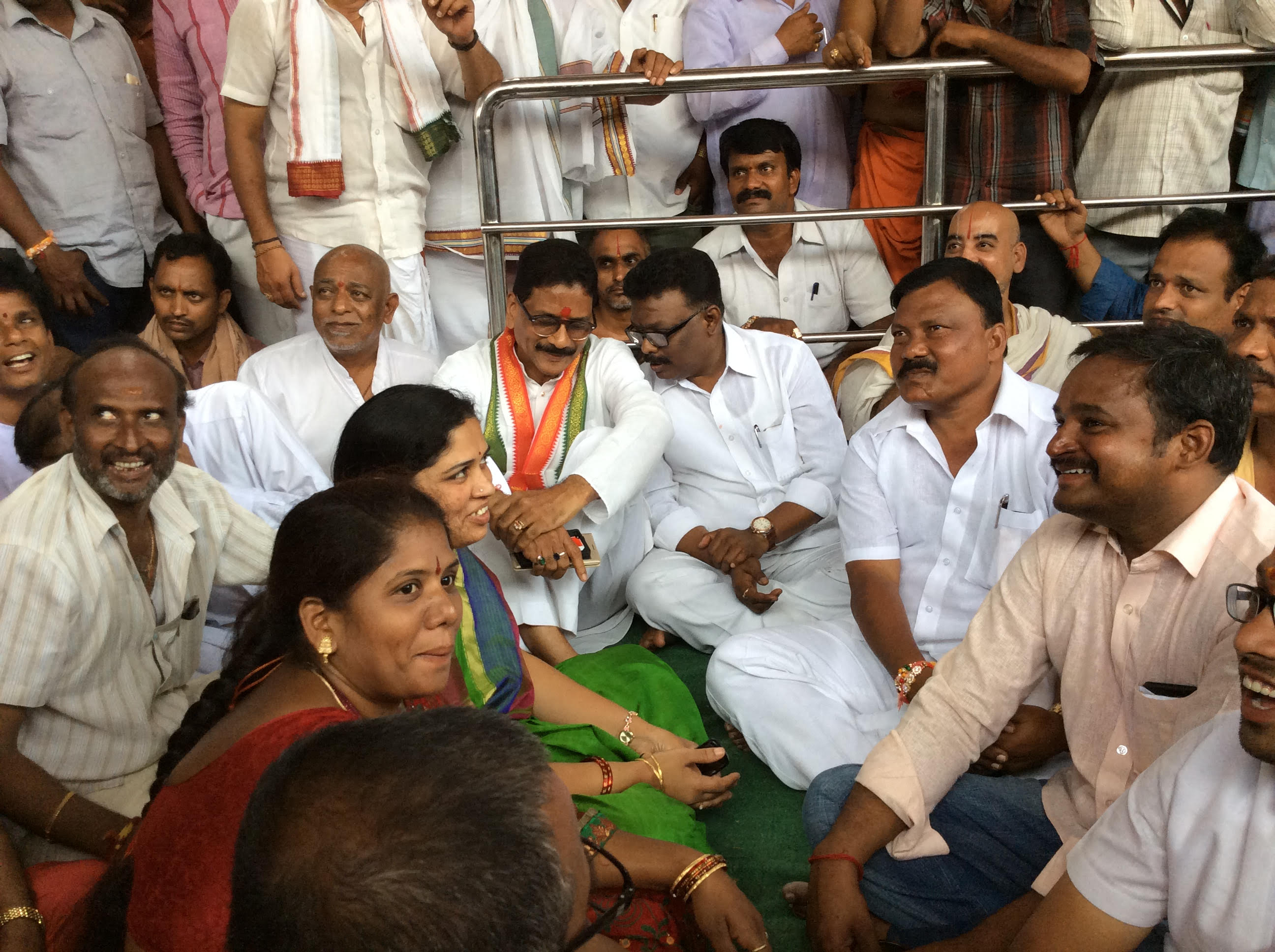 Talking at the dharna site, Dr Sravan Dasoju deplored the government's apathy towards priests, who also actively participated in the Telangana movement by setting up their own Joint Action Committee.  "The priests also hoped then that they would have some decent life and salaries in separate Telangana state. But unfortunately, T-government  has not even called the priests for talks," he said.
Recalling  chief minister K Chandrasekhar Rao's speech in Nirmal town before elections, Dr Dasoju said KCR promised to resolve all issues of  priests.
" What is unfortunate is that TS government is not taking cognizance any issue unless there is fierce agiation. The government, which is diverting the revenue of temples to treasury, is refusing to give  salaries from the same treasury. These priests are, in fact,  are responsible for the revenue,"  he said.
"Osmania General hospital demolition stopped after revolt from people. Osmania university lands take- over stopped after a wave of protest. Secretariat shifting cancelled after protests. Students are protesting delay in job recruitment. Now women are protesting introduction of cheap liquor. Priests are fighting for decent wages, farmers protesting scrapping of irrigation project. The entire Telangana is burning under TRS rule," Dr Dasoju said, advising TS chief minister not to take light of priests ire. " They are in the service of God. If they are made to suffer, you would have to pay wages for it, " he warned. Pointing to the bad governance in the state, the Congress chief spokesperson said  that  for 15 months endowments department had been functioning without commissioner.
For the past six days services by the priest have come to a grinding halt in Telangana temples under the control of endowments department.