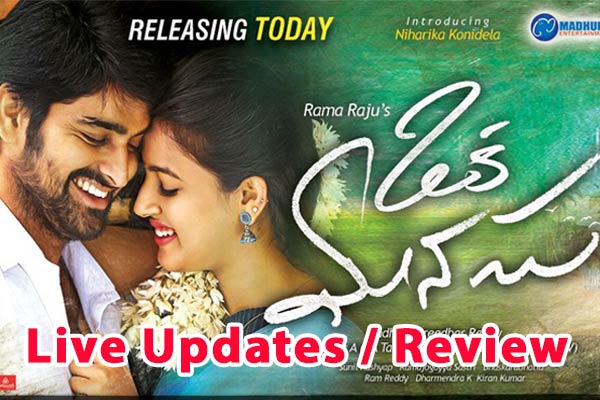 Oka Manasu Movie Review
Konidela Niharika's debut film Oka Manasu alongside Naga Shourya is gearing up for a grand release today. After a bunch of male actors from the illustrious Mega family made their entry into Tollywood, it is now time for a Mega heroine to entertain the audience with her acting capabilities on the silver screen.
Directed by Ramaraju, Oka Manasu, is a production venture by Madhura Sreedhar and TV9.All eyes are on the young starlet and the verdict will surely be a game changer for her career. Let's see how well Niharika did in her debut.
Story:
Set in Vizianagaram, Oka Manasu is a love story between a two young professionals, a doctor (Niharika as Sandhya) and a politician (Naga Shourya as Surya). Rao Ramesh, who plays the role of Surya's father, is a small time politician with an ambition to have his son succeed as an MLA. Surya is a loving, obedient son who commits to making father's dream come true. He leads the life of a typical Telugu movie politician – negotiating settlements for money and instill fear in the people. Sandhya expresses her concerns regarding Surya's risky life, but is in madly love with him. During a settlement, Surya kidnaps a relative of the Home Minister's and a Dalit associate. This earns Surya jail time under the SC ST atrocity act. After he gets a temporary bail, Surya returns home and live together with Sandhya.
At this point, Surya is faced with the tough challenge to choose between Sandhya and his father. What led to this? What is Surya's decision? How do Sandhya and his father react to this?  is the rest of the story.
Analysis :
A clean and matured love story, Oka Manasu runs on a  concept very different from your run of the mill love stories. However, the narration is extremely (read painfully) slow. In addition to the slow narration, Director Ramaraju can also be attributed with presenting each frame as a piece of art – soulless piece of art. The beauty of Vizag and Araku is well captured by the cameraman.
Given fact that 90% of the movie is conversation between the lead pair, the dialogues should have been more effective to make the scenes engaging. But, that's not the case. Dry and ineffective dialogues lend to the negative aspect of the movie. The first half is pathetically slow, things get a little better halfway into the second half (this is where Surya makes his decision). The movie gets better from here on, ending with a heart touching climax.
The father – son thread between Surya and his father  is well executed. The love track is superficial for most of the movie, gains a bit of substance towards the end at which point it is too late to salvage the movie.
Shourya is perfect for the role as an obedient son and an adoring lover. Debutante Niharika has done a good job.
Actress Pragathi who played the role of Niharika's mom in the movie need special mention. Her over action, extremely bad diction in a couple of scenes is just horrendous. Her future directors should make sure they keep her in check without going overboard.
Complete lack of entertainment quotient in the movie with just a single comedy scene for Vennela Kishore. Avasarala Srinivas played regular character – not a comedy one. Rao Ramesh excelled as usual.
Songs :
With soothing melodious music, Sunil Kashyap can be called the off screen hero. Coupled with Rama Jogayya Sastry's good lyrics and arresting visuals, the songs are a good asset for the movie. However, we really wish that the director had used the songs with no interruption. Going the route of montage sequencing, he split the songs injecting scenes in between. 'Ninna Lenantha' , 'O Manasa' , 'Chirugaali aagipove' songs stand out.
Positives :
— Clean and a mature love story
— Well established father-son thread
— Sandhya's unconditional love
— Poetic visuals
— Nice pre-climax and climax
— Soothing music
Negatives :
— Extremely slow narration
— Sluggish first half
— Ineffective dialogues
— Way too many conversational scenes between the lead pair – none making an impact
Verdict :
Made with good intentions Oka Manasu may earn some critical acclaim for the producers, TV9 and Madhura Sreedhar, as well as for the director Ramaraju. It's possible it could start with not so favorable talk, but with good promotions it could attract the family audience to a certain extent. Slow non substantial first half and a slightly engaging second half, make the Box Office prospects for Oka Manasu bleak.
Telugu360.com Rating 2.25/5