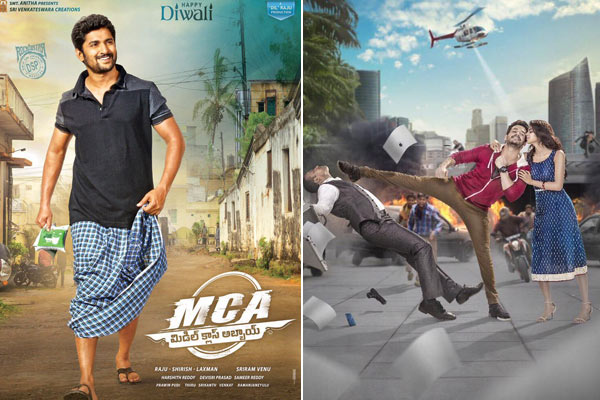 MCA and Hello first weekend Overseas
After keeping trade circles in a state of dullness for nearly three months, Telugu films have finally made some talking at the overseas box office with the release of MCA and Hello. Both these films, which released in successive days, opened on a promising note with strong numbers from premiers day.
By the end of the first weekend, both films posted impressive figures despite slightly slowing down after the strong start. While MCA zoomed past $ 700K, Akhil's Hello surpassed the $ 600 K by the end of Sunday.
MCA took off to a terrific start with career best openings for Nani with just over $ 300K from Wednesday premiers. The family entertainer then consistently collected $ 120K, 110K and $ 110K on the next three days. The lack of shows on Sunday night due to Christmas eve has slightly impacted the figures but the film managed to zoom past the $ 700K mark with ease. This is a very good run considering the talk the film garnered after the Wednesday premiers.
Akhil's Hello also performed on par with the expectations in its opening weekend. The romantic drama, which became Akhil's career best in overseas with just the premiers day figures ( $ 214K), collected decent numbers on the next three days to take the total past $ 600K by the end of Sunday. On Friday and Saturday, the film notched up $152K and $ 148K and touched the half million mark in style. On Sunday, the film might end up collecting close to $ 100K. It might be touch and go for the film to enter the million dollar club.
US BO at 10:00 PM EST. #Hello – $81k from 122 centers. Hits $600k 👍👍 @AkhilAkkineni8 #MCA – $65k from 95 centers. Hits $700k…👌👌@NameisNani #TigerZindaHai   – $480k from 272 centers.

— Telugu360 (@Telugu360) December 25, 2017