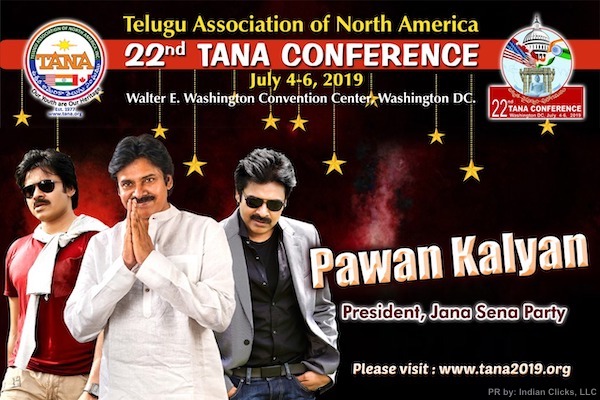 The Telugu Association of North America (TANA) is making all arrangements for holding its conference in Washington DC from July 4 to 6. The Walter-E-Convention Center in Washington DC is getting spruced up for America's biggest Telugu Carnival.
Telugu Association of North America (TANA) is holding its conference every two years in a grand manner. The conference committee led by TANA President Satish Vemana is striving hard to make the event a great success and a memorable one. Telugus from all over the world will attend the prestigious event.
On this happy occasion, TANA President Satish Vemana has invited Power Star Pavan Kalyan to attend the conference as a special guest.
Pavan Kalyan: His vision is powerful. his speech is powerful. His thoughts are powerful. His patriotism is unparalleled. Hence he is justifiably called Power Star by the film industry and fans all over the world.
Pavan Kalyan entered the film industry with the illustrious guidance of his brother and mega star Chiranjeevi. Now he has created an image for himself, making his brother proud and happy.
On seeing Pavan Kalyan on the big screen, fans go berserk. They wait for years together for his film. The fans and industry worship Pavanism. There is respect for women in his movies. In his films like Tammudu, Johny, Kushi, Jalsa, Annavaram, Attarintiki Daredi, Katamarayudu, he gave a message that he won't tolerate attacks on women. That's why Pavan has female fans equal to male fans.
In Telugu film industry, there are fans for many actors. But only Pavan Kalyan has devotees. They worship him as a God.
Pavan Kalyan is credited with conveying social message through his films. To establish values and to reform politics, he has set up Jana Sena Party. He has become the voice of people. His journey has begun with a small step. It has moved lakhs of army men. He is set to be a trendsetter in politics in the near future.
Even a long journey begins with a small step. Not only the aim, the path should also be great, said Mahatma Gandhi. Pavan Kalyan is following this principle to the core. TANA wishes him every success in his endeavour.
TANA extends a hearty welcome to Pavan Kalyan attending the TANA conference.
For more details please visit www.TANA2019.org.
Press release by: Indian Clicks, LLC