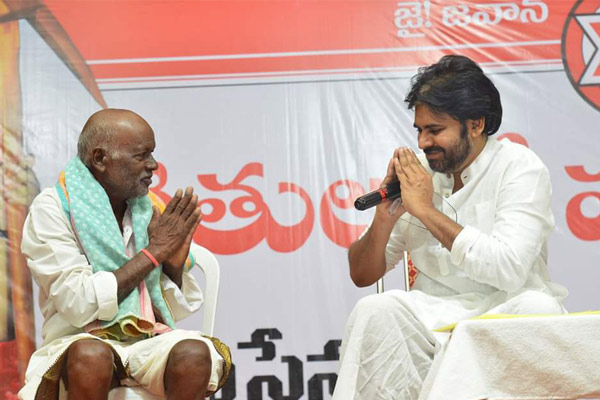 Jana Senani Pawan Kalyan has interacted with farmers extensively on their problems especially in the context of pollution from oil explorations in Konaseema area. His face to face with ryots at Amalapuram has grabbed wide attention as he launched a scathing attack on the oil companies that are involved in exploitation of natural resources. He deplored what once was like tender coconut water now turned into polluted, waste water in lush green Konaseema.
Pawan assured the farmers to call Reliance Ambani to Andhra to discuss their pressing issues once Jana Sena comes to power in the state. He said Jana Sena will not sell itself to industrialists and businessmen like other parties as their party would force them to create jobs and conform to environmental standards. Farmers and agricultural workers arrived in large numbers and narrated their woes to the Jana Senani.
Ever since oil exploration began in paddy-rich Konaseema, the farmers there have raised constant concerns over its fallout especially in the form of pollution of ground water and due to laying of pipelines through the farm fields. Pawan has taken up the issue with greater focus because of the fact that his party has been getting good response in the Godavari districts.
Pawan told farmers during the YSR regime, they had encroached and plundered large tracts of farmers' lands in the name of special economic zones (SEZs) and the TDP government has shown interest in campaigning for building Singapore-like city leaving farmers' issues aside. Jana Senani assured farmers of his party's accountability and responsibility towards making industrialists fulfill their promises to the people.