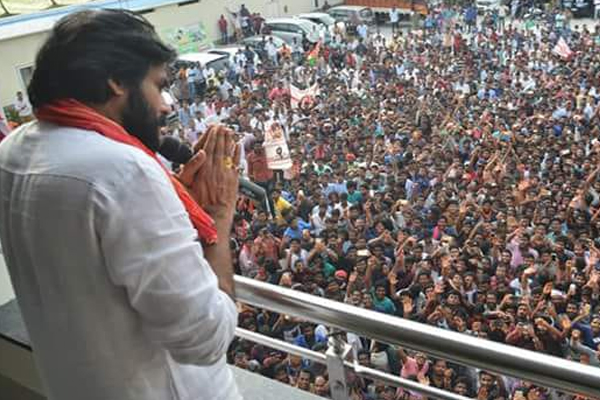 Pawan Kalyan is all set to start his West Godavari tour today. Since last two days Pawan Kalyan has been meeting several people at Bhimavaram. Students , lawyers, doctors fans Muslim representatives were among those who met him.
While speaking to all of them, he fired salvos on Jagan and Lokesh. He criticized Lokesh as he said, the one who became Minister back door wants to become Chief Minister. He also criticized Jagan as he said the one who has been in jail for so long wants to become Chief Minister. He questioned, don't we have better alternatives. He didn't spare Chandrababu also as he commented that, "Chandrababu always says that he will build Singapore like capital but he never promises he will provide Singapore like transparent ruling. He also added that if Lokesh or Jagan get a chance to make laws, we can easily imagine what the plight of those laws will be. Because both of them will first think, whether the law they are making will help them personally or not. He also made a satirical comment that if Jagan becomes Chief Minister he might go for a law to abolish all courts as he doesn't like courts.
He has been meeting various groups throughout the day yesterday. janasena public meeting will be around 4 o'clock this evening and on Kalyan is also planning for one day Diksha in support of Aqua farmers tomorrow.