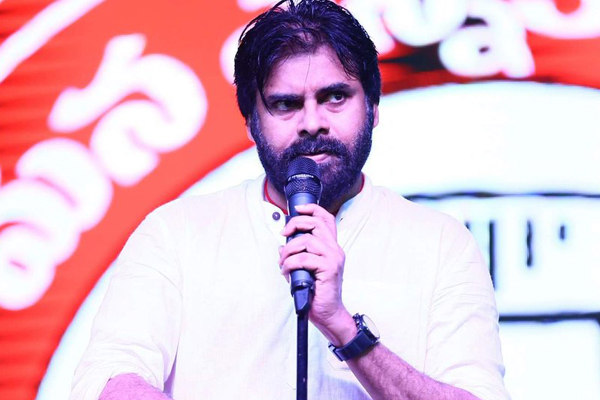 Pawan Kalyan today condemned the allegations of YSRCP and TDP through this social media account. It is known news that recently Sakshi published a story that Janasena is all set to have an alliance with TDP in 2019 elections and as part of the deal, Janasena will be given 25 MLA seats and 3 MP seats. However, many people did not believe the story given by Sakshi given its credentials on political news. But some people were expecting Pawan Kalyan to condemn the news. Pawan Kalyan in a series of tweets lambasted both TDP and Ysrcp for their false allegations on Janasena.
TDP and YSRCP joining hands to damaged reputation of Janasena:
Pawan Kalyan tweeted that, " TDP says JSP is a partner to YCP and BJP; Now YCP says JSP is a partner to TDP. When I meet Sri KCR in Rajbhavan TDP says I am with YCP & TRS. When you truly work for people you have to face the music from all sides." He also added that both TDP and ysrcp together trying to damage the reputation of Janasena party. He tweeted, " One senior Political observer told me that, both 'TDP & YCP joined hands to damage the reputation of JSP by constantly planting stories."
I don't have paper and TV:
He also expressed he doesn't have the might of media as he doesn't have his own channel and paper. He tweeted,
"I wish I could have my paper and TV channel to fight back." He added that his fans and cadre of his party are his channels. He tweeted, "But I am inspired by the path of Late 'Sri Kanshi Ram' establishing BSP without any channel and newspaper. My Janasainiks are my channels and newspapers."
They want me to support them but not be independent:
Even though TDP and YSRCP do not officially agree that they are desperate to have an alliance with Janasena, it is very well known news that both the parties have tried hard to woo Pawan Kalyan on their side. In fact Pawan Kalyan himself told that YSR CP is trying hard to have aliens with them through TRS party leadership. now he told that both the parties will continue to spread such false stories on Janasena until elections. He tweeted, "I want people to prepare for more stories as the election dates come nearer."
he added that they don't want Janasena to be an independent party but to support one of them. He tweeted, "For all these stories to stop 'what they expect me to do is to support these parties but not be independent. Maybe I am a small pawn in the game of political chess, but established political classes should remember ' I am a soldier ' who's is willing to fight."
From tomorrow he will be touring Rayalaseema region. We will have to wait and see what kind of sharp comments he will make on YSR CP and TDP during this tour.
Telugu360 is always open for the best and bright journalists. If you are interested in full-time or freelance, email us at
Krishna@telugu360.com