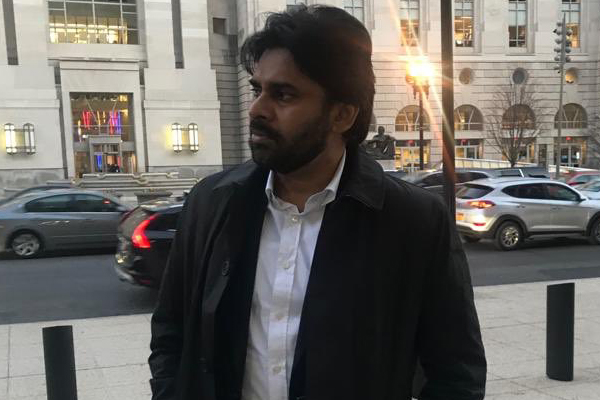 Pawan Kalyan has been in US and interacting with NRIs and various other leaders regarding the issues faced by NRIs. He has already met Ben Carson, Secretary Housing and Urban Development, interviewed by Bloomberg, a major global provider of financial news and information. Pawan Kalyan now sent a letter to PMO regarding the issues faced by NRIs and he tweeted the same letter through his twitter handle.
Pawan tweeted, "A Letter Sent to PMO on H1B issue from US after speaking to Indian Diaspora and their raising concerns about New Immigration Policy which will be effecting their families."
Pawan's letter to PMO :
Some of the salient points mentioned in Pawan Kalyan's letter to PMO are as below:
Indian Diaspora contributed healthily to American economy
Now Indian Diaspora is facing issues because of the severe policy changes being made to the US immigration and naturalization procedures.
Our freedom fighters strove for universal brotherhood despite fighting on imperialism
America attracted the Indian populace there with their grand cover of free choice and practical liberties.
Employees under the H-1B visas, their dependents, applicants of Green Card Status, Business Owners or Employers, students, spouses and children, who are working and living in the US in various capacities – all are impacted by the changes made to current US policy of immigration.
An applicant for a Green Card status in India is asked to wait for the next 150 years. These kind of policies causing distress in families
Now US government is taking measures that cause immense distress to the Indians and wi ll result in painful separation of families or disruption of their lives
Government of India needs to take an initiative as millions of Indians are suffering because of these policies
Response on Pawan's letter – positive comments:
Many NRIs are responding positively on Pawan's initiatives like meeting senators who have been vocal on immigration issues. Most of the politicians who visited earlier either came here for funds or seeking support to their parties. Some of the politicians visited US to attend cultural events. But there were not many political leaders from regional parties who spoke about issues faced by NRIs and diaspora. Most of the regional party leaders thought they don't need to talk about these issues and it is only national party leaders who need to talk on these issues.
Response on Pawan's letter – negative comments:
There are some other people who point out that – any country will first need to protect their own citizens and there is nothing wrong in 'our citizens first' policy. Also, it is not correct to speak on imperialism and all such topics while we are seeking employment in their country.
Overall:
Overall Pawan's efforts are appreciated by most of the NRIs though some of them are critical on Pawan's moves. We will have to wait and see how will be the response of NRIs for Pawan's 'Pravaasa Garjana'
A Letter Sent to PMO on H1B issue from US after speaking to Indian Diaspora and their raising concerns about New Immigration Policy which will be effecting their families. pic.twitter.com/ifYplabZMK

— Pawan Kalyan (@PawanKalyan) December 15, 2018
-ZURAN (@CriticZuran)