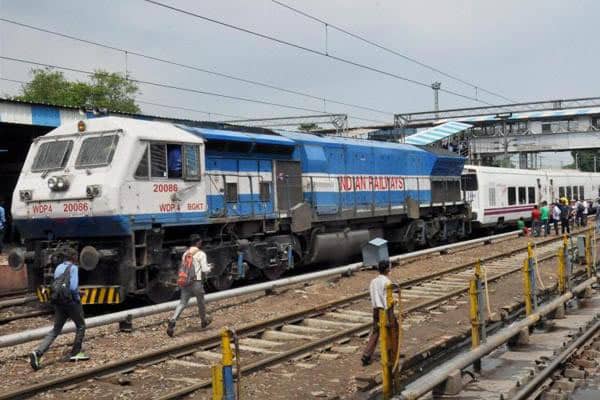 Railway authorities in Andhra Pradesh and Telangana have doubled platform ticket at some major railway stations for a week to regulate huge rush of passengers during Sankranti festival season.
South Central Railway (SCR) has enhanced the platform tickets at Secunderabad and Kacheguda stations in Hyderabad from Rs 10 to Rs 20 between January 11 and January 17.
The platform tickets at Vijayawada, Rajamahendravaram and Nellore stations in Andhra Prades have also been doubled.
Officials said they anticipate huge crowd of rail travellers as well as accompanying non-travellers during the festival season.
By enhancing the platform ticket, they hope to regulate the flow of people and avoid inconvenience to the travelling public by ensuring decongestion of platforms.
A stampede-like situation prevails at major railway stations as lakhs of people catch the trains to reach their homes for Sankranti, the harvest festival which is celebrated with pomp and gaiety in both the Telugu states.
Families hailing from various parts of Andhra Pradesh and Telangana and settled in Hyderabad and surrounding districts visit their native places to join their near and dear ones for the colourful celebrations.
The SCR has announced that it will operate 32 special trains to clear the extra rush of passengers during the season. These trains will run from Hyderabad to Kakinada Town, Kakinada Town to Secunderabad, Secunderabad to Narsapur, Hyderabad – Kochuveli – Hyderabad, Kacheguda-Bhubaneswar- Kacheguda andASecunderabad-Gudur.
Meanwhile, the road transport corporations in both the states will also be operating thousands of special buses to clear festival rush.
Andhra Pradesh State Road Transport Corporation (APSRTC) has announced that it will operate 2,500 additional buses every day. Officials said 700 of these buses would be operated from Hyderabad to ferry people visiting their homes towns in coastal Andhra and Rayalaseema regions.
As Vijayawada has become the state capital of Andhra Pradesh and a large number of people from various places in the state has settled in the region, the APSRTC will be operating daily 100 additional buses from Vijayawada and Guntur to various towns in coastal Andhra and Rayalaseema.
The Telangana State Road Transport Corporation (TSRTC) has also announced that it will operate 3,262 special buses from Hyderabad to various places in Telangana and Andhra Pradesh.
While 1,910 buses will ferry passengers from Hyderabad to various destinations in Telangana, 1,352 will be operated to different towns in Andhra Pradesh. These buses will be in addition to 3,500 regular buses.