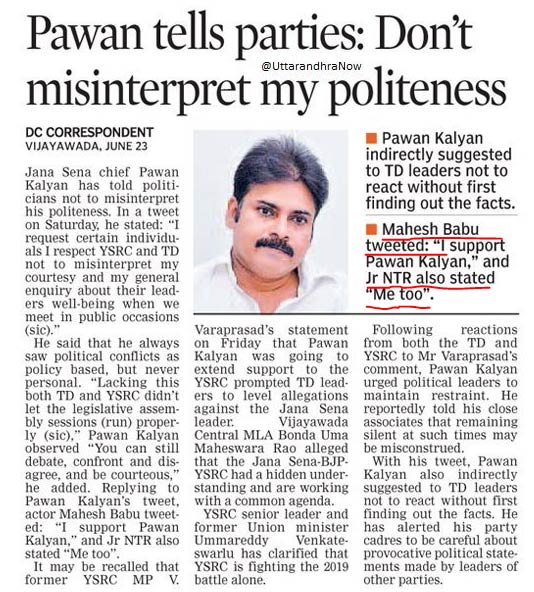 Of late, social media becoming increasingly prominent in society. Gone are days when social media used to get news from mainstream media and now mainstream media is getting news from social media. However, it seems few journalists in print media cant understand several intricacies of social media correctly.

There was an item in a leading newspaper  that, American president Trump responded in twitter to a telangana state resident after knowing that guy is a hardcore of him. Obviously Trump didn't tweet it. There are several ids with the name of Trump and said tweet did not come from official handle of Trump. But journalist from print media not able to differentiate between official and unofficial ( or fake) accounts.
Similarly, another leading English newspaper did the same mistake as they said, Mahesh Babu tweeted – "I support Pawan Kalyan" and  added Jr NTR also said, "Me too". Apparently, these two tweets did not come from official handles of Mahesh Babu or NTR but they came from fake accounts of the stars. It is shocking that these fake tweets couldn't be identified editorial desks of these newspapers
Probably many of these journos in print media might have started their careers much before the advent of social media and that could be reason for their lack of knowledge on social media. Of course there are some young as well as senior journos in print media who have deep understanding of Social media. Other journos in print media need to understand social media more deeply otherwise they can be easily misled.