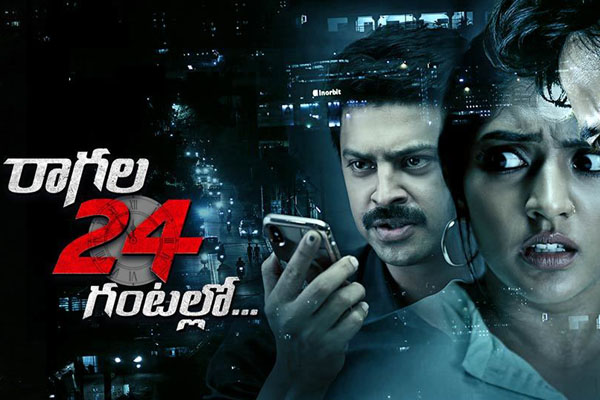 Raagala 24 Gantallo Review Rating
Telugu360 Rating 2.75/5
Eesha Rebba has been making bold statements during the promotion of 'Raagala 24 Gantallo' that has made some noise on social media. She claimed that it is her first woman-centric film. Let's find out if Eesha really made valid statements.
Story :
On a stormy night, three criminals who have escaped from jailbreak into the house of Vidya (Eesha) to hide. When they see a dead body in the house, she reveals the story that she killed her husband Rahul (Satyadev). He was a famous photographer but he behaved sadistically with her. Did she really kill him? Is she telling the truth?
Analysis :
Srinivas Reddy's 'Raagala 24 Gantallo' begins as a murder mystery. Like in the recent movie 'Evaru', it presents different versions of the same incident. Three criminals hiding in the house, a dead body tumbling out, heroine narrating the story…. a perfect gear to begin the story. But the journey becomes tedious after a while. Major flaws can be noticed. Illogical sequences and comedy portions pose a threat like speed-breakers.
The drive of the story laced with a couple of twists and turns to hook us into the story initially but it becomes pretty routine exercise towards the end. It is a generic murder mystery. Many scenes are written for the sake of the glamour show.
The final portions are quite predictable. Thankfully, the film ends quickly with a shorter runtime.
Decent technical and production values aside, it has believable performances from Esha Rebba and Satya Dev. Sriram as a police officer is okay.
Positives:
Initial portions
Eesha Rebba & Satya Dev
Negatives:
Pre-climax and climax portions
Routine narration
Verdict:
'Raagala 24 Gantallo' is presented as a murder mystery but this slow-paced thriller hardly offers thrills.
Telugu360 Rating 2.75/5