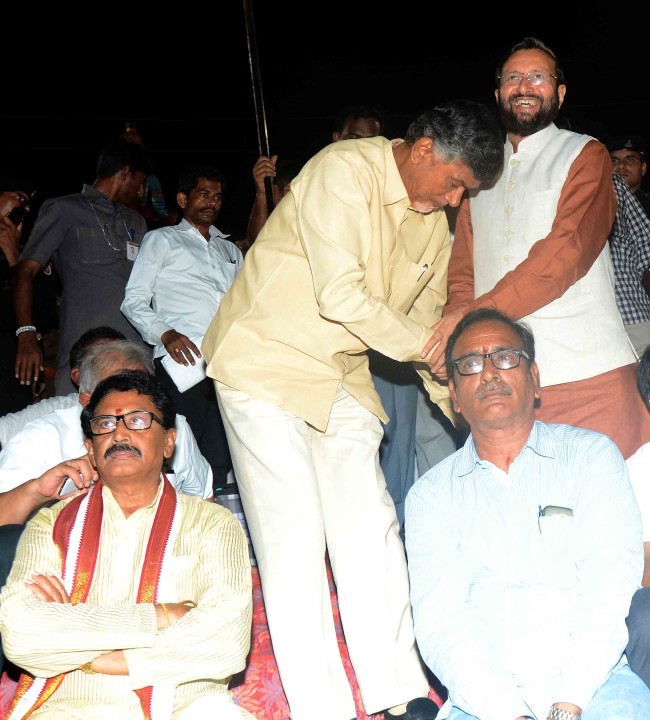 Following the stampede at Kotagummam Pushkar ghat near Rajahmundry on Tuesday, and chief minister Chandrababu Naidu wanting to personally oversee the Pushkara arrangements to avoid the repetition of such  mishap, Rajahmundry has become temporary capital of Andhra Pradesh.
As the chief minister Chandrababu Naidu  will remain there till July 25, entire administration has moved from Hyderabad to Rajahmundry. Already entire cabinet is camping in the city crisscrossing  the city in the name of overseeing the arrangements for  devotees at various ghat.
The chief minister believes that the stampede in which about 30 devotees crushed to death due to lack of proper planing and execution, he announced that he would remain in Rajaymundry till closure of the Pushkaralu.
Yesterday he made lightning visits to some pushkar ghat to see the arrangments and to interact with the devotees.
On Thursday morning, he reviewed the progress of  Polavaram and Pattiseema projects. Tomorrow he is going to Vijayawada to participate in the Iftar party hosted by Andhra Pradesh government.
Similarly, he asked the Singapore exports to come over to Rajahmundry  to present the master plan of the capital city Amaravathi.
Chief secretary IVR Krishna Rao, DGP Venkata Ramudu and other senior officials are operating from Rajahmundry.
So, Naidu is now also planning to hold the cabinet meeting  in Rajahmundry.
The previous cabinet meeting was held on July 4 and reviewd the arrangements for Pushkaras. It is said that CM reportedly expressed displeasure over tarday progress of the works in the meeting. It was in this meeting that that endowments minister Manikyal Rao reportedly told chief minister he was totally out of loop as far as the arrangement were concerned.
It is in this backdrop, Naidu once again wants to review the whole situation in the next cabinet meeting.
Of late, Naidu is holding a cabinet meetings once in fortnight. According to sources in the government, the meeting is likely on  next Tuesday or Wednesday  "The date has not been finalized yet. But, CM is planning to hold the meeting in a couple of days," sources in the government told Telugu360.com.