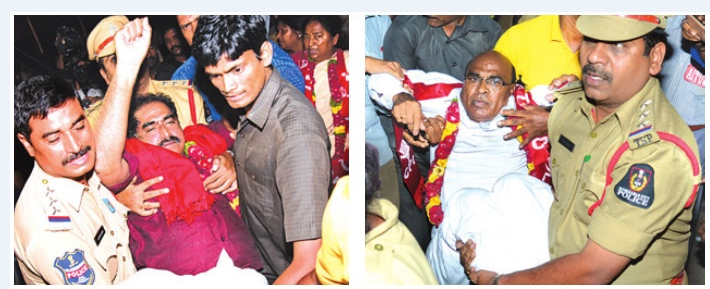 The separate Telangana state is observing first state-wide bandh on Friday in support of the striking municipal health workers. It is for the first time that  chief minister K Chandrasekhar Rao, who used bandhs and dharnas as a tool to mobilize people to achieve statehood to the region in the past  10 years. He lent legitimacy to bandhs in politics. Not a day passed without either a dhana or bandh being obsered somewhere by some organization in the state during emotive days of T-agitation. His followers were hit by police lathis and faced arrests. Now the same is happening even after the achievement of statehood, albeit in reverse order. TRS is now at the helm of affairs unleashing the police force to suppress the movement of municipal  sanitary workers. Incidentally, the ruling party was the first political outfit to call for a bandh in Mahabubnagar district last week in support of Palamuru irrigation project.
These workers have been on strike for two weeks demanding a hike in the salaries.
The bandh call is given by all Left parties in the state protesting the police highhandedness on the leaders of these parties yesterday.
T-Police attacked the protest camp and dispersed the workers, and  arrested  the senior leaders. Among those arrested were Tammineni Virabhadram (CPM), Chada Venkata Reddy (CPI) T Venkataramaiah, S Venkateswarlu (New Democracy),Janaki Ramulu(RSP), B Surender Reddy (Forward Block), Murahari (SUCI), Bhutam Veeranna (CPIML), Md Gouse (MCPIU), women activist Asha Latha and Pasya Padma.
Thursday state Congress expressed solidarity with Left Parties and striking employees. Telangana PCC president N Uttam Kumar Reddy, in a statement, urged the people to support the bandh. "Instead of addressing the issues of municipal employees, the TRS government has unleashed the repression against the hapless employees. It is unfortunate that government is using the police to silience the voice of employees," Uttam said.
Party working president Bhatti Vikramarkah said the demands of municipal workers were genuine and should be conceded to immediately.
"The chief minister who speaks of poor day in and day out is behaving dictatorially when the really poor confronted him," Bhatti said.
Similarly, BJP also extended support to the bandh call.