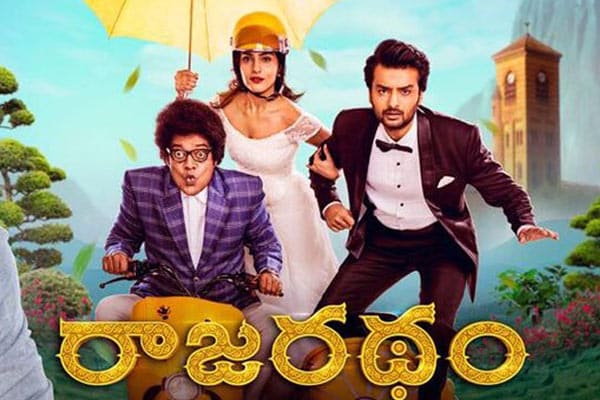 Rajaratham Review, Rajaratha Movie Review
11:53Am With a message oriented climax , Rajaratham ends !
11:49Am Bus Is caught in the riots that happen because of interstate dispute
11:35Am Adhi ,Megha miss the route back to the bus , Stay in the guest house they come across
11:24Am As traffic stalled in the forest , Abhi Megha get down the bus to walk around
First Half Report Rajaratham first half is not upto the mark. Lead pair , Vibrant Cinematography , Okay songs and high production values are the plus
Terrible comedy , lack of any story and too many characters with no purpose make this film's lengthy first half difficult to watch. Much better second half is required for this film to survive.
10:53Am With a political dispute scene between Andhra , Karnataka states .. Interval !
10:45Am Some of the passengers who are about to travel in the bus are introduced , followed by Titles
10:39Am Tamil actor Arya as Viswa is playing villain in this Rajaratham.
'Neeli meghama ' song visuals are good
10:22Am 40 minutes into the movie , concept or story of the film is not established yet.
Heroine Avantika Shetty is looking pretty
10:16Am College farewell song shot on Abhi ( Nirup Bhandari ) is ok on screen
10:00Am Titles song has been picturized lavishly , but tune is just ok
09:54Am All the passengers who are about to travel in the bus are introduced , followed by Titles
09:40Am Film takes off with voice-over of Rana Daggubati as Rajaratham ( a travel bus )
Kannada – Telugu bilingual Rajaratham, which has been in news for quite sometime, is finally hitting the screens today ( March 23rd).
A romantic comedy, the film has Arya, Nirup Bandari and Avanthika Shetty in the lead roles. Rana Daggubati and Punnet Raj Kumar lent voice over for the story narration.
Rajaratham is aimed at younger generation audience with a good message coupled with entertainment. Directed by Anup Bhandari, the film is produced by Jolly Hits Production.
Can Rajaratham sustain the box office competition as MLA and NNOK are releasing today ? Let's check out.
Release Date : 23rd March, 2018
Director : Anup Bhandari
Music Director : Anup Bhandari
Choreography : William David
Production Company: Jolly Hits
Starring : Arya, Nirup Bandari and Avanthika Shetty