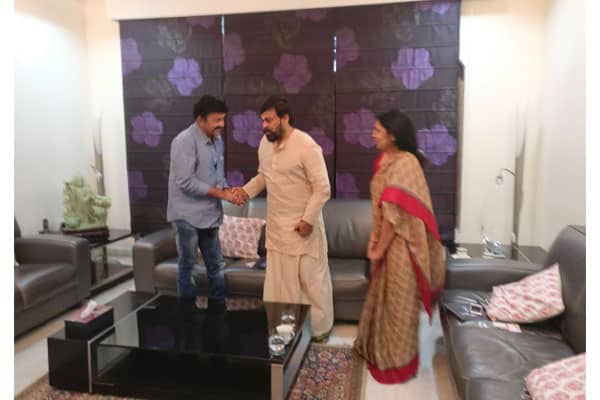 Rajashekar is currently doing Garudavega movie in the direction of Praveen Sattaru who delivered successful as well as sensible movies. This movie is touted to be the highest budget movie in the career of Rajashekar till date. Moreover there have been rumours that Rajashekar himself also invested some money in this movie. Recently he went and met Chiranjeevi and invited him for premier show of the movie.
During the promotion of the movie, he was asked this question – Are you ready to play negative roles? For this, he replied, "Yes. Even if 'Garuda Vega' becomes a big hit, I will be ready. I am looking to do roles like the one played by Arvind Swamy in 'Dhruva'. I wanted to act with Chiranjeevi garu and Ram Charan. It's always easy to play a villain. A hero has to cry beautifully. But a villain need not look handsome. He can do anything by making his face dirty and yet he will be liked."
Earlier, in lot of interviews he used to criticize chiranjeevi vehemently. It all started during Chiranjeevi's Tagore movie. He wanted to remake Ramana movie into Telugu but when Chiranjeevi's team approached Ramana makers with fancy offer, obviously they gave the rights to Chiranjeevi's team. So, Rajashekar was hurt and showed that hatred when Chiranjeevi plunged into politics. In fact during 2008-12, in almost every interview he used to make some scathing comments on Chiranjeevi. In fact the Rajashekar Jeevitha couple made strong allegations on Chiranjeevi blood bank too.
But now things are changed. To be precise, things got changed since they exited YSRCP after Jagan showed them door. Though they tried to join TDP, CBN kept them at Bay. Now he has been chanting the names of mega family in recent times. It seems he is extending olive branch only because he needs the support now. His previous movie Gaddam gang had Nagababu in some important role and during the release of that movie itself he met Chiranjeevi through Nagababu. Now he went a step ahead and invited Chiranjeevi for premier show.
So, as the saying goes no permanent friends or foes in cinemas and politics.