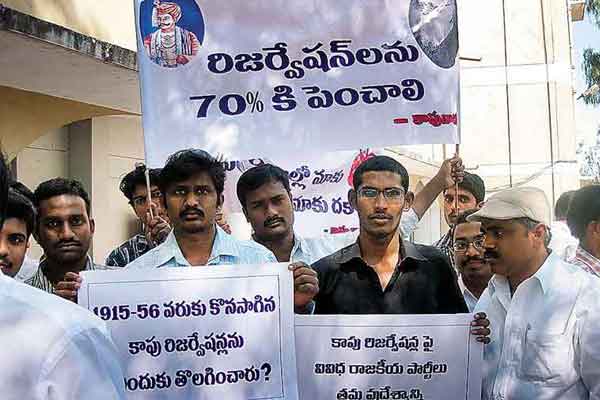 Written by – REVENDRA 
(The views and opinions expressed herein are those of the author and do not necessarily reflect the views of Telugu360.com)
It has put everyone in shock, including those from Kapu /Balija community. Andhra Pradesh, considered as peaceful, progressive and fast growing state, and Kapu/Balija community  – usually considered educated, well-off, and politically weak, have took a dent on their image.
With the rise of agitations for including Kapu caste in BC list, before making any commentary on the issue, it is pertinent to delve through the history of backward classes reservation in Andhra Pradesh
BC reservations in Andhra Pradesh
As of 14 August, 2014 a 29% of reservations are provided to OBCs in the state aided educational institutions and state services of Andhra Pradesh.
Depending on the occupation and socio-economic background, the OBCs in Andhra are categorised into the following five types
BC-A: Categorised based on background of these communities — belonging to aboriginal tribes, Vimuktha Jathis, nomadic and semi-nomadic tribes etc. The castes categorised into this segment constitute the fishing communities, beggers, washermen, religious medicants, watchmen at burial grounds, agricultural labourers, bamboo workers, barbers, bird catchers, snake charmers, game snarers, drum beaters, hunters, basket makers, toddy tappers, earth workers, and those involved in scavenging works.
BC-B: Categorised based on the occupation of the communities, this segment constitutes — makers of brushes for weaving looms and dyers, painters and doll makers, weavers, certain sections of toddy tappers, oil pressers, silk weavers, potters, weavers, communities involved in sheep rearing, cumbalai weavers, jute weavers, gunny bag weavers, goldsmiths, brass-smiths, blacksmiths, carpenters, and stone carvers.
BC-C: Scheduled castes converted into Christianity, and their children fall into BC-C category. This categorisation is intended to support and empower the Harijan converts who lack opportunities even after the conversion.
BC-D: All other communities like butchers, coolies, ballad singers, tailors, those involved in agriculture related petty businesses, saddlery, gardeners, petty traders trading kumkum, dyeing, dealers in beads and needles, temple servants and drum beaters fall into this category.
BC-E: Socially and economically backward classes of Muslims are categorised in this segment. Pathans, Syeds and Moghuls are excluded from the reservations. Including these communities in BC-E was part of poll promise made by YS Rajashekar Reddy during 2004 elections. After Supreme Court declined to entertain reservations based on religion, the government has removed the well-off Muslim communities like Pathans, Syeds and Moghuls, and made a case for reservations for backward communities among Muslims, and got it approved.
Currently, the reservations composition for OBCs in Andhra Pradesh is 7% for BC-A, 10% for BC-B, 1% for BC-C, 7% for and 4% for BC-E.
History behind BCs reservation in Andhra Pradesh
Articles 15(4) and 16(4) of Constitution of India allows the States to identify the backward communities, and provide reservations to them.
When Andhra Pradesh was formed in 1956, the proposed castes under BC category were 146 castes (86 from Andhra region, and 60 from Telangana region). In 1968 Kasu Bramhananda Reddy has set up Anantaraman Committee to determine the backward classes in Andhra Pradesh. The Committee recommended 30% reservation for backward classes (7% for BC-A, 13% for BC-B, 1% for BC-C, and 9% for BC-D) subject to revision in 10 years. Neither Kapu/Balija castes nor Muslims were recommended for any reservations under this category. Owing to their poor socio-economic status, the committee has included Dudekula communities from Muslims into this category. However, the government has approved only 25% of reservations for BCs.
After 12 years, the Govt. of Andhra Pradesh appointed NK Muralidhar Rao commission to review, and recommend the reservations for BCs. The commission recommended to include 9 more castes, and Mehtars — a backward community from Muslims, and increase the quota for BCs from 25% to 44% for a period of 25 years.
In 1983, the TDP government under the leadership of NTR revised the BCs reservation to 40%; however, the High Court struck it down, and the BCs reservation continued at 25%.
The politics of reservations for Kapus/Balijas
Kapu/Balija castes are classified into the following four categories
'Toorpu Kapus' in the north coastal districts of Srikakulam, Vijayanagaram and Visakhapatnam.
'Kapus' in the agriculturally prosperous districts of Godavary, Krishna and Guntur,
'Balijas' in the Rayalaseema districts, and
'Munnuru Kapus' in the Telengana districts.
The Toorpu Kapus and Munnuru Kapus are listed under BCs — the backward among the Kapu/Balija communities.
In 1989 when the TDP lost power to Congress, there was no change in the BC reservation policy. However, the caste politics between Congress and TDP led to an arch rivalry between Kapus/Balijas and Kammas. Everyone tried to milk this rivalry, and the three personalities who complicated thereservation issue are Mudragada Padmanabham (Kapu leader), Kotla Vijaya Bhaskara Reddy (the former CM of Andhra Pradesh) and YS Rajashekar Reddy (former CM of AP).
Mudragada Padmanabham is considered an honest and non-corrupt, has history of switching between TDP and Congress. He was minister in the cabinet of N Janardhan Reddy (former CM of AP).Congress replaced N Janardhan Reddy with Kotla Vijaya Bhaskara Reddy as the Chief Minister, and Mudragada was left out of the cabinet of Kotla. (Many cite this incident as a major reason for Mudragada to create a support base for his political growth.)
Mudragada began a 'fast unto death' demanding reservations for Kapu/Balijas, and received massive support from many including YS Rajashekar Reddy (considered competing for CM post by Kotla). At the same time, Bahujan Samaj Party was trying to establish itself in Andhra Pradesh. Due to the pressure from several factors, Kotla Vijaya Bhaskara Reddy announced Puttuswamy Commission to study the feasibility of listing Kapus/Balijas, and Muslims in BC category.
In 1994, even before the Puttuswamy Commission made any recommendations, Kotla Vijaya Bhaskara Reddy called for a cabinet meeting, and issued a GO to include Kapu/Balija castes and Muslims in BC category. Later the High Court has stayed this GO.
Where do we stand on BCs reservation?
Since then several committees were formed, and wide range consultations were made with many communities. Some of the interesting suggestions are
In 2013, when the Andhra Pradesh reorganisation was considered by the Congress Working Committee, ministers and MLAs from Coastal Andhra Pradesh exerted pressure on Congress High Command, demanding immediate reservations for Kapu/Balija castes, and advised that any indecision will wipe out support for the party from the region. No action was taken though.
During 2014 elections, N. Chandrababu Naidu promised to include Kapu/Balija castes under BC category. Once came to power, the current TDP government has set up a committee to include Kapu/Balija castes under BC category without affecting the current proportion of reservations for other castes in BC category. Along with that, a Kapu Financial Corporation with corpus of Rs.100 Crores will be set up to assist Kapu/Balija community members for employment.
What triggered the agitation for including Kapu/Balija castes in BCs now?
What triggered this agitation when this long standing demand is likely to materialise in a year or two? One can assume this incident as a staged political drama, or accuse Mudragada Padmanabham being used by YSRCP for political gains, or a result of growing impatience among the Balija/Kapu communities to fulfil their long standing demand.
Beyond headlines, this incident and agitation is unlikely to give political mileage to anyone. Nobody is an ultimate beneficiary, and the state and the Balija/Kapu community took a dent at their image. Even though the leaders, and members of this community have condemned this incident, it is too late, and the damage has already been done. It is unclear how this will end. Any hasty demand by the agitators, and impulsive decision by the government to act under pressure are undesirable to the Kapu/Balija communities, and the castes that are already listed under BC category.
Among the many things, the way the English media covered this incident was not only insulting but also showed the community and the state in a bad light. It was unacceptable, and some maturity in reporting was expected, especially when an unprecedented incident like this has happened.
Note:- Most of the background for this post was synthesised from
An EPW article "All Kapus as BCs — Reducing Reservation to a Farce by M Shatrugna"
Telugu360 is always open for the best and bright journalists. If you are interested in full-time or freelance, email us at
Krishna@telugu360.com