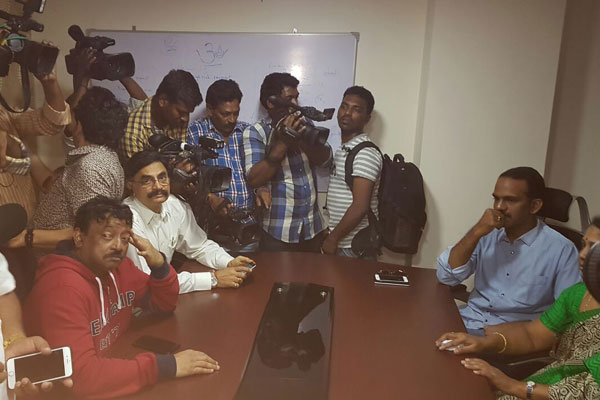 Vangaveeti, RGV-Radha meet
Ram Gopal Varma who is coming with controversial film Vangaveeti which is slated for grand release on Dec 23rd, today surprised all by meeting YSRCP leader Vangaveeti Radha in Vjiayawada.
RGV landed in Vijaywada to celebrate the audio launch of his film Vangaveeti today evening at Koneru Lakshmaiah University Grounds, Vijayawada. RGV's meeting with Vangaveeti Radha and his family members assumed significance as Radha already filed complaint against the filmmakers in the High Court accusing them of twisting the facts.
RGV and Dasari Kiran Kumar after receiving notices decided to delete the controversial song Kamma Kapu. Now RGV went to HELP hospital, Vijaywada to meet Vangaveeti family members.
He also held discussions with Ranga,Radha Mitra Mandali. YSRCP leader Kodali Nani too attend the meeting between Radha and RGV.Meeting venue was shifted at the last minute and meeting continued for half an hour. It has to be seen how RGV convinces Vangaveeti Radha and Ratnakumari about his film.
Just met Radha and his Mother ..Meeting did not go half well….Problems..I will not compromise..Have to see what happens

— Ram Gopal Varma (@RGVzoomin) December 3, 2016