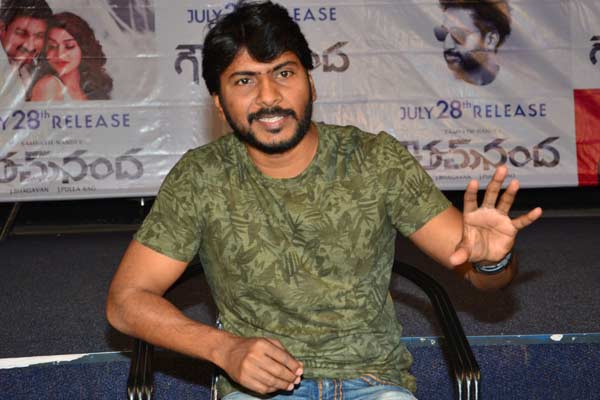 Sampath Nandi is one rare director who has seen the extremes of both 'luck' (grabbing the chance to direct Ram Charan in his very second film) and 'bad luck' (losing the chance to direct Pawan even after travelling with him for three years) in the very beginning of his career.
He is regarded as one of the potential commercial directors who proved his mettle with Racha and Bengal Tiger. Ahead of his new release 'Gautam Nanda', Telugu360.com had an exclusive chit-chat with him.
* Are you tensed before the release of your new film?
– Slightly. I wasn't tensed before the release of my earlier films as they were completely commercial films. But Gautam Nanda is a story-driven film with a gripping screenplay. I am tensed as the film is very important for my career.
* So, you say that your earlier films didn't have strong story?
– I gave more importance to commercial elements than story in the case of Racha and Bengal Tiger. I always felt that story in those two films should have had more teeth, Gautam Nanda satisfied that urge.
* Is the hero's character name Ghattamaneni Gautam Nanda?
– Yes. As per the story, my film's protagonist is a very rich and influential person in society. As per my knowledge, people having Ghattamaneni surname are well settled in general so I opted for that surname.
* Gopichand looks very stylish in your film..
– After locking the story, we spent lot of time in finalizing Gopichand's looks. I myself drew a few sketches and shown them to him. We finalized the one that Gopichand liked the most.
* It is heard that too much money was spent on the film
– Not true. We have spent as per the requirement of the story. We can't make these kinds of films in low budget. This is the highest budgeted film in the careers of Gopichand as well as mine.
* Do all your films need two heroines?
– Its not like that. Just like in Bengal Tiger, both heroines have key roles in Gautam Nanda. Audiences love to see two heroines in commercial films (smiles).
* Your strength as a director?
– I feel that I can narrate a sensible film in an entertaining manner. If a director can narrate a content-driven film in commercial format, it will become huge success, and the best examples are Srimanthudu and Janatha Garage. Gautam Nanda also has story as strong foundation.
* Next movie?
– Will announce in due time.
* Will you continue making films as a producer after Gaalipatam fiasco?
– Yes. A film titled 'Paperboy' is currently on sets. Films with fresh concepts will keep coming from my banner.