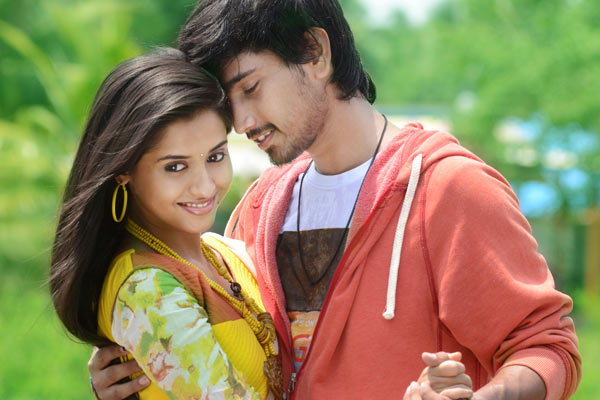 Seethamma Andhalu Ramayya Sitralu Movie Review
Hat-trick young hero Raj Tarun, debuntante Aarthana Binu starrer " Seethamma Andalu Ramayya Sitralu" is released today ( Jan 29th). Riding high on back to back success of Uyyala Jampala, Cinema Chupista Mava and Kumari 21F, let's see if young lad Raj Tarun continued his winning streak or not…
Story :
Taking a lead from previous hit childhood love stories, Seethamma Andali Ramayya Sitralu  starts with a childhood flashback story between Ramu and Sita. When they were kids, Ramu (a middle class boy) from Ramachandrapuram village likes his school mate Sita(Daughter of village president Raja Ravindra).Once the childhood flashback ends, Medico Sita returns to the village for holidays.  Ramu, who is still struggling to clear his intermediate exams,tries to express his one side love to Sita.
After some dilemma Ramu proposes but the girl, her brother and her parents – the whole family reject his proposal. Eventually the girl family plans for an arranged match, Ramu gang comes to know that bridegroom is a professional cricket player, who is about to play for India, and stays in Hyderabad.   From here onward story takes 100% imitation of Lagaan movie with same cricket backdrop. Obviously, who wins the match gets the girl is the bet.  To know the rest of the story , who wins the game watch it on big screen
Lead actors:
Raj Tarun looks better than his previous movies, acted with ease. This kind of rural background, unemployed youth roles are his forte and he excelled. New heroine Arthana's action is very amateurish. Shakalaka Shankar is fine with his comedy, other hero friends gang are small time comedians – none of them stand out. Raja Ravindra as the father of heroine justified the role.
What worked well ?
One Song "Paravasame.. Paravasame" is good on screen and also to hear. And, few shots of scenic rural Godavari are good. Other than that, its very hard to tell what is good in the movie
What should have been better ?
Everything. run of the mill story has been narrated with extreme amateurishness and absolute zero creativity. Anyone who is reading this review can make a better film. We cannot get innovative story lines with each film , but in worst case, in any worst movie , atleast there will be couple of stand out scenes. In this sloppy movie, no attractions but only pale execution. There are no emotions, no conflict point, no chemistry between lead pair, no comedy either.
The core point cricket match should have been executed better at-least.
Verdict :
Raj Tarun might had agreed to do this movie much before he got fame, other wise he would not have done this poorly budgeted and directed movie. A poetic title has been wasted. With a run-time of just two hours,this movie still tests your patience. You can skip this movie even it's been offered for free.
Tagline : Poor Imitation of Manasanta Nuvve + Lagaan
Telugu360.com Rating : 1.5/5
Cast : Raj Tarun, Aarthana, Raja Ravindra, Shakalaka Shankar , Surekha Vani
Editor : Karthik Srinivas
Cinematography : Viswa
Music Director : Gopi Sundar
Producers : Shailendra Babu, K.V.Sridhar Reddy,Harish Duggisetti ( Sri Sailendra Productions)
Story,Screenplay and Direction : Gavireddy Srinivas