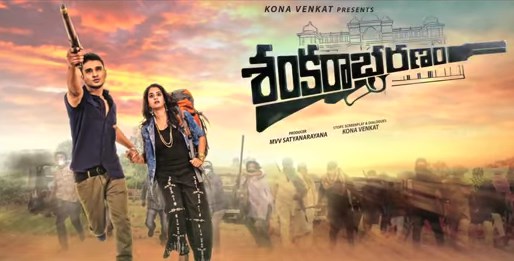 When you make a film with an epic title like "Sankarabharanam" there is a lot riding on it apart from the weight of expectations. The audio launch also raised huge expectations with a fresh musical output from Praveen Lakkaraju. Yet, the film is a colossal waste of talent and starcast and 150 minutes of your time – it fails to tell you a good story with conviction and clarity. Instead, you see a blitzkreig of characters hitting you one after another, making entries and exits at will and in the end meaning nothing.
Uday Nandanavanam is the director with the original story borrowed from a Hindi film but the directorial supervision credit says Kona Venkat which means he cannot disown the overall output again if it bombs at the box-office due to overhyped drama and repeat sequences of kidnap involving the hero Nikhil. The trouble actually starts with the bizarre idea to use Bihar as the backdrop and adapt it to Telugu nativities. The story goes like this: Suman and Sitara are a billionaire family in Florida, US who are all set to face bankruptcy proceedings as Suman's partners cheat him. But Sitara has some "Streedhan" left to bail the family out of debt woes – a palace in Bihar called "Sankarabharanam" which can fetch a fortune. Nikhil vows to go to India to close out on the deal. But he lands in a lawless state where gangs kidnap for any ransom and no reason. The prospect of a paper billionaire NRI on the verge of a Real Estate deal tempts many warlords of Bihar to kidnap him and extort crores from their parents. The story takes this twist but before that NIkhil finds the house "Sankarabharanam" itself occupied by a bevy of a dozen plus occupants who are all legal heirs of the property from the beautiful Nandini to the head of the family Rao Ramesh.
For all the live updates and Box office information, follow us at @telugu360 https://twitter.com/telugu360
The story then loses its way after interval in a bizarre fashion where the gangs pit themselves against one another for this boy Nikhil. There is no depth nor clarity of characterisation in the way the principal actors move which leads to many lags and boring moments in the movie despite hyperactive efforts to make you laugh. Only two actors stand out in the dance of comedy – Saptagiri and Prithviraj. Amongst the two, Saptagiri is the only reason to watch for as he regales us with hysterical one-liners. Sampath as the key villain shows class in the limited screentime he gets at the outset and again during the climax.
Anjali had a star characterisation as the bandit-war-lady and makes an impactful presence even though she comes on the screen in the 121st minute. Rao Ramesh has no scope for improvisation and many other characters languish similarly. Nandini is cute and shines with her candy looks and good screen presence. Nikhil looks dashing but this is one of the most forgettable scripts in his career because it gives no platform to him for elevation or projection. The movie runs like a marathon of characters sprinting 100 metres each with a baton passed at every reel but in the entire canvass, Nikhil as the hero gets perhaps just one scene to register his screen presence. His characterisation as the son, lover, property owner or the victim of kidnapping is way below the thresholds expected for a hero especially given there are dozens of characters thumping the screen with loudcracker actions.
On the positives, the movie has great production values and some exotic cinematography including aerial shots of skyscraper shots of US Cities with pictures of live streets like never before. Music by Praveen Lakkaraju sounds different with a heavy Bollywood touch. From a title justification point of view, making "Sankarabharanam" as a marquee property up for sale is clever strategy by Kona Venkat which also helped in grabbing maximum attention and clinch pre-release premiums but nothing more. The only dialogue that is common to both the movies is a dialogue by Saptagiri in the second half – "Sabha ku Namaskaram" which is used in the first half in the all-time classic. The movie is clean except a handful of dialogues which reek of dual meanings. Kona Venkat always has a penchant for punchlines but an overuse of them hinders the movie's main plot and tires the audience. The climax is weak even if the buildup in the first phase is decent.
What pulls down the film is the lack of nativity (which makes it diametrically opposite to the original SB). In obsessing about the state of Bihar and its kidnappings, the director misses the basic elements of a good story which must have heart-tugging emotions, a well-developed love story, and a hero who stands out and villains who contrast with the hero and from one another. Nothing of the sort here and neither is the story coherent – it is not clear how the partners can cheat you overnight in America, why bankruptcy laws in US cannot usurp everything you have why Sitara owns the property legally but why so many owners to a property need to sign NOC which includes minors, how a Bahari like Nikhil enters Bihar without strategic protection or care. There are some ludicrous dialogues for the heck of it – "diesel is dropping, dollar is rising" (which means nothing in economics, you know). Under the guise of comedy, Saptagiri comes in three different avatars with the same passport to apply for American Visa and he is rejected – the scene is hilarious but can you apply for a US visa so many times after getting repeatedly rejected? Do the crack team of writers and assistant directors discuss what is credible and what is illogical before penning a script with scenes? Can any nonsense pass off just to trigger loads of laughter?
Kona Venkat has been hugely successful in recent past picking titles from classics like "Gitanjali" but this time if the film has been a byproduct of his directorial supervision, he better own up to the mistakes that crept in the film instead of disowning his creative collaboration for a movie which flops, say like "Brucelee". As for fans of K Viswanath and Edida Nageswar Rao, they can relax that the movie of our life will remain unsurpassed despite titular comparisons. As Superstar Mahesh remarked once why he doesn't go for epic titles of his father like "Alluri Sitarama Raju". "Never, you may get electrocuted." This "Sankarabharanam" gives you the same feeling.
T360 Rating: 2/5
For all the live updates and Box office information, like us on Facebook. https://www.facebook.com/telugu360