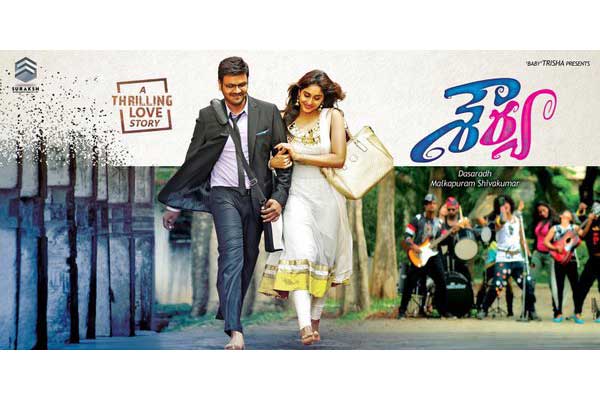 Manchu Manoj is an energetic hero and he does his best in Shourya. Lets see how the combination of Manoj and director Dasaradh delivered. This is a romantic love story garnished with suspense and thrilling elements.
Story: The film makers have been saying from the day one of their film publicity that there will be three stories in this movie.
One is the story generally predicted by the audience.
Second one that will be said by the concerned character in the movie.
Third one is the story actually happens.
Shourya (Manchu Manoj) falls in love with Netra (Regina). He leaves a great business opportunity merely to spend some time with her in UK. Elders of their families disapprove their relationship. So, they plan to elope to a foreign country. Shourya agrees to her proposal for spending a whole night in Kotilingala Temple on the eve of Mahashiva Ratri a day before leaving to foreign country. The suspense, thrilling and action parts of the film start unfolding from this point.
Some unidentified person makes a fatal attack on Netra, while she was asleep beside Shourya. He tried to save her life but she dies. Netra's father is an MP. So, the police takes this case very seriously and assigns the case to police officer Krishna Prasad (Prakash Raj) a relative of her family. Very soon, he realizes that Shourya is innocent. However, he shocks when Shourya admits in the court that he killed Netra, slitting her throat with a knife. Before breathing her last in the hospital, Netra wrote a number '365' on a piece of paper. Instead of trying to find rest of the suspense and thrilling part of the story here in these few lines, it is wise to watch it on the silver screen to get full satisfaction.
Performance:

As expected Manchu Manoj completely dominates the film with his marvelous performance. Although, he looks a bit chubby and innocent in the first part, he unfolds his talent in the second half presenting himself in a completely different shade. Regina and he played a performance oriented roles in this movie. So, they both did complete justice to their roles.
Needless to say Prakash Raj did a tremendous job again in this film too. The presence of senior actors Sayaji Shinde, Nagineedu, Subbaraju, Hema and few others did their part They all did a very wonderful job in this movie. Prabhas Srinu's comedy is also nice.
Technical Aspects:

Director Dasaradh dealt thrilling element to a routine love story interestingly, which makes the film different from regular ones. However, Gopi Mohan's pen work fails to elevate the film. The slow pace of the film should be attributed to screen play by Kishore Gopi. He couldn't give enough thrust to a powerful film like this.
Music by Malhar Bhat Joshi is Ok but only two songs are impressive and rest of them is not catchy. However, background music is very apt in the film. Especially, the music given to thrilling parts of the movie is very nice and impressive. Again, editing by SR Shekar is not up to mark. Shivkumar's production values are very good.
Analysis:

A love story that garnished with suspense and thrilling elements leaves much to be desired. Story is boring at times. The first half is and the second with amazing twists and thrills. Although, there are minor flaws one may prefer to ignore them because of the different story. Those who love to watch a slow pace thriller movie may connect with the movie. Director also gives a pleasant shock to the audiences making them think whether Netra was really killed or still alive. No one may expect this kind of twist in the story. Screenplay needs to be gripping for these types of films. As there are three releases this week, it might be tough to pull audience to theaters.
Telugu360.com Rating : 2.25/5
Banner: Suraksh Entertainments India Pvt. Ltd.
Star Cast: Manchu Manoj, Rezina, Prakash Raj, Brahmanandam, Sayaji Shinde, Nagineedu, Sravan, Benarjee, G.V., Prabhas Sreenu, Satya Prakash, Surya, Hema, Sudha and some others.
Editing: SR Shekhar
Music: Vedha. K
Camera: Malhar Bhat Joshi
Story: Gopi Mohan, Harikrishna, Sai Krishna
Producer: Shivakumar Malkapuram
Presented by: Baby Trisha
Director: Dasharadh
Screen Play: Gopu Kishore
Release date: 04.03.2016