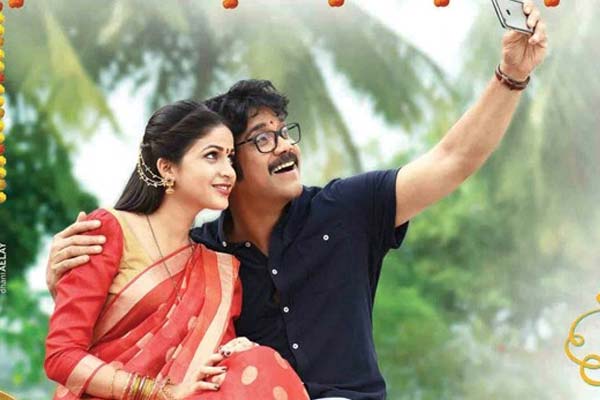 Soggade Chinni Nayana Movie Review
The wait for the last film of the Sankranti season is over. Released on Makara Sankranti, "Soggade Chinni Nayana" is the film fits to the aspirations of the festival moviegoer. Directed by Kalyan Krishna and produced by Nagarjuna himself, the movie is a warm family story with a broad message, heart-tugging emotions and some genuine comedy with Brahmanandam with a socio-fantasy touch – that is in essence, SCN for you.
Story:
The plot has come in several ANR films like "Aalu Magalu" and "Edanthasthula Meda" . Young Nagarjuna is a super-rich NRI cardiologist married to Lavanya Tripathi. But they are not happily married and don't enjoy marital bliss together because of his workaholicism and obsession with profession. Lavanya wants divorce but Nag says even that must be blessed by his mother Ramya Krishna, w/o late Bangarraju (Senior Nagarjuna). Both head to the village where Zamindar Bangarraju lived like a king and a catnip (a Casanova with women) as long as he lived before getting killed in an accident. Ramya pleads for her husband's intervention to consummate his son's marriage. Bangarraju (Sr.Nagarjuna) is sent by Lord Yama (Naga Babu) to the earth but on a condition and a special mission. Find out what the special mission and the condition is before all the fun starts with Sr.Nag's return to his home…
Direction and Characterization:
From the story point of view, the plot is not suited to modern sensibilities nor logical for a Spirit to settle conjugal matters but films being liberal in imagination, anything goes in the name of giving different content. The basic story outline of conjugal discord was penned by the sensible producer of "Ashta Chamma" fame Ram Mohan. Inter-mixed with socio-fantasy, this genre  always has an appeal for audiences and director has tested it well with the combining of "Yama" element, ghost, romance and village rivalries. Even in creating scenes where you could have crossed the line of decency in showing scenes that needed to get intimacy of a married couple, the director shows good balance and control. For example, even in scenes where Sr.Nag is seen as serenading like Jr.Nag, the director shows class and restraint in ensuring the generation gap is minded by Sr.Nag just before any mischief can happen. The director only fails in building the scenes with speed and crispness.
The first half seems predictable though entertaining. It is the second half which is stuffed with good sentiments, crisp dialogues that rev up the right emotions and then complete the formalities. Of all the films that came this Sankranti, this is the only film that shows a sensible second half and a feel-goodness. The scenes with Brahmanandam as the Guru who can communicate with spirits are quite hilarious and once again proves that given the right characterisation, Brahmi can still strike the bull's eye. Director has taken care to reflect all the motifs and symbols of rural prosperity that one likes to see in festival time – from panche Kattu to the lush green paddy fields, from riding Bullet on kaccha roads to swathes of red chillies and coconuts.
The only errors in the film are of substance and not the form in which it is presented. .
Performances:
Ramya Krishna steals the show with impeccable class and dignity that resonates the womanly feelings well. In each scene she emotes with Senior Nag and the younger generation, there is a brilliance of body language that shows her class. Her dialogues also ooze out lot of maturity and wisdom. Naga Babu is exemplary as Lord Yama and gives the most-meaningful interpretation of the Lord of Death after Satyanarayana. Since Telugu film-makers' obsession with Yama theme knows no bounds, Naga Babu can see gainful employment as Yama in the days to come. Lavanya Tripathi is just cute and beautiful as the wife of the Jr.Nag. Even though her characterization is regressive for a feminist-minded modern female, she does justice to the role etched.
Nagarjuna definitely walks away with all the honors in the film. After a long time, his actions, mannerisms and his rustic diction with all the Telugu mandalikams of the Coastal Andhra will please everybody. He looks fit, delicate, mean and loving as the situation demands and knows how to get the audiences roaring with his simple demeanor. Music by Anup Rubens resembles "Manam" soundtrack but is very hummable. The special cameo song of "Soggade Chinni Nayana" with Anushka Shetty, Anasuya and Hamsa Nandini is cute but the settings could have been better. The original song borrowed from the 60s movie actually was not on ANR but actually on Jaggaiah and sung by Vanishri in her first film. Nevertheless, the song is quite apt and the title fully justified for a film of this genre and the colorful personality of Nagarjuna.
Verdict :
At a time when rural backdrop films hardly come by, this film is going to get the vote from rural and semi-urban masses for the Sankranti. Urban audience, Youth and Overseas crowd might not favor this movie. Even though the plot is routine, the treatment is slow, the overall connect with the audience is good for family audience. It is also strikingly neat and simple to watch without heavy dosages of violence and vulgarity. That makes this a decent Sankranti film to watch with families and friends.
Telugu360.COM Rating: 3/5