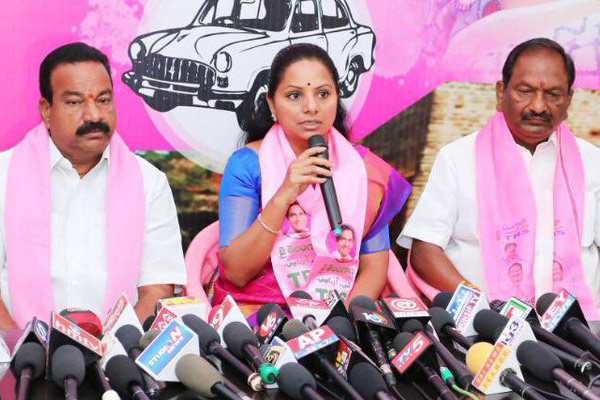 The ruling Telangana Rashtra Samithi leaders have hit back strongly at Sonia Gandhi, saying that she had angered people by talking about Andhra issues from a Telangana election platform. TRS MP and KCR daughter Kavitha has taken strong objection to the promises that were made by Sonia Gandhi to AP while addressing the election meeting at Medchal. She appealed to the voters to reject the Congress as Sonia used the Telangana soil to insult its people by taking up issues of rival state.
During her speech, Sonia Gandhi asserted that Manmohan Singh and Rahul Gandhi worked hard to confer statehood on Telangana but the state's people were suffering all these four and half years because of misgovernance of the TRS. She said Andhra would be given special category status besides fulfilling other promises after the Congress comes back to power at the Centre in 2019. Kavitha accused Congress of telling lies to mislead the people at the time of elections.
Kavitha said that Sonia Gandhi only spoke the words of TDP chief and AP CM Chandrababu Naidu and both the parties joined together in an unholy alliance which would be defeated by TRS in December elections. She asserted the fact that TRS would not have to tell lies and this party would only talk about the issues and rights of Telangana state and its development.
The TRS party's attack came amid new found upbeat mood in Mahakutami allies after the success of Sonia Gandhi's public meeting. The forum was effectively used by leaders of TDP, Telangana Jana Samithi and CPI to voice their strong feelings against KCR and his family. TDP leader Ramana and TJS leader Kodandaram have given a call to the people to get rid of KCR regime in December election.