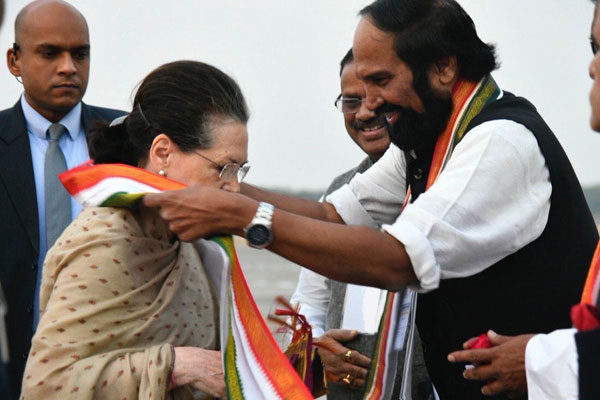 The chief of UPA Ms. Sonia Gandhi, who took part in a public meeting organised at Medchal in Telangana in connection with election campaign, is planning to visit Telangana once again in next week.
Sources from the All India Congress Committee told 'Telugu 360' she will take part in a road-show in Parigi anc Chevella on November 29 at 4pm. "The schedule is yet to be confirmed. As per the preliminary decision of the UPA chief, the AICC chief Mr. Rahul Gandhi, Congress Affairs' Incharge Mr. R.C. Kuntiya, state leaders Mr. Bose Raju, Mr. Srinivas, Mr. Saleem Mohd., TPCC Chief Mr. N. Uttam Kumar Reddy, other leaders including Mr. Bhatti Vikramarka Mallu, Mr. Mohd. Ali Shabbir, Mr. K. Jana Reddy, Mr. A. Revanth Reddy, Mr. Ponnam Prabhakar, Ms. D.K. Aruna, Ms. Vijaya Shanthi and others will take part in the road-show," they added.
They said that few leaders including ex-Minister and an ex-MLA from Parigi are planning to join TRS on Sunday in the presence of CM K.C.R. in connection a public meeting scheduled to be organised at Parigi. "In order to prevent the cadre from joining in other parties, the congress high command is seriously working in convincing the rebels and disappointed leaders. Though few leaders may join TRS on Sunday, they must come back after Sonia's road-show," the sources added.
G.Ravikiran
Telugu360 is always open for the best and bright journalists. If you are interested in full-time or freelance, email us at
Krishna@telugu360.com