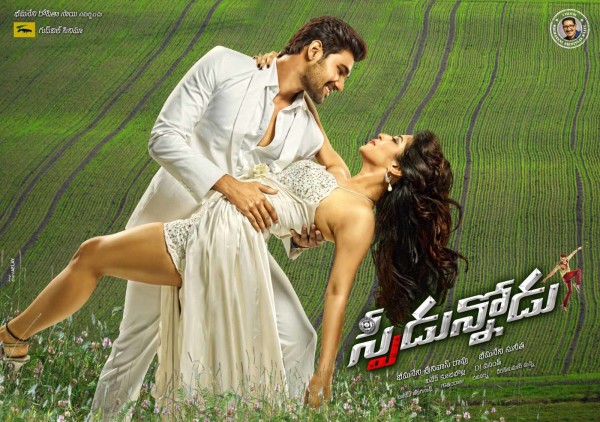 Speedunnodu movie review
Speedunnodu stars young hero Bellamkonda Sreenivas, Sonarika Bhadoria in lead roles. Having crazy budget and Good star cast, this movie has generated decent expectations at the boxoffice prior to the release. Sreenivas's debut movie Alludu Seenu was a hit, whether Speedunnodu can repeat his first movie magic or not let us see…
Story :
Shobhan( Sreenivas) is a Happy go lucky college student who is always ready to do his best for friends and friendship. He is one of the five best friends' group, in which three are in love with Vasanthi ( Sonarika ) at some point of time. First half the movie deals in establishing how each one of them try for Vasanthi, Second half deals with how the story's conflict point has been resolved. This story is set in Dharmavaram Town (Anantapur district in AP) backdrop, Shobhan is a son of a village head Prakashraj and Sonarika is the daughter of rival village head Rao Ramesh. Though there is no direct rivalry between these two families,it exists between two villages. Given that background, to know how Shobhan resolves friendship and love conflict and what is his destiny ? …watch Speedunnodu
Lead Actors:
This film has good star-cast. Apart from lead pair, this movie  has a long list of character actors like Prakash Raj, Posani Krishna Murali, Rao Ramesh, Kabir Singh , Ali, Prudhvi, Srinivasa Reddy,Pavitra,Jhansi and also Tamannah Bhatia special song. Bellamkonda Sreenivas improved his diction, looks wise too he is now better than Alludu Seenu. His dances are superb , action is OK. Debuntante Sonarika has milky rose complexion skin, but for initial few minutes, she looked little odd in makeup. However, as the movie progresses she is appealing.Tamannah sizzled in the popular "Bachelor Baboo" Song.
Prakash Raj got less challenging role, and also less presentiment too. Posani, Prudhvi and Ali tries to generate some humor with moderate success.
What worked well ?
– Songs Songs and Songs ; Though tunes are not that great,picturization and dances are good.
– Friendship thread is interesting, especially towards the climax
– Family oriented scenes in second half
– Bellamkonda Srinu's superb dances
– Tamannah's glamorous song
– Story in the second half has some interesting point
– Shot in original locations of Anantapur District, locations are authentic and beautiful
– Dialogues are average if not great. Some Rhyming ,Some fun dialogues are sprinkled
– Senior director Bheemaneni Srinivasa Rao done a decent job
What should have been better ?
– Bellamkonda Srinu needs to "act" better , but considering his little experiene,performance is OK
– A better comedy would have helped a lot
– The emotional content between freinds should have been dealt more
Verdict :
A One-time watch if you are okay with semi-mass commercial movies. First half of Speedunnodu is flat,second half is better with good family oriented scenes and friendship values. In some aspects, this movie is better than Alludu Srinu,but due to off-season and lack of star director combination,this movie may not perform as good as Alludu Srinu at Box-office. An Average fare . Nevertheless,this movie will establish young hero Bellamkonda Srinu more in mass centers.
Telugu360.Com Rating : 2.75/5
Cast & Crew :
Directed by  : Bhimaneni Srinivasa Rao
Produced by : Bheemaneni Suneetha Bheemaneni Roshitha Sai
Screenplay by : Bhimaneni Srinivasa Rao
Story by :  S. R. Prabhakaran
Starring :  Bellamkonda Sreenivas , Sonarika Bhadoria , Prakash Raj , Tamannaah (Special appearance)
Music by : Sri Vasanth
Cinematography : Vijay Ulaganath
Edited by :  Gowtham Raju
Production : Good Will Cinema
Release date : 5 February 2016