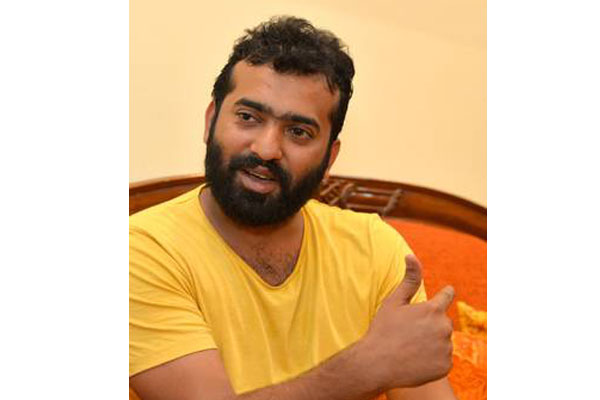 It has been a while we had a special importance for background scores in Telugu Cinema and one particular spy thriller film Goodachari has been making waves on the same scenario. This brought a special limelight for the young and talented composer Sri Charan Pakala who has given some scintillating music for this flick. In fact, this composer has been making unique albums and music since his stint into films. The first spark from this composer came with Kshanam which also had Adivi Sesh in the lead role. Now, this refreshing duo made a fantastic presence once again with Goodachari. Telugu360 exclusively speaks to the composer on not just Cinema but also many other aspects of his life:
Hello Sri Charan.. congratulations on the success of your new film Goodachari!
Hi..thanks a lot. It has been overwhelming for me to see such response for the background score in particular.
Compared to other films in Telugu off late, the background score for Goodachari has a special element. It blended effortlessly with the storyline and became a character.
How did you get such effect with music?
Well, music has the inherent power to either elevate or underplay a scene. A powerful background score will not only add to the film but also gets noticed. Goodachari is one such example where every audience could feel the effect. I only strive to get such musical effect for every film of mine. Goodachari has such amazing storyline which is not just about thrill and action but great family drama. I just did my best for the film and glad it worked.
Where do you think Telugu Film Industry needs to gear up on?
I seriously feel Telugu Film Industry has always been experimental when it comes to music. The audience love good music and appreciate when a phenomenal work is done. There are ample examples of this sort but the mindset of music getting appreciated only with the hero should change. Music should be seen as an independent entity instead of linking it with the film's commercial success or failure.
The Goodachari Theme music in particular has been talk of the town off late. Is there any interesting story behind it?
When Adivi Sesh narrated me the storyline, I was determined not to give a theme music which would remind the listener of James Bond , Bourne Series or allied films. I just picked up my guitar and started playing a random riff- which was used as it is for the film. The motif of the entire film began in my trance mode and instead of keeping it too complicated by adding layers, we wanted it to be as raw and pristine as possible. I am so glad my instincts worked quite well and appealingly!
The entire sequence of pre-interval bang in Goodachari had a great emotion through music. What was the effort put behind it?
The pre-interval sequence has got lot of potential and I was dead sure that if the music falters down in between, the effect will go haywire. At the same time , neither me nor Adivi Sesh were willing to put something routine with heavy strings and routine usage of violins. Hence, I wanted to take the music till a crescendo and then drop at once. I got so glad that even Akkineni Nagarjuna spoke about it recently and appreciated the idea!
What is your general approach while working on background scores or songs?
My approach is quite on the go and never on paper. I am a self trained musician and have been much into international music and a huge metal music fan. That helped me to become an instinctive composer rather than following a rulebook based approach. I personally enjoy bringing up a unique sound in my compositions which has less influence of other composers.
But every composer will have some inspiration of great works…
Yes, I agree. But my point is, inspiration is different from influence and direct lifting of an already composed song. Though I hear lot of international composers such as James Horner, Thomas Newman, Hans Zimmer and gain inspiration from them, I really respect and admire Mani Sharma garu for bringing such a different edge in composing for commercial movies as well.
How was your experience working with Adivi Sesh once again?
Me and Sesh come up a long way in professional journey. When I gave music for his short film KISS, it was widely appreciated. He is one of those young film personalities who would want to innovate everytime and give the audience a new experience. The best thing about him is- he always gives a free hand to me in composing and it brings the best output.
The background score effect in Goodachari especially for locations like Bangladesh was quite unique. What was the thought behind it?
The regular style of Arabic music was intentionally refrained by us. We didn't want to give it the obvious mystical feeling immidiately. Instead, we planned to build up on the mild and dark tones- if you observe, the bgm there did have a very faint Arabic flavour!
Speaking off the recording studio, what are your other interests?
I have been working on a lot of independent music by collaborating with new artists online. I also own a band named Penatonic which has been actively performing in the Telugu states. We do every genre ranging from Rock bands like Led Zeppelin to Telugu folk songs! Now, it is so wonderful to open our every show with Goodachari theme music. The feeling of being in a band and making music is always fantastic to have,
Upcoming projects?
I am currently working on Idham Jagath and the re-recording is going on. This film has some interesting family entertainment topped with action. It is always a pleasure working for a Sumanth film!
Okay.. thank you and wishing you the best for your upcoming projects!
Thanks a lot!