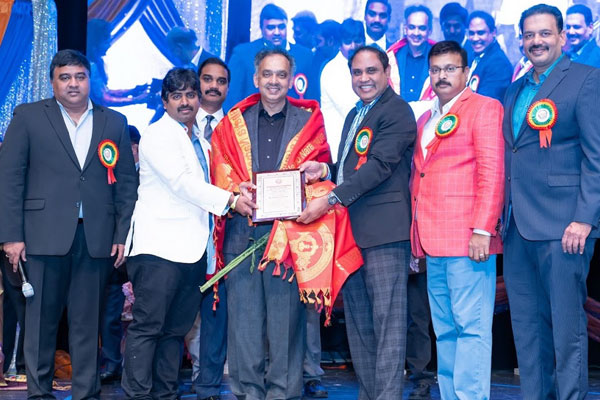 TANA (Telugu Association of North America) organized Mid-Atlantic Cultural Festival on October 19th at the Perkiomen Valley Middle School, Collegeville, Pennsylvania amidst a lot of pomp and gaiety with more than 2000 people in attendance. TANA Leadership (Board, EC and Foundation) in-person meetings also conducted in Courtyard Marriott, Collegeville over the weekend.
Banquet Dinner was conducted on October 18th evening at Courtyard Marriott, Collegeville to honor and felicitate TANA volunteers and donors that have made impactful contributions to community. Mid-Atlantic team released the special Souvenir "Telugu Paluku" on the occasion of TANA Mid-Atlantic Cultural Festival.
Hero Nikhil, Singers Sunitha, Sri Krishna and Prudhvi Chandra attended as guests for the banquet dinner.
The main event on October 19th at Perkiomen Valley Middle School started with the Ganesha prayer song followed by lamp lighting ceremony by Mid-Atlantic team. Inaugural program Bhagavadgeeta Avadhanam received thunderous applause from the audience. The cultural programs by local talent were also conducted on the main stage throughout the afternoon upholding the tradition of TANA as longtime supporters of dance, drama and stage plays. More than 250 participants performed in 35 different performances.
Kudos to the coordinator Satish Tummala and team for all the hard work and commitment. In the evening organizing committee – Mr. Ravi Potluri (TANA Secretary), Mr. Harish Koya Chairman – Board of Directors, Mr. Ravi Mandalapu Secretary – TANA Foundation, Mr. Satish Chundru Mid-Atlantic Regional Coordinator, Mr. Satish Tummala and Mr. Nagaraju Nalajula welcomed the audience and TANA leadership.
Prime time started at 7PM, with a dance medley choreographed by Mrs. Shaila received thunderous applause from the audience. The main highlight of the evening was the Nritya Sandhya, dance ballet choreographed by Guru Smt. Swathi Gundapuneedi was a glorious sight to watch the 35 minutes non-stop performance by more than 35+ talented dancers and a proud moment for the parents of participants which received standing ovation from the audience. TANA team richly felicitated Smt. Swathi Gundapuneedi team, Mrs. Shridevi Mungara, Mrs. Aruna Kotapati and Mrs. Shaila Mandala for their support the event.
TANA President Mr. Jay Talluri gave an inspirational speech explaining the history and contributions of the elders over the past forty two years highlighting the services and contributions of TANA to the Telugu community. TANA Secretary Ravi Potluri thanked the Executive Committee and volunteers and the donors. Board of Directors Chairman Mr. Harish Koya, Past President Mr. Satish Vemana, Executive Vice President Mr. Anjaiah Chowdary and Foundation Chairman Mr. Niranjan Srunaravrapu also spoke on the occasion.
TANA leadership richly felicitated Past Presidents Sri Gangadhar Nadella, Sri Hanumaiah Bandla, Sri Jampala Chowdary and Sri Satish Vemana for tireless efforts in serving the Telugu Community. New Jersey State Commissioner for Public Utilities Mr. Upendra Chivukula, PA state senator Mrs. Katie Muth attended and announced October will be month of non-violence and paid rich tributes to Mahatma Gandhi on the occasion of Gandhiji's 150th Birth Anniversary.
This was followed by the grand finale event of the night, an out of the world musical concert by Ms. Sunitha and her troupe – Sri Krishna and Prudhvi Chandra. The choice of songs, the live orchestra and the rendition of the singers coupled with Mrs. Sunitha actively facilitating on the stage was a feast to the eyes and the ears. Hero Nikhil entertained the audience with steps from his blockbuster Happy Days movie. The concert enthralled the audience for about 3 hours & went on to till 12 AM and was very well received by the satisfied audience.
TANA Leadership attended the event are – President Jay Talluri, Board Chairman Hairsh Koya, Past President Satish Vemana, Exec Vice President Anjaiah Chowdary, Foundation Chairman Niranjan Srungavarapu, Secretary Ravi Potluri, Foundation Secretary Ravi Mandalapu, Treasurer Satish Vemuri, Board of Directors Dr. Jampala Chowdary, Dr. Nagendra Srinivas Kodali, Dr. Hanumaih Bandla, Joint Treasurer Venkat Koganti, Cultural Services Coordinator Sunil Pantra, Womens Services Coordinator Sirisha Tunuguntla, Community Services Coordinator Malli Vemana, Foundation Trustees Ramakanth Koya, Venkata Ramana Yarlagadda, Bhakta Bhalla, Srinivas Chand Gorrepati, Rao Yalamamanchili, Viswanath Nayunipati and EC Members – Satish Chundru, Raja Kasukurthi, Kiran Duggirala, Sumanth Ramisetty, Koteswar Rao Kandukuri, Rajanikanth Kakarla, Anil Uppalapati, Suresh Kakarla, Vijay Krishnamohan Chilmakur and TANA 2019 Conference Chairman Naren Kodali, Treasurer Nag Nelluri and committee chairs NRC Naidu, Sri Atluri, Satish Meka etc. The TANA Leadership and Mid-Atlantic team would like to thank the local community for its support, and the sponsors for their gracious contributions and the vendors for their support and the volunteers for their service and the media for all the support and Mr. Ujwal Kasthala, Mr. Sandeep Gudi for artist coordination of the event. Many Thanks to Mid-Atlantic TANA team Ravi Potluri, Harish Koya, Ravi Mandalapu, Satish Chundru, Nagaraju Nalajula, Satish Tummala, Sambaiah Kotapati, Sai Jarugula, Sunil Koganti, Rahul (Bobby) Yerra, Sharma Saripalli, Gopi Vagvala, Rama Muddana, Suresh Yalamanchili , Balaji Kari, Venkat Singu, Prudhviraj, Venu Sangani, Sudhakar Kandhayala, Srilakshmi Kulkarni, Krishna Nandamuri, Saroja Pavuluri, Lakshmi Addanki, Vijayasri Parchuri, Phani Kantheti, Johnmark Alfred, Venkat Singu, Suneetha Vagvala, Chalam Pavuluri, Krishna Konagalla, Chaitanya Vadlapatla, Koti Yaganti, Suresh Parchuri, Mohan Santosh Malla, Murthy Chavali etc. Our sincere thanks to Mr. Murthy Nuthanapati and Ramana Kumar for the continuous support in Audio and Video coordination.