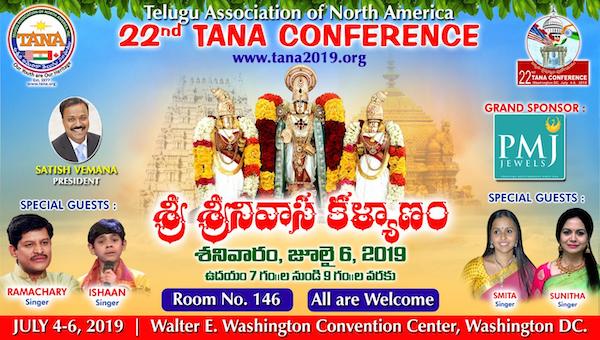 The North American Telugu Association (TANA) is happy to inform the people that it is organizing 'Srinivasa Kalyana Utsavam', similar to the one at Tirumala, in its 22nd conference at Washington in U.S from July 4th.
The joyous occasion would also facilitate the process for the devotees and pilgrims from all over the world to offer worship to the Almighty without any difficulty or hindrance.
It needs no introduction that Srinivasa Kalyana Utsavam is a revered ceremony at Tirumala. A huge number of devotees would throng around the seven-hills almost every day to have a glimpse of the Lord Venkateswara, the richest god in the World. Bearing this in mind, TANA would urge the devotees to make their presence felt in a massive manner on the occasion of its 22nd Conference at U.S.
Realizing the importance of the mammoth occasion, sensitivity of the devotees and their eagerness to have a glimpse of their favourite God abroad, the highly optimistic and a religious person to the core, TANA president Satish Vemana has organized 'Srinivasa Kalyana Utsavam' in a traditional manner, similar to the one in Tirumala, as scheduled in the first week of July at U.S..
TANA is also delighted to inform the people specially that the priests and seers from Tirumala Tirupati Devastanam (TTD) would perform Srinivasa Kalyana Mahotsavam on July 6th from 7AM to 9AM in the morning.
Sri L Subba Rayudu (Officer on special duty, Kalyanam Project), Sri Sridhar Parankusham, Sri Venkatesan and priests Sri Sharatkumar Acharyulu, Sri Sundara Varada Sarma along with Vedic pundits are coming to USA on this occasion.
The Association President Mr.Satish Vemana will also take this opportunity to whet the appetite of the religious fraternity by inviting singers for performing at this coveted ceremony.
Bearing the importance of the religious occasion in mind, TANA has invited well-known singers Sunita, Smita, Ramachari and Nihal to enthrall the audience with devotional songs. Chairman Satish Vemana, Srinivasa Kalyanam Committee Chair Laxmi Devineni and Spiritual Committee Chair Subbu Varanasi have requested the people and the devotees to participate in large numbers with their religious fervor and offer their worship to the Lord Venkatesa to make the religious event a mega-success.
TANA is also coordinating and performing Srinivasa Kalyanam in three more cities – Philadelphia (13th July, Saturday), New Jersey(14th July, Sunday) and Dallas(20th July, Saturday) with an objective of providing this divine opportunity to the devotees in those cities.
It is also relevant to mention here that a special programme 'Annamayya Sapthagiri Sankirthana Galarachana' is also being organized on the stage of TANA Conference.
It may also be noted that on July 6, about 108 artists, including Guru Chaitanya brothers, known for their singing prowess will participate in the 'Annamayya Saptagiri Sankirtana Galarchana', an incredible event.
Participate in the Srinivasa Kalyanam – Satish Vemana
I would like to say that TANA has accorded top priority to spiritual programmes in the conference. Bearing this in mind, 'Tirumala Sri Venkateswara Swamy Kalyana Mahotsavam' would be held in a grand-gala manner. There is no iota of doubt that the devotees do not derive satisfaction, even when they get umpteen/ample opportunities to prey at Srinivasa Kalyana Mahotsavam and time without number.
The law of diminishing returns in economics does not work out when it comes to Lord Venkateswara's ardent devotees. After all, the power of positive thinking emerges from the power of Lord Venkateswara and the people, in spite of being aware that only a split second of darshan would be available to them at Tirumala, though it takes a mind-boggling ten-twelve- hours wait in the queue for them, do not feel being perturbed or peeved. As a matter of fact, they also do not feel encountering any obstacle on this issue.
I once again extend an invitation to the people and TANA's well-wishers, before fervently requesting them, especially the devotees from all over India and abroad to participate in the association organized religious programmes with warmth and affection, and more so, by participating in the Srinivasa Kalyanam and also the 'Annamayya Saptagiri Sankirtana Galarchana'.
For more details please visit www.TANA2019.org.
Press release by: Indian Clicks, LLC
Telugu360 is always open for the best and bright journalists. If you are interested in full-time or freelance, email us at
Krishna@telugu360.com