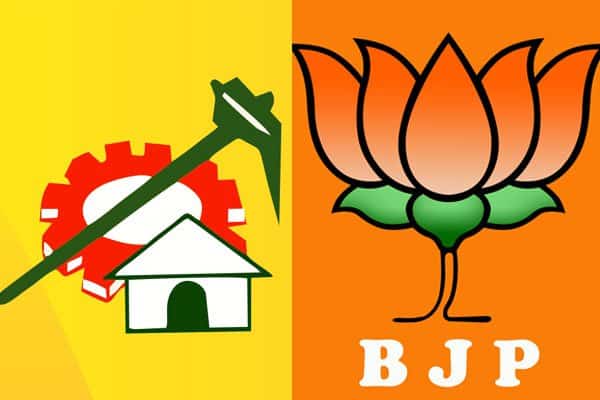 Vijayawada: The alliance between the Telugu Desam Party and the Bharatiya Janata Party is all set for break up, much ahead of the next elections. This time, the leaders of the two parties are speaking openly against continuation of the alliance for the next elections. Going by the intensity of these statements, it is clear that the alliance is set for a break up, most probably by the end of this year or the early next year.
The BJP senior leaders like Kavuri Sambasiva Rao, Daggubati Purandheswari, Kanna Lakshminarayana, Somu Veerraju have been openly criticising the alliance with the TDP, while leaders like K Hari Babu, Kamineni Srinivas and Vishnukumar Raju are in favour of continuation. The hardcore anti-TDP leaders, Kavuri, Purandheswari and Kanna have been lobbying against the alliance, while Haribabu, Kamineni and Vishnukumar Raju, with the blessings of Venkaiah Naidu are in favour of continuing the alliance. However, it appears that these leaders too are now toeing the line of others with Venkaiah Naidu himself giving enough hints on breaking the alliance. Venkaiah Naidu said that the alliance with the TDP is set for a review before the next round of elections. His statement had come handy for the others who have been aggressively voicing to put their case before the national president Amit Shah.
Meanwhile, there is a similar talk from within the TDP leaders to break the alliance for the next elections. Vijayawada MP, Kesineni Srinivas was the first one to speak for the break up with the TDP. He went one step forward and said that the alliance with the BJP had cost the TDP dearly and it was not wise to continue it for the next elections. Though the other TDP leaders are not speaking about it openly, they do appear to be subscribing to this argument and are ready to speak in the party forum, particularly at the Mahanadu scheduled to begin on May 27.