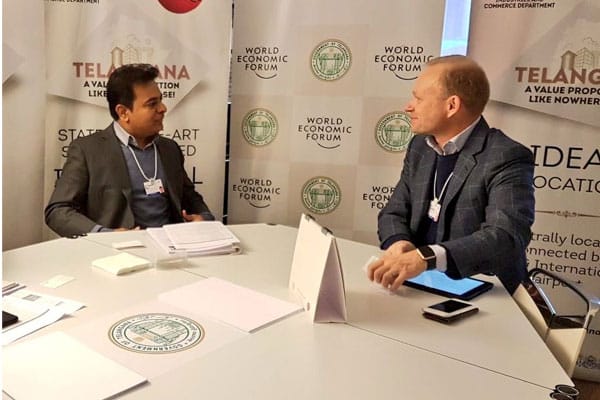 Participating in the World Economic Forum (WEF) for the first time, India's youngest state Telangana is trying to woo investors.
The delegation led by Minister for Information Technology, Industries and Municipal Administration K.T. Rama Rao called on top executives of various companies and business leaders in Davos.
At the state pavilion at WEF, the delegation met the investors and briefed them of the enormous opportunities Hyderabad and other parts of the state offer.
The minister met Petra Laux, Head Global and Public Affairs, Novartis. Rao tweeted that expansion of Novartis in Hyderabad was among the issues discussed.
He also explained the progress of Hyderabad Pharma City, a state-of-the-art facility coming up with a university and research centre.
KTR, as the minister is popularly known, also met delegation from Mitsubishi Heavy Industries led by Ken Kawai, Executive Vice President
He also called on Aloke Lohia, founder and group CEO, Indorama Ventures PCL, the world's largest polyester company by capacity.
During the meeting, the minister explained about the Telangana's progressive industrial policies and also the existing textiles ecosystem in the state.
He invited Aloke Lohia to explore investment opportunities in Kakatiya Mega Textiles Park coming up in Warangal.
With AirAsia Berhad's CEO Anthony Fernandes and Deputy CEO Aireen Omar, KTR discussed the prospects of setting up AirAsia's Tech Center and running innovation programmes to support startups in the aerospace sector.
KTR, who is Chief Minister K. Chandrasekhar Rao's son, tweeted that he also had a brief but scintillating meeting with Chairman of RIL, Mukesh Ambani.
Earlier, the minister also met Andhra Pradesh Chief Minister N. Chandrababu Naidu and his son and cabinet minister Nara Lokesh.
KTR is scheduled to speak at a few sessions at WEF. He will participate in the discussion titled 'Leveraging digital to deliver value to society' on January 25. He will also participate in the roundtable on "Promoting design in India" organised by Department of Industrial Policy and Promotion.
The next day, he will speak at the session titled 'Global Tech, Local Solutions: Artificial Intelligence.'