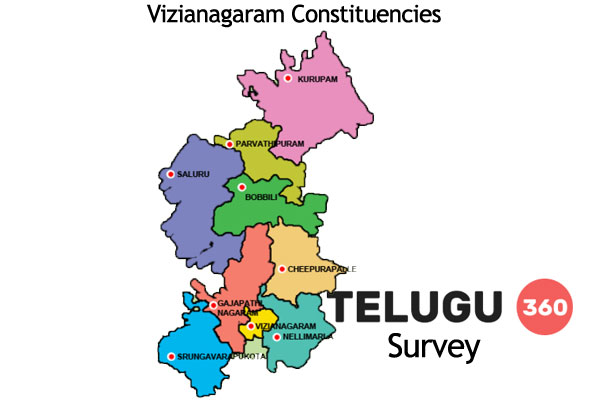 Vizianagaram is the second district being covered in the Telugu360 Survey. The district has 9 Assembly segments where the two main parties are locked in tight contests while Jana Sena party has lesser impact. In 2014, the TDP won in 6 segments while YCP won 3 segments. The YCP won in both the Kurupam and Saluru ST segments but this time, the TDP gained an upper hand as Congress stalwart Kishore Chandra Deo has joined the TDP and contesting from Araku Lok Sabha constituency. Saluru and Kurupam fall in the Araku MP seat.
This time, former minister Botsa Satyanarayana family joined the YCP while the Bobbili Rajah's family joined TDP. This has changed political equations. The cadres of Vizianagaram and Bobbili Rajahs are working strongly for the victory of TDP candidates. The YCP is facing groupism issues due to Botsa family getting three assembly tickets. However, Botsa Satyanarayana is having an edge in Cheepurupalli segment as groupism is likely to damage the chances of TDP. In Vizianagaram, TDP nominee Aditi Gajapati Raju stands good chances thanks to the popular image of her father Ashok Gajapati Raju.
In all, the TDP has better chances in Vizianagaram, Bobbili, Srungavarapu Kota, Nellimarla, Kurupam ST and Saluru ST segments. The YCP has got advantage in Cheepurupalli, Gajapatinagaram and Parvathipuram SC segments.