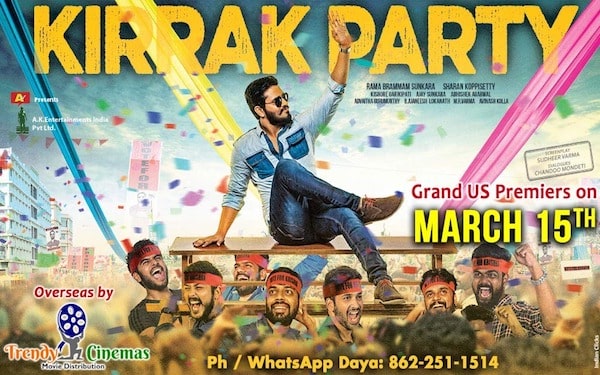 Trendy Cinemas, an overseas distribution company, known to bring new age films to movie lovers in overseas is very excited to announce its newest acquisition "KIRRAK PARTY", a Youthful Massy College Entertainment Film!!
Directed by debutant Sharan Koppisetti and produced by Anil Sunkara under AK Entertainments banner, "KIRRAK PARTY" is all set to hit the screens on Mar 16th, with premiers in USA on Mar 15th.
Featuring NIKHIL, who is on a roll with back to back hits "Keshava" and "Ekkadipothavu Chinnavada", the movie also stars actresses, Samyukta Hegde and Simraan Parinja who are going to play the female leads in the film.
In his latest outing, NIKHIL is going to portray the character of "Krishna", an ideal Engine-err who lives life to its full extent partying every sec but also, goes through a self-discovery process which is only to be experienced on silver screen.
Three good friends & frequent collaborators of NIKHIL, Chandu Mondeti (Director of "Karthikeya") and Sudheer Varma (Director of "Swamy Rara" and "Keshava") are coming together for this film with one penning dialogues and other writing the screenplay of the film respectively leaving no stone unturned.
Ajaneesh Lokanth is scoring the tunes for the film which are going to be huge asset for the film. We can't wait for the world to listen to these tunes!!
Thank you very much to Anil Sunkara gaaru for giving us this opportunity to bring this movie to overseas audience.
All you Engine-err and Graduate boys & girls, get to ready for the biggest youthful massy party of a lifetime from Mar 15th.
Click Here for the Teasing Trailer:
If you are interested to exhibit this film in your locations, feel free to reach out to us @ movies@trendycinemas.com.
Call or What's App:
Daya @ 862-251-1514
RamaKrishna @ 848-219-8424
Press note released by: Indian Clicks, LLC