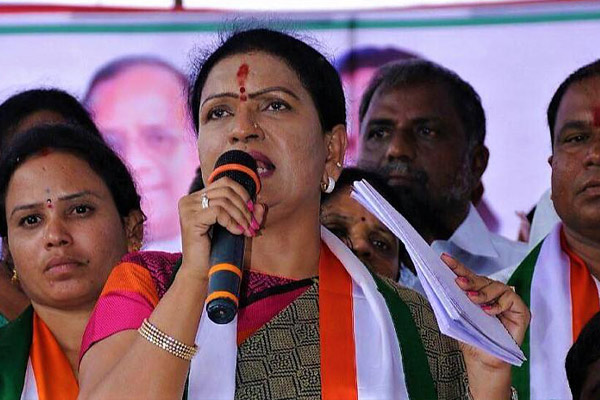 TRS Minister and KCR nephew T. Harish Rao is paying special attention to the politically sensitive Gadwal assembly segment in Mahboohnagar district. He is leading from the front the electioneering in this segment to secure victory for the party candidate Krishnamohan Reddy. This is the third time that Krishnamohan is challenging his mother-in-law D.K. Aruna, who is senior leader contesting on Congress ticket.
Aruna has become known for her fiery, angry comments against KCR and she is considered a firebrand woman leader in Congress circles. Coming from a long political family, Aruna is very assertive and she first contested from Gadwal on Samajwadi Party ticket after the Congress denied ticket to her in 2004. She won in the first attempt itself and continued her success journey in the next two elections as well in 2009 and 2014.
This is the fourth time that Aruna is aiming to win Gadwal segment. She is asserting that all the development presently seen in Gadwal has taken place under her leadership as minister in the past. Her serious comments against KCR has made her as one of the main targets for TRS party. Aruna is facing criticism from some sections who say that her strong family background has made her inaccessible to people.
TRS candidate Krishnamohan is making every effort to defeat Congress on the strength of development brought in by TRS government. He is referring to Rs. 45 crore worth 350-bed hospital and also Rs. 800 crore project to supply protected water to Gadwal area. Krishnamohan is making special mention of diversion of Krishna river water through KC Canal and Pothireddypadu projects. He blames Aruna for silently allowing this diversion by Andhra leaders though she was the minister at that time.