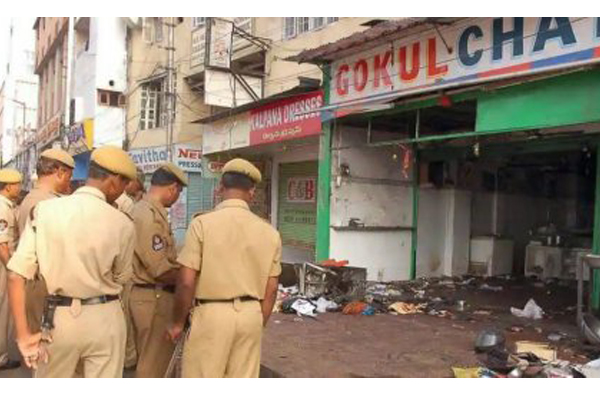 Eleven years after twin bomb blasts rocked this southern city killing 42 people, a special court on Monday sentenced two convicts to death and a third to life sentence.
Anique Shafiq Syed and Akbar Ismail Choudhary, the alleged Indian Mujahideen (IM) operatives, were sentenced to death, while third convict Tariq Anjum was awarded life sentence.
Second Additional Metropolitan Sessions Judge T. Srinivas Rao delivered the judgment at the high security Cherlapally Central Prison on the city's outskirts.
Two powerful explosions had ripped through a popular eatery Gokul Chat and an open-air theatre at Lumbini Park, near State Secretariat, in Hyderabad on August 25, 2007 killing 42 people and wounding 68.
While 32 people were killed at Gokul Chat, 10 others lost their lives at Lumbini Park, in near-simultaneous blasts around 7.45 p.m that day.
An unexploded bomb was also found under a foot-over-bridge at Dilsukhnagar.
Public prosecutor Seshu Reddy told reporters that Anique and Akbar were awarded death sentence in three cases. The court also imposed a fine of Rs 10,000 on them in each of the cases.
The court had convicted them on September 4.
Earlier in the day, the court held Tariq guilty of providing shelter to the other accused.
Two other accused, Farooq Sharfuddin and Sadiq Ahmed Sheikh, were acquitted last week for lack of evidence.
The public prosecutor said the convicts told the court that they were falsely implicated in the case and that since they have already spent 10 years in jail, they may be set free. However, the judge was not inclined.
Seshu Reddy said the records relating to the sentence will be sent for confirmation to the high court, where the convicts can challenge the verdict.
The accused were arrested by the Maharashtra Anti-Terrorism Squad in October 2008. Three other accused including IM chief Riyaz Bhatkal and his brother Iqbal Bhatkal are still at large.
The case was initially investigated by the Andhra Pradesh Police and following bifurcation of the state, it was handed over to the Counter Intelligence (CI) wing of Telangana Police.
Three chargesheets were filed against the accused. In 2014, the court framed charges against them. They were charged with murder and other offences under the Indian Penal Code (IPC) and Explosive Substances Act.
The trial against them was shifted to a court hall located in the premises of the prison in June this year on security grounds.
This is second bomb blast case in which operatives of banned terror outfit Indian Mujahideen have been sentenced. In December 2016, five senior operatives of IM were awarded death penalty by a special National Investigation Agency court in February 2013 Hyderabad blasts case.
IM co-founder Mohd Ahmed Sidibapa alias Yasin Bhatkal, Pakistani national Zia-ur-Rahman alias Waqas, Asadullah Akhtar alias Haddi, Tahaseen Akhtar alias Monu and Ajaz Shaikh were sentenced to death for 2013 blasts.
Eighteen people were killed and 131 injured in two deadly explosions in Dilsukhnagar, a crowded shopping area in the city, on February 21, 2013.