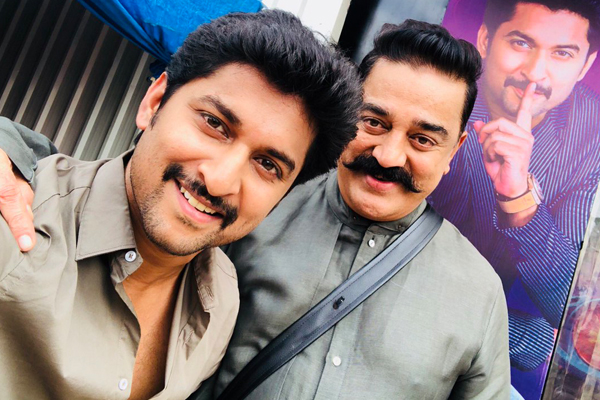 Kamal Haasan's Viswaroopam-2 is releasing on 10th Aug. He is leaving no stone unturned to promote this film and visiting various shows across the country . Yesterday, Kamal visited the house of Bigg Boss Telugu in Hyderabad along with his co-star Pooja Kumar. It was a treat to watch Universal star and Bigg boss Tamil host meeting Natural star and Bigg boss Telugu host Nani.
Universal star with Natural star:
Even before the show telecat, Nani couldnt hide his excitement and tweeted – "Fan meets his Favourite actor, Junior Host meets senior Host, Yes … This happened :))". STAR MAA also tweeted on their meet, "Its a Fanboy moment for #BiggBossTelugu2 Host @NameisNani with #BiggBossTamil Host @ikamalhaasan #JuniorWithSenior ". Nani asked Kamal, he could have come on Saturday episode so that, both of them could have lot of fun on stage. But Kamal quickly reminded that on weekends he would be busy with his Tamil Bigg boss show.
Kamal with contestants:
STAR MAA tweeted on how excited housemates were with Kamal entry – "When a Legend like @ikamalhaasan walks into the Bigg Boss House..Celebration always multiplies #Vishwaroopam2 #BiggBossTelugu2 Today at 9:30 PM on @StarMaa". Nani told housemates that they have very special guest today that is Kamal Hassan, housemates were exalted, excited and some of them fell in his feet. As most of the housemates pursuing acting career, Kamal is like demigod for them. Kamal gave all of them "Soldier like tea shirts". Amit sang a "whistle song" for Kamal, TV9 Deepthi interviewed Kamal, heroine Pooja , cinematographer Shamdat, and music director Ghibran who were in the house. Babu Gogineni and Kamal connected well as both have similar "rationalist" mindset and Babu presented him T-shirt that has caption "Reason NOT religion". Geeta Madhuri sang a song from Kamal's Guna. Incidentally this song was used in Nani's movie "Eto Vellipoyindi Manasu" too. Kashal told, he became model after watching Kamal's ramp walk in Bharateeyudu movie and housemates sang the same song "Adireti Dress" and Kamal & Pooja did ramp walk for housemates. Then rapper Roll Rida sang a song for Kamal which he enjoyed.
Lifeline to Amit
Kamal had a special power to given lifeline for one of the housemates for 2 weeks and he can bestow upon one of the housemates. Kamal told, he wants to give it to someone who needs such support. Not the one who is very talented or not the one who is doing well in the show already. He gave it to Amit, who is 'managing' the show despite not knowing fluent Telugu. So, Amit will be in protected zone for 2 weeks and he can't be evicted.
Kamal's entry in the show made housemates exuberant and audience enjoyed the show. So far JambalakidiPamba, Tej I love you and W/o Ram promoted in the show and none of them were success at box-office. We'll have to wait and see whether Viswaroopam breaks that sentiment.
-ZURAN (@CriticZuran)