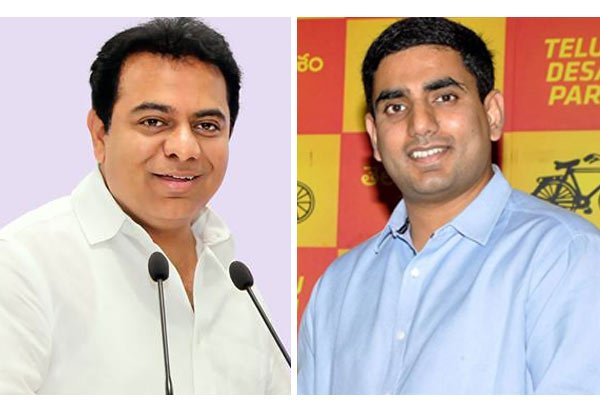 Andhra Pradesh Panchayati raj Minister Nara Lokesh in last three days is taking up grievances related to villages on twitter. On the other hand, KTR has been addressing such issues on twitter for quite some time now. While KTR is picky, Lokesh who is a debutant is on problems resolving spree. While the ministers want to lead, let's hope, they don't end up nit-picking.
Lokesh's twitter feed is an outright evidence that there are several problems to be addressed, a few of which have remained unresolved since ages. The twitter grievance redressal system, practiced by these two privileged ministers, is more like a lottery system where only few twitterati are blessed.
Sometimes tweets are judged by the amount of publicity they can generate for the minister.
There is category of requests wherein the minister in his position can hardly do anything. Like –
• Lost passport when a person is abroad. A sensible individual should reach out to the Indian Embassy out there rather than reaching to unrelated ministry of IT or Panchayat. Even if anyone knocks on the 'Twitter Darbars', there is hardly anything the prince can do apart from rerouting the request through Ministry of External affairs or embassy.
• Another practice is tweeting the newspaper clips about needy citizens and seeking assistance from the "Twitter Darbaars". Even before the advent of twitter, ministers or officials or at times NRIs have reached out to such people as the whole purpose of publishing it, is to get the attention.
There are many similar requests on twitter which are receiving blessings from the ministers. In such cases, if feasible reduce the red-tapism at those embassies or in departments. On a positive note, these blessings are useful for some, but equality should be given importance over publicity. Will the prince ever be able to reach out to the under privileged who do not have access to him? There are established rules and guidelines in place for certain set of complaints. It is absolutely conclusive that few of the tweeple either have lost trust in the machinery or are unaware of the processes.
Cynical about something, without recommending viable solution, is a bad practice. Here are better plans:
At the government level – Programs like "Mee Kosam" in Anantapur and GHMC portal acknowledge the complaint, give a ticket number and the status can be monitored online or sent as a SMS to the aggrieved. On similar lines setting up a call-center or online portal will be the most viable option. Government can also setup a panel with separate twitter handle in which they can request the users to give their ticket numbers if unresolved for some time (SLA model)
At the leaders' level – Instead of directly taking up unrelated issues the leaders should drive the tweeple to lodge the complaint or request at above said authoritative systems first. If the prince tweets only he will earn praise, if his entire machinery works, his kingdom will get the due credit.
At the twitterati level – While tweeting is easier than walking down to the office, it is important to google before tweeting and become knowledgeable about the rules and processes. A twitter user who constantly seeks the prince's blessings for merely likes or retweets, is indirectly becoming the desperado for those deprived.
The said approach will also allow the public servants to be fully vested in what they are doing, so they need not bear the brunt of the minister at first itself. Moreover, such system will reduce the burden on the ministers to search through the hundreds of tweets aimed at them each day. Follow-ups do help in rare and exceptional circumstances. However, it should not become a standard practice for basic things too