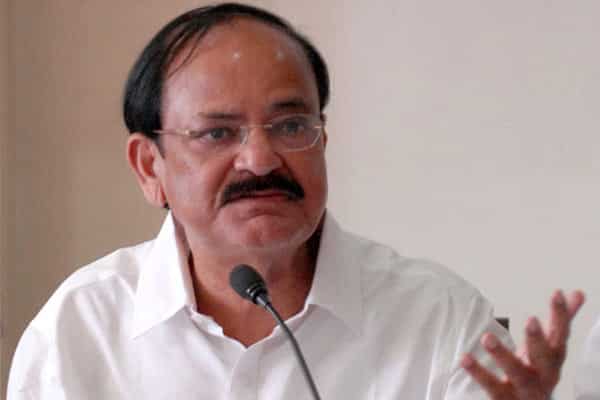 Government of Telangana flamboyantly felicitated Vice-President Venkaiah Naidu at Raj Bhavan in Hyderabad on Monday. The programme was attended by Governor ESL Narsimhan, Chief Minister Chandrashekar Rao, Union minister Bandaru Dattatreya and other prominent politicians and film personalities.
After the felicitation ceremony, KCR, Governor, Dattatreya and Venkaiah delivered their speeches. Venkiah personally thanked all the guests and the delegates who attended the meeting.
Speaking on the occasion, Venkaiah advised all the citizens to participate in development of the country. He said that he started his political career in Hyderabad and it wouldn't be an exaggeration to call the capital city as mini-Bharat. The Vice President also said that Telugu language has grammar and glamor. He said that the governance should use Telugu as the language of administration. Venkaiah said Telugu language should be protected and the identity of this language should be preserved. He advised the Telugu speaking states to resolve bifurcation issues amicably. He said he not only loves Telugu but is also a great foodie.
Chief Minister KCR said he is fortunate to felicitate the thirteen Vice President, who started his political career as a common worker and is now in the second highest position in the country.
Governor Narsimhan said that Venkaiah's speech are very good with intense meaning. Union Minister Dattatreya said that the people of Telangana are honoured to be felicitate by the Vice-President.