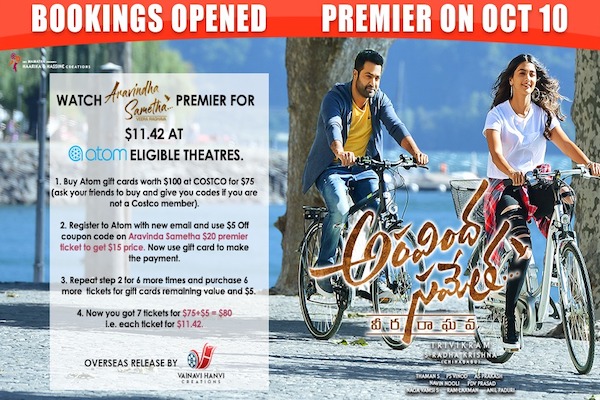 Aravindha Sametha … Veera Raghava is all set to be premiered on October 10th, 2018 throughout the United States starting from 4.30 pm EST.
The Overseas bookings have already been started. If you're looking to book a ticket for the premier, get it just for $11.42 at all Atom Eligible Theatres.
With the buzz created by the music & Trailer, Aravindha Sametha has turned out to be one of the most anticipated movies of the year.
Director Trivikram, is all set to get back with his ethical storyline and powerful dialogues. It is going to be a treat, to witness Jr. NTR with him. The movie has Pooja Hegde and Eesha Rebba, playing the two females leads beside Tarak. However, the cast included some interesting names like Sunil, Naga Babu, Jagapathi Babu, Rao Ramesh and Shatru.
SS Thaman has re-found himself with the intense music. Can't sustain the wait? Book your premier tickets for $11.42 each at all Atom Eligible Theatres like Regal, ShowCase, New Vision, Emagine, Movie Tavern, Harkins, Frank, 8K Cinemas, Apple & Others.
Vainavi Hanvi Creations is all excited to bring you the film at affordable cost.
Steps to get Aravindha Sametha Premier Tickets for $11.42 each:
Buy 4 Atom Tickets $25 e-Gift Cards for Tickets and Concessions of $100 value for $75 at Costco.com using the link below.

https://www.costco.com/Atom-Tickets-Four-%2425-eGift-Cards-for-Tickets-and-Concessions.product.100391012.html

In case if you are not a Costco member, ask your friends to buy them and give the codes to you.
Register to ATOM with a new email id and use the $5 off coupon code on Aravindha Sametha $20 Premier ticket to reduce the price to $15. Now, use the ATOM gift card for the payment.
Repeat the above step for 6 times and buy 6 more tickets for gift cards remaining value and $5 extra.
Together, you are spending $80 for 7 tickets; i.e. $11.42 for each ticket.
Have fun watching the premiers with your friends and family.

CLICK HERE!! for the USA Schedules.
Press release by: Indian Clicks, LLC