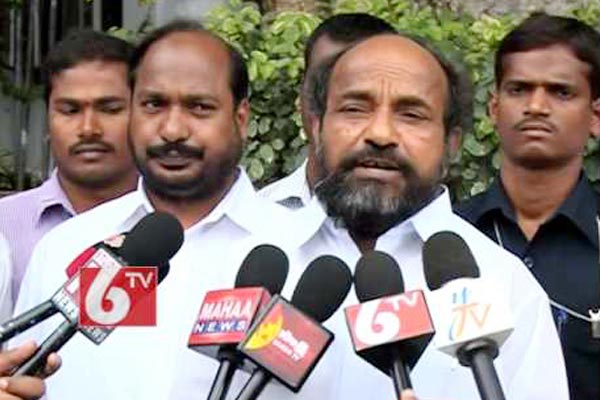 While majority of his colleagues left the party and joined TRS, this TDP MLA wants to mobilize unemployed across the state to embarrass the Telangana chief minister K Chandrasekhar Rao.
LB Nagar TDP MLA R Krishnaiah announced that he is going to launch a movement demanding the chief minister to implement all the assurances he gave to the youth of the state during Telangana movement and later, the election campaign in 2014.
He called upon the youth to get ready to join the movement for the more jobs.
It is not known if the TDP has backed the movement, definitely the call is music to the ears of TDP supremo Chandrababu Naidu at a time when he was ditched by many MLAs he promoted. Because, on the otherside KCR is wooing every Telugu Desam MLA and there is no guarantee who stays put in the party. That  Krishnaiah is sounding war bugle against KCR at this juncture is a matter of pride for the TDP president.
Addressing the Joint Action Committee of Telangana unemployed at Dilshukhnagar, Krishnaia reminded the youth how TRS chief K Chandrasekhar Rao, during 2014 election campaign, promised one job to each family in Telangana if the party voted to power. " He has come to power and has been in power for nearly two years. where is the job to each family," Krishnaiah asked. Stating that there were about 2 lakh vacancies in the state government, he said he would launch the movement till the last vacancy was filled.
" The government is spending Rs 42,000 crore on the water grid project stating that it would help improve irrigation and drinking water availability. Can't the government spend a mere Rs 10,000 crore to fill these 2 lakh jobs which will improve the lives of youth of an entire generation," he said.
He demanded that the number vacancies in group-2 should be increased from present 439 to 3500 and teacher posts from 15,600 to 39,000.
He demanded that notifications be issued to all categories of vacancies in the state as the unemployed and their families anxiously waiting for the notifications for year.
Telugu360 is always open for the best and bright journalists. If you are interested in full-time or freelance, email us at
Krishna@telugu360.com