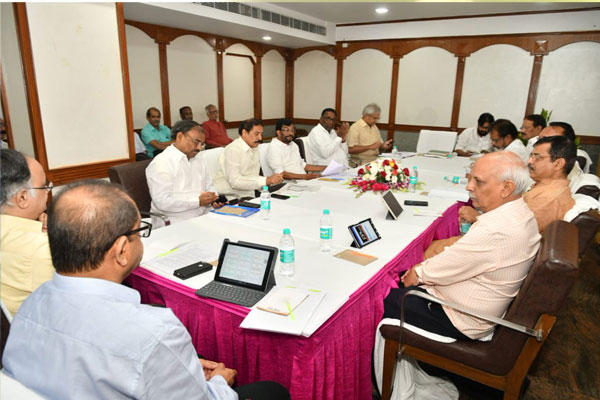 It is known news that former MP Undavalli Arun Kumar today convened an all party meeting on the issue of injustice meted out to the state of Andhra Pradesh during bifurcation. Many leaders attended the meeting including Janasena chief Pawan Kalyan, CPI leader Ramakrishna, Andhra Pradesh ministers Somireddy and Anand Babu. YSRCP party has already declined the invitation and gave statement that they won't attend this meeting. However many people are wondering why Undavalli did not invite loksatta Jayaprakash Narayana this time.
Last time Loksatta leader Jayaprakash Narayana and former member of parliament Undavalli were seen together during the joint fact finding committee convened by Pawan Kalyan to quantify the amount centre owed to the state of Andhra Pradesh. Along with undavalli Arun Kumar and Jayaprakash Narayana, leaders like Thota Chandrasekhar and padmanabaiah also participated in this cumbersome exercise. But now JP was not seen in the meeting convened by Undavalli.
Official reason:
As per the official information given by Undavalli Arun Kumar, he invited only those parties that are contesting for Lok Sabha in 2019 elections. These are the parties who will enter the parliament and question the centre to fulfill the demands of the state of Andhra Pradesh. So Undavalli specifically invited only those parties. By seeing this answer of Undavalli Arun Kumar in a TV channel, one can easily understand that he is of the opinion that loksatta party is not going to contest for Lok Sabha elections in 2019 and that is the reason for him to not invite Jayaprakash Narayana for this all party meeting.
Unofficial reason:
Loksatta Jayaprakash Narayana participated in Pawan Kalyan's joint fact finding committee and gave his inputs. After this committee gave its report and put the blame on centre for not fulfilling the promises, Jayaprakash Narayana formed another committee to examine the same question and he also came up with similar numbers and he also put the blame on centre. Jayaprakash Narayana, who criticised Pawan Kalyan not doing anything after producing the JFFC report, also went into silent mode after producing his own report. As per the unofficial sources, Jayaprakash Narayana criticizing Joint fact finding committee despite himself being in the committee, did not go well with the others who participated in that committee. Some say this also could be one of the reasons for Undavalli Arun Kumar not inviting Loksatta Jayaprakash Narayana this time.
We will have to wait and see how loksatta Jayaprakash Narayana respond on the outcome of this all party meeting.