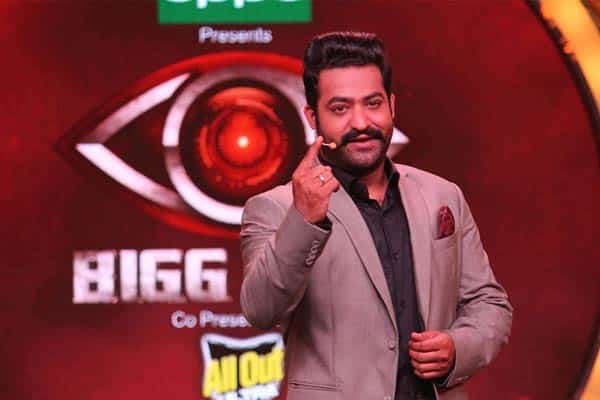 Just 1 day to go. Most popular Star Maa TV show Bigg Boss Telugu has almost come to an end, The grand finale of Bigg Boss Telugu will be aired on Star Maa channel this Sunday. on 24th September 2017 (Sunday). The Telugu version of Bigg Boss which was started on 16th July 2017, with 16 contestants got tremendous response from the audience. Now after various rounds of evictions, top five contestants have reached the grand finale. The top 5 finalists of bigg boss show are Adarsh, Archana, Hari Teja, Navdeep and Shiva Balaji. Now everyone is curious to see who will win the title of Bigg Boss season-1 in Telugu. It is known news that there will be cash prize of 50 lakh rupees for the winner. Let's have a look at strengths and weaknesses of these contestants and their prospects to win bigg boss title show.
Hari Teja: She got very good response from the show and now became almost a household name in Telugu states.
Strength – Her sense of humor and screen presence are her main strengths. The episode where she narrated 'burra katha' of bigg boss show is still remembered by audience
Weakness– There is a perception that she is somewhat manipulative. Some people even went to the extent of saying she is doing a bit 'over action'.
Opportunity – She has a good chance of winning votes from audience as she earned good fan following
Threat – By seeing her performance in last week, it seems she doesn't want to do any major mistake or controversy in last week and play safe game. This may turn audience away from voting for her.
Archana:
Strength – When the show started, she was definitely a bigger star when compared to other female contestants.
Weakness – Contestants as well as audience were irritated by her nagging and ever-complaining behaviour. Seems she is also aware of her nagging behaviour.
Opportunity – After surviving the week when almost 8 contestants nominated the eviction, she became stronger and improved her chances of winning the title.
Threat – Her inconsistent behaviour that sometimes very sportive and sometimes very moody is driving people away from voting her for the coveted title .
Navdeep:
Strength – He is really star of the show.To be frank, he elevated the show when rating were dipping with his energetic screen presence. His sense of humor and 'dont care' attitude are his biggest strengths.
Weakness– Late entry is the main Weakness. Still audience not full-fledgedly convinced to have Navadeep, who entered as title winner
Opportunity – Even though many people are not betting on Navadeep's prospects as he is wild card entry, bigg boss show is all about surprises. Who knows? Navadeep can also be title winner as no rule in the show stops any wild card entrant from winning the title
Threat – Though audience unanimously agree that after Navadeep's entry, show became more interesting and audience always voted for navadeep to stay in the show without being evicted, somehow the same audience not willing to see him as title winner. Maybe his entry after 4 weeks is stopping audience from accepting him as title winner
Adarsh :
Strength – His main strengths are his balanced & composed behaviour, his sincerity towards the tasks. Also the display of his sensitive nature when it comes to his family really connected well with the Telugu audience.
Weakness– The episode where he was alleged to be the reason for his friend prince's eviction created some sort of negative impression on him. Also, he is not a guy who entertains. He is just quiet on the screen.
Opportunity – The way he told he is quitting smoking for his spouse also connected well with the audience. Audience always saw him as a matured and composed guy. So implicitly audience will have no complaints on seeing him as title winner.
Threat – His behavior and the maturity in playing the game brought him till the finals. But he doesnt show any thing above audience expectations or he never thrilled or entertained audience. So, the audience opinion is also somewhat nuetral when it comes to Adarsh winning the title.
Shiva Balaji :
Strength – His genuinity is his main strength. The way he handled the housemates when he was captain won the hearts of house mates and audience alike.
Weakness– He is also not a great entertainer. He also showed some mood swings.
Opportunity – Whether Shiva Balaji agrees or not, audiece say definitely there is some transformation in his behaviour. He seemed to have transformed from a short tempered guy to some what composed guy. However, his sincerity and genuinity are main reasons for people to vote for him to be title winner.
Threat – As already mentioned, he is not a great entertainer. Though he is staying away from controversies, he is seen as someone who couldn't make very strong impression when there were opportunities to make so .
But all these finalists have it in them to win the title. Whoever misses the title also will be losing it with small margin in the votes. Though each of them have their own strengths and weaknesses it is up to the audience to win the title winner. Anyway, its just 1 day to go to know the final winner. Let's wish all the best to all the contestants!!!