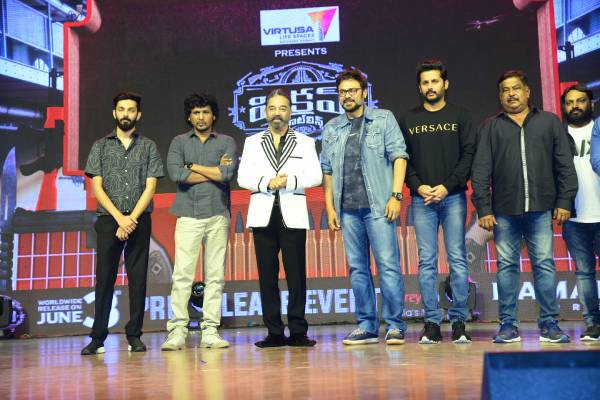 Universal Hero Kamal Haasan is teaming up with Lokesh Kanagaraj for Vikram. The movie is releasing on June 3rd in multiple languages. Nithin's Sreshth Movies is releasing the most-anticipated film in Telugu. The film's Pre-release event happened in Hyderabad on Tuesday.
Victory Venkatesh almost became a fanboy and had warm words about the Universal Hero. "Kamal sir asked me to come to Vikram function. Who will say No? His acting is 60 years, I saw 16 Ella Vayasu Tamil versions and was clean-bowled. He is still sixteen. Maro Charitra is like a GPS for every actor. In a film like Dasavataram, there is no single actor who has the guts to do such a film. He is an actor par excellence. He is Apoorva Sahodarudu for all of us. He is the first Pan-India hero with Ek Tuje Keliye. He is the Global star today. He is a phenomenon. He did films with class and commercial directors as well. Everyone wants to work with him. Nayagan movie made him Nayagan to acting. South India cinema is before and after Kamal sir. He smashed all the stereotypes. After him, every actor started thinking differently. He is the greatest multi-faceted actor. I am his biggest fan. I wish all the success for him. I did many films in my career. Whenever there is a block in sentiment films, I watch his films and take inspiration. I hope I will get to act with him in a full-fledged film. The movie will release on June 3rd and will be a blockbuster for sure," he said.
Nithin who is releasing the movie in AP and TS said, "I wish Venky Sir gives his F3 success to our Vikram releasing on June 3rd. I thank Rajkamal films and Turmeric media for giving me this opportunity. We are privileged to release the movie in Telugu. He is the only legend of Indian cinema, the pride of Indian cinema, and he is a masterpiece. There is no one even beat him. I salute him. I am a huge fan of Anirudh and Lokesh. If a fanboy makes a film, it will become a big hit like Gabbar Singh, Bheeshma, and Akhanda. Vikram will become a big hit as well".
Finally, Kamal Haasan delivered an emotional speech. "I came to Hyderabad forty years ago as a dance assistant for ANR's Srimanthudu. I ate Telugu food since then. I got my biggest hit here. I am what I am today is not achieved all alone. I have a family of many who pushed me in that direction. The thirty-six films with Balachander are my Ph.D. I learned acting from him. Venky need not work hard if he does not want because of his background. But he worked really hard. He was supposed to do Marmayogi but both of us missed it. Sudhakar Reddy garu is a part of the Vikram family. I asked him to help us make history. The confidence is because of the love of the audience here. I thank every brother who came here for me. Lokesh has no one behind him when he came here and now he has everyone behind him. It is also with Anirudh. I am a fan of Good cinema. Just not Vikram, every film should work. Vikram is an action-packed high-octane film. Luckily no one got hurt. That is our first achievement of the director and the stunt team. The entire team is working hard day and night. I am promoting the film across the globe. I will come once again here," he said.