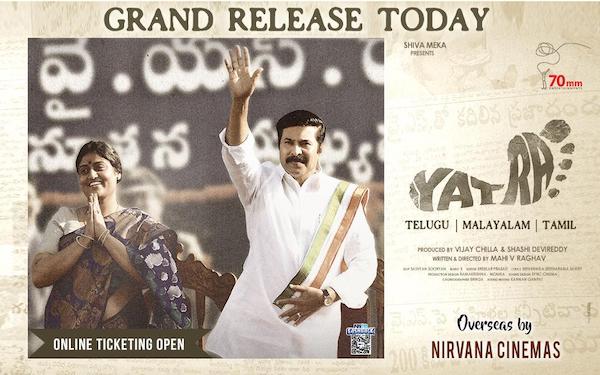 Nirvana Cinemas has made arrangements for YATRA to be released in Telugu, Malyalam and Tamil in a BIG way.
Yatra starring Mammootty as Y. S. Rajasekhara Reddy, Jagapathi Babu as Y. S. Raja Reddy, Ashtita Vemuunganti as Y. S. Vijayamma along with noted actors like Suhasini Maniratnam, Rao Ramesh, Anasuya Bharadwaj, Posani Krishna Murali, Sachin Khedekar and others.
#YatraTheMovie is not about politics or a region – it is the story of a trailblazer who persisted through his sheer determination and hard work and reached pinnacle of his career.
This is a case study for generations to come. This movie is a showcase of trials and tribulations Yeduguri Sandinti Rajasekhar Reddy (YSR) underwent in YATRA (walkathon).
This movie will inspire wanna be leaders to become whatever they want be regardless of who they are or what they look like – this is a portrayal of a person who looked into people's hearts and people cementing him in their hearts forever.
This is a gut wrenching emotional story of one of the greatest sons of Andhra Pradesh and is a MUST watch for every movie goer.
70mm entertainments production house has produced two high quality movies so far and this is their third and grandest movie.
All shows including premiers are reasonably priced at $12/$9.
ONLINE booking is at unprecedented levels. Book your tickets ASAP if you want to catch it on BIG screen.
CLICK HERE!! for the show times/theaters list.
Press release by: Indian Clicks, LLC