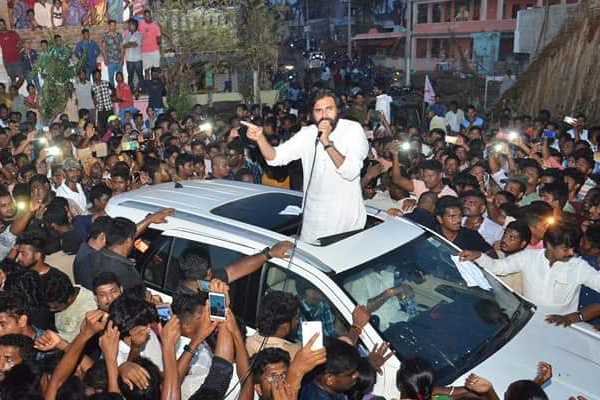 Janasena party chief Pawan Kalyan was criticized as part time politician until 14th March of this year. But on that day he suddenly changed gears and started attacking ruling TDP, the party which he had been supporting for last 4 years. Even though Pawan's sudden shift shocked ruling party, it seems his rise is causing more damage to YSRCP party that had pinned high hopes on anti-incumbency votes.
Whenever Pawan becomes prominent, Jagan eclipsed in Social media:
YSRCP chief Y S Jagan has been doing padayatra since almost 11 months. His foot march received different kinds of response at different places. At some places, he received thunderous response, while at other places, it was dull. But another observation is, whenever Pawan becomes active, Jagan's activities are completely fading out.
For example during Pawan Kalyan's north Andhra tour or during current Godavari districts tour, entire social media is full of debates, discussions, memes, trolls and counter trolls on Pawan Kalyan's speeches and activities. Even the mainstream media that is completely avoiding Pawan Kalyan's speeches and activities, is giving full screen time to counter comments on Pawan Kalyan by ruling party leaders for next couple of days and that is actually giving mileage to Pawan Kalyan and his party. Whenever Pawan becomes active, TDP leaders also completely focusing their criticism towards Janasena chief.
During Pawan Kalyan's tour, focus of media as well as social media is completely shifting towards him and Jagan's tour is completely ignored (except his own Sakshi paper and channel).
Sakshi scant coverage to Pawan
Probably, this is the reason for Sakshi media giving scant or no coverage to janasena activities. As all other mainstream media (with their negative comments ) and social media (with mostly positive comments) is focusing on Pawan, Jagan's own media seems to have decided to restrict the space allotted to Pawan in their media. It is known news that Sakshi has been sidelining Pawan even in the cinema page for long (https://www.telugu360.com/big-story-sakshi-completely-sidelined-pawan/). When Pawan attended the launch of Aravinda Sametha, while most of the media houses highlighted camaraderie between the top stars, Sakshi presented the news without mentioning the name of Pawan.
If the same trend continues, Jagan's prospects hampered?
In another 6 months, AP will face elections. And , in one month, Jagan's padayatra, that was started in last November, will come to an end. YSRCP fans are bit worried about this social media trend. Also it is expected that Pawan will be even more active in next 6 months. At the same time, there is no clarity on Jagan's activities once his padayatra is complete.
So, we will have to wait and see whether this trend will impact elections too.