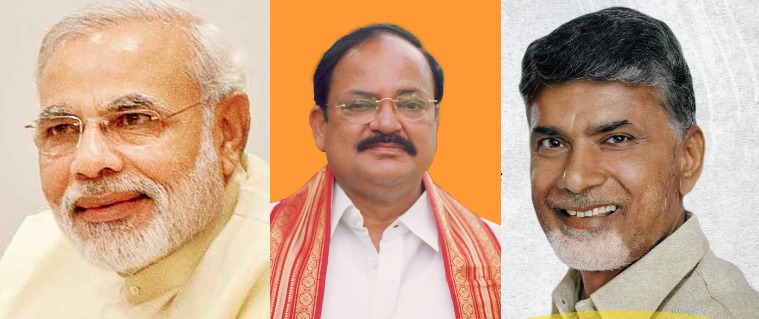 Congress will observe a novel protest to  capture the national attention  to the demand for special category status to Andhra Pradesh.
The party leaders across the state will book cases against Prime Minister Modi, union urban development minister Venkaiah Naidu and AP chief minister Chandrababu Naidu for cheating the people on according special category status to Andhra Pradesh in every police station in state.
"All these leaders assured the people of Andhra Pradesh the special category status from various fora. Prime Minister Modi assured from an election stage in Tirupati, while Venkaiaha on floor of the Rajya Sabha.  Chief minister Naidu,for one year, day in and day out, talked that Modi would not ditch the state with regard to special status and the TDP would not shy away from fighting. Now centre clarified that there would be no special status. Congress will file cases and various sections for playing with the sentiments of the people," APCC chief N Raghuveera Reddy said in Tiruapati.
"We will wait until August 13, the last day of the Parliament monsoon session. If the Centre does not change its attitude towards Andhra Pradesh and make an announcement on special status as well as other benefits assured to the state, Congress party committees would file cases on these three leaders . There are 1,200 police stations in state, The party file cases against Modi, Venkaiah Naidu and Chandrababu Naidu in all these stations, and will take up a legal fight against them," he said.
He also announced support to the bandh call given by the Left parties in Andhra Pradesh on August 11. The CPI and other parties have called people to observe bandh on Tuesday in protest against the denial of speical category status to Andhra Pradesh by the union government.
YSR Congress, which is organizing a Dharna near Jantar Mantar , opposite Parlaiment House, New Delhi, on same subject on Monday, has already extended its support to the bandh.
The APCC chief  said Congress would also join the bandh on August 11 called by the CPI to press for special status.