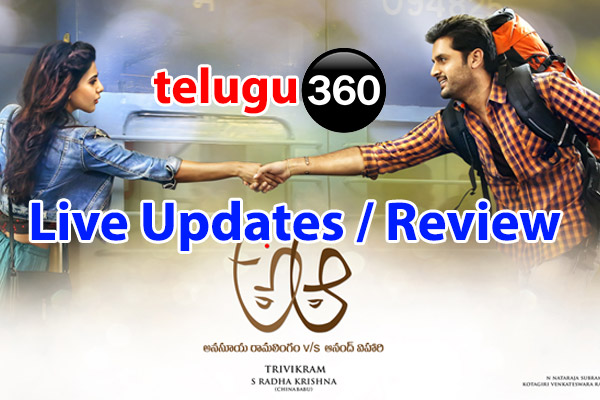 A Aa Movie Review, A Aa Review
Trivikram Srinivas's A Aa, starring Nithiin, Samantha and Anupama Parameshwaran, is the last big ticket film this summer. A Aa is tipped to be a clean family entertainer with plenty of Trivikram's trademark one-liners. During the promotions, Trivikram claimed that he worked on this film from ground zero, just like in his fledgling days as director. Let's see if the film can end the summer season on a positive note.
Story :
Trivikram penned this story, which thankfully does not have the audience's brain working on an overdrive. Mahalakshmi (Nadiya) is a successful Hyderabadi entrepreneur  and a dominating wife which is typical of any Nadiya casted roles now-a-days. Ramalingam (Naresh) is her husband and Anasuya(Samantha) is their only daughter. Mahalakshmi controls every aspect in Anasuya's life, personal and professional, with very little or no regard to Ramalingam's advice or Anasuya's wishes. Frustrated with her mother's continuous iron clad interference in her life, Anasuya attempts suicide, luckily she survives the ordeal.
Her concerned father (Naresh) sends Anasuya to recuperate at her maternal uncle's family house in the Kalavapudi village. Anand Vihari( Nitin) is her uncle's son (bava). During the 10 days she spends in the village, Anasuya starts to enjoy her life, her time with Anand Vihari and the village customs. Also living the same village are Pallam Venkanna (Rao Ramesh) and his son (Ajay) and daughter Nagavalli (Anupama Parameswaran). With these situations and the characters setting the premise for the movie, the rest of the plot unravels as the characters interact with each other and life as she knew it changes for Anasuya when she comes back to the city 10 days later.
Analysis:
First look "A Aa" appears to be a clever rehash of Bommarillu movie at its core. The father-son relation from Bommarillu is replaced with the mother-daughter relation in this movie. Later, Trivikram's magic start to show as a second layer of 'family values' and 'village backdrop' are weaved into the plot.
Natarajan Subramaniam, the cinematographer, has well presented the Trivikram's vision of village landscapes on celluloid. While cinematographer captured the geographical beauty, Trivikram has captured the beauty of the people and nativity so well. The audience will find like the feel good moments spread through the movie.
However, do not expect Trivikram's punch mark dialogues nor his trademark rib tickling comedy. There are good dialogues and one-liners but not of his previous works' caliber. Screenplay wise it is pretty straight forward and scores good. Due to a single thread story, the second half of the movie is filled with routine scenes with lag. However, the climax more than makes up for it and the audience will come out of the theatre in a positive mood.
All songs are situational, coming at appropriate timing and with good picturization. Rang De song stands out the best of the five songs.
Actors:
Surprisingly, Samantha is the show stealer. Trivikram's trust in her abilities is not misplaced and Samantha does full justice to the role. One cannot imagine a better heroine from current lot "for this role". She got perfect author backed role and on top of it, her costumes, makeup and physique etc… everything worked just great.
Rao Ramesh scores next for his soft villainy role. Once again it has been proved he is a very valuable director's artist, if director is capable of controlling him from being overboard. Especially in climax scene, he gets the maximum applause.
Nitin is good fit for the innocent role he played, this movie will for sure help him in his career. He will get more mileages from family audience. Anupama Parameswaran's makeup is odd and she's uncomfortable in the role. For her pretty face, her makeup could have been better taken care of.
Naresh, Nadiya, Srinivasa Reddy, Ajay, Ananya (as Nitin's sister Bhanu) are all good in their roles.
Positives:
* Climax and dialogues from climax.
* Nativity in first half.
* Feel good characters, clean family movie.
* Situational songs that perfectly sync with the movie flow.
* Samantha's characterization.
Negatives:
* Comedy could have been better.
* Trivikram mark punches are missing (with the climax being an exception).
* Routine scenes from mid second half to climax.
* Anand Vihari's sister characterization in second half is not convincing enough
Verdict:
A Aa is a good film for families this summer. First half of the movie is a decent entertainer, while second half is routine. However, the climax will leave audience on a positive note. Though there is nothing great about this movie, the above average content aimed at family crowd will work at box-office. For the youth, we have Samantha at her career best. In the Overseas and in the "A" centers, "A Aa" movie will be a profitable venture for all involved. An easy watch in theatre. Enjoy the movie!!
Telugu360 Rating: 3.25/5
Star Cast : Nithin, Samantha, Anupama Parameswaran, Ananya, Nadiya
Music : Mickey J Mayor
Director : Trivikram Srinivas
Producer : S. Radha Krishna
Banner : Haarika and Hassine Creations
Releasing on : June 2, 2016