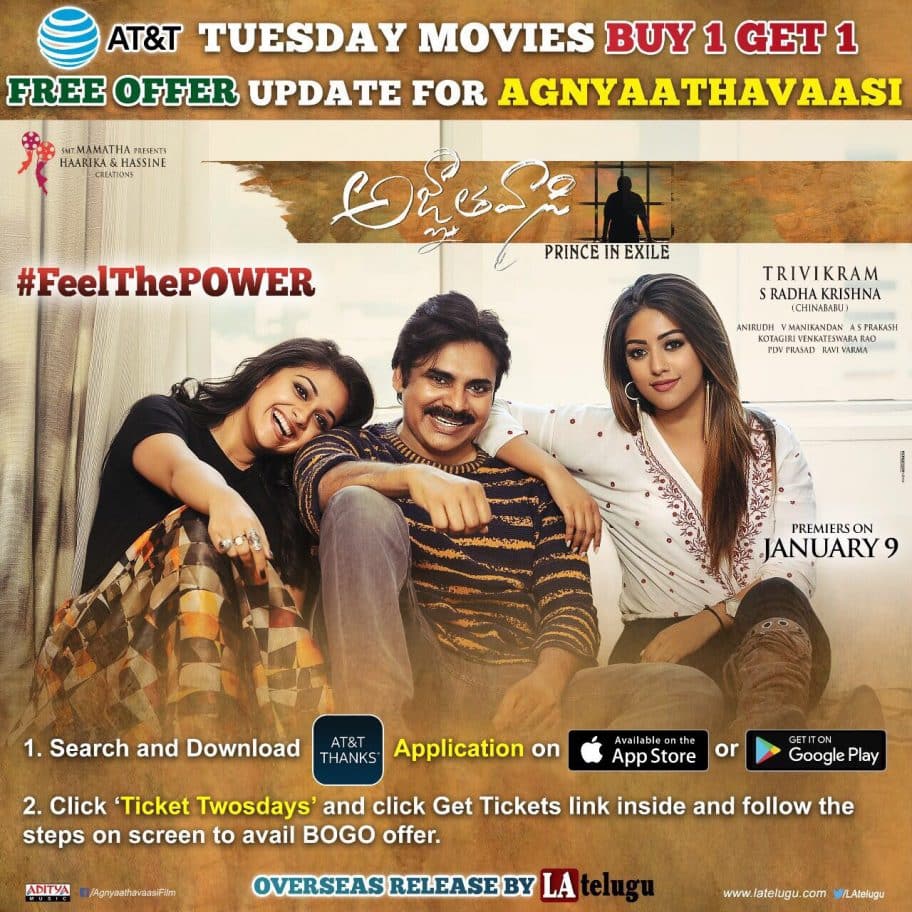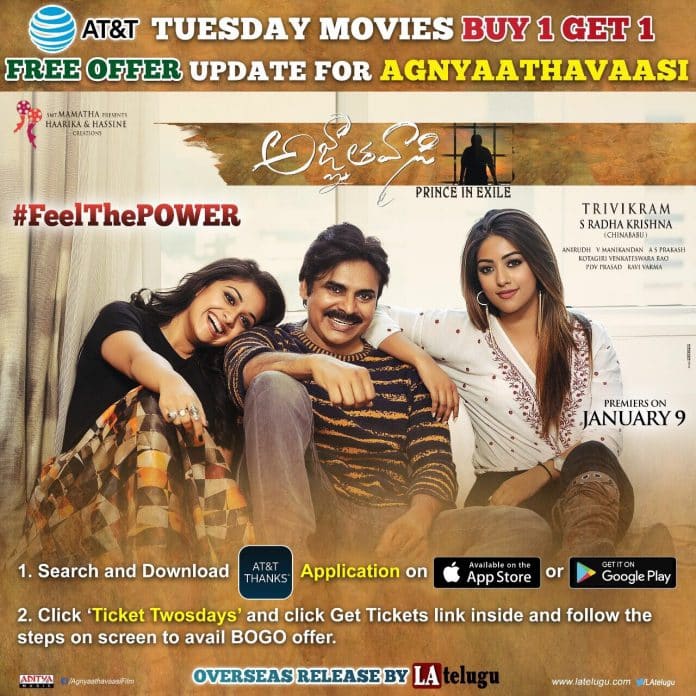 AGNYAATHAVAASI – THE PRINCE IN EXILE to conquer people's hearts on JANUARY 09TH, 2018.
Tollywood's Wizard of Words Director Tivikram's Agnyaathavaasi is a full length clean family entertainer where sizzling beauties Keerthi Suresh and Anu Emanuel playing female leads followed by Khushboo in a key role.
Agnyaathavaasi Premiers AT&T Tuesday Buy 1 Get 1 Free Offer Update
To avail the AT&T Tuesday Movies Buy 1 Get 1 Free Offer on Agnyaathavaasi – Prince in Exile movie, please follow the below steps:
1. Search and Download AT&T Thanks Application on your mobile IOS App Store or Android Google Play.
2. Click 'Ticket Twosdays' and then click Get Tickets link inside and follow the steps on screen to avail BOGO offer
For latest North America (US & Canada) Schedules, click on the Link below.
Click Here for the Theatres List: https://www.indianclicks.com/movies/Agnyaathavaasi_theaters_list.html
| S. No. | Circuit | State | Theatre Name (City, State) | Address | City | Zip |
| --- | --- | --- | --- | --- | --- | --- |
| | United States | | | | | |
| 1 | Cinemark | AK | Anchorage 16 + XD (Anchorage, AK) | 301 E 36th Ave, Anchorage, AK 99503 | Anchorage | 99503 |
| 2 | AMC | AL | Summit 16 |  321 Summit Blvd, Birmingham, AL 35243 | Birmingham | 35243 |
| 3 | Regal | AL | Trussville Stadium 16 (Trussville, AL) | 5895 Trussville Crossings Pkwy, Birmingham, AL 35235 | Birmingham | 35235 |
| 4 | AMC | AL | Lorna Ridge 10 | 3443 Lorna Ridge Dr, Hoover, AL 35216 | Hoover | 35216 |
| 5 | AMC | AL | Huntsville 10 | 1359 Old Monrovia Rd, Huntsville, AL 35806 | Huntsville | 35806 |
| 6 | Cinemark | AL | Cinemark Monaco (Huntsville, AL) | 370 The Bridge Street, Huntsville, AL 35806 | Huntsville | 35806 |
| 7 | Regal | AL | Hollywood Stadium 18 - Huntsville (Huntsville, AL) | 3312 S Memorial Pkwy, Huntsville, AL 35802 | Huntsville | 35802 |
| 8 | Regal | AL | Mobile Stadium 18 (Mobile, AL) | 1250 Satchel Paige Dr, Mobile, AL 36606 | Mobile | 36606 |
| 9 | New Vision | AL | Chantilly 13 (Montgomery, AL) | 10477 Chantilly Pkwy, Montgomery, AL 36117 | Montgomery | 36117 |
| 10 | Cinemark | AR | Tinseltown 14 (Benton, AR) | 17314 I-30 Frontage Rd, Benton, AR 72019 | Benton | 72019 |
| 11 | Cinemark | AR | Colonel Glenn 18 + XD (Little Rock, AR) |  18 Colonel Glenn Plaza Dr, Little Rock, AR 72210 | Little Rock | 72210 |
| 12 | Regal | AR | Regal McCain Mall Stadium 12 & RPX |   3929 McCain Blvd, North Little Rock, AR 72116 | North Little Rock | 72116 |
| 13 | Malco | AR | Malco Pinnacle Hills Cinema (Rogers, AR) | 2200 S Bellview Rd, Rogers, AR 72758 | Rogers | 72758 |
| 14 | Cinemark | AZ | Century Gateway 12 | 770 N Kolb Rd, Tucson, AZ 85710 | Century | 85710 |
| 15 | Harkins | AZ | Harkins Chandler Crossroads 12 | 2980 E. Germann Rd., Chandler, AZ 85286 | Chandler | 85286 |
| 16 | Regal | AZ | Gilbert Stadium 14 (Gilbert, AZ) |   1012 South Gilbert Road, Gilbert, AZ 85296 | Gilbert | 85296 |
| 17 | AMC | AZ | Westgate 20 | 9400 W Hanna Ln, Glendale, AZ 85305 | Glendale | 85305 |
| 18 | Cinemark | AZ | Cinemark 16 (Mesa, AZ) | 1051 N. Dobson Road, Mesa, AZ 85201 | Mesa | 85201 |
| 19 | Cinemark | AZ | Century Oro Valley Marketplace (Oro Valley, AZ) | 12155 N Oracle Rd, Oro Valley, AZ 85737 | Oro Valley | 85737 |
| 20 | AMC | AZ | Arizona Center 24 |   565 N 3rd St, Phoenix, AZ 85004 | Phoenix | 85004 |
| 21 | AMC | AZ | Desert Ridge 18 | Desert Ridge Marketplace, 21001 N Tatum Blvd, Phoenix, AZ 85050 | Phoenix | 85050 |
| 22 | AMC | AZ | Esplanade 14 | 2515 E Camelback Rd, Phoenix, AZ 85016 | Phoenix | 85016 |
| 23 | Harkins | AZ | Harkins North Valley 16 | 3420 E. Bell Rd., Phoenix, AZ 85032 | Phoenix | 85032 |
| 24 | Harkins | AZ | Harkins Arizona Mills 25 w/ IMAX | 5000 Arizona Mills Cir., Tempe, AZ 85282 | Tempe | 85282 |
| 25 | Harkins | AZ | Harkins Tempe Marketplace 16 | 2000 E. Rio Salado Parkway, Suite 1160, Tempe, AZ 85281 | Tempe | 85281 |
| 26 | Cinemark | AZ | Century El Con + XD (Tucson, AZ) | 5870 E Broadway Blvd, Tucson, AZ 85711 | Tucson | 85711 |
| 27 | Cinemark | AZ | Tucson Park Place 20 + XD (Tucson, AZ) | 5870 E Broadway Blvd, Tucson, AZ 85711 | Tucson | 85711 |
| 28 | Regal | CA | Bakersfield Stadium 14 (Bakersfield, CA) |   9000 Ming Ave, Bakersfield, CA 93311 | Bakersfield | 93311 |
| 29 | Cinemark | CA | Baldwin Hills 15 + XD (Baldwin Hills, CA) | 4020 Marlton Ave, Los Angeles, CA 90008 | Baldwin Hills | 90008 |
| 30 | AMC | CA | Burbank Town Center 8 | 201 E. Magnolia Blvd #345, On Magnolia between First and Third inside the mall, Burbank, California 91501 | Burbank | 91501 |
| 31 | Cinepolis | CA | Cinepolis La Costa | 6941 El Camino Real, Carlsbad, CA 92009 | Carlsbad | 92009 |
| 32 | Cinemark | CA | Cinemark Carson 13 + XD (5/28) (Carson, CA) | 20700 S Avalon Blvd #285, Carson, CA 90746 | Carson | 90746 |
| 33 | Harkins | CA | Harkins Cerritos 16 | 600 Los Cerritos Center, Cerritos, CA 90703 | Cerritos | 90703 |
| 34 | Regal | CA | Edwards Cerritos 10 | 12761 Towne Center Dr, Cerritos, CA 90703 | Cerritos | 90703 |
| 35 | Cinemark | CA | Movies 8 (Chino, CA) | 5546 Philadelphia St, Chino, CA 91710 | Chino | 91710 |
| 36 | Regal | CA | Corona Crossing Stadium 18 & RPX (Corona, CA) | 2650 Tuscany St, Corona, CA 92881 | Corona | 92881 |
| 37 | AMC | CA | Covina 17 |   1414 N Azusa Ave, Covina, CA 91722 | Covina | 91722 |
| 38 | AMC | CA | Cupertino Square 16 |   10123 N Wolfe Rd, Cupertino, CA 95014 | Cupertino | 95014 |
| 39 | Cinemark | CA | Daly City 20 + XD (Daly City, CA) | 1901 Junipero Serra Blvd, Daly City, CA 94015 | Daly City | 94015 |
| 40 | Cinemark | CA | Blackhawk Movies 7 (Danville, CA) | 4175 Blackhawk Plaza Cir, Danville, CA 94506 | Danville | 94506 |
| 41 | Cinemark | CA | Cinemark Downey 14 and XD (Downey, CA) | 8840 Apollo Way, Downey, CA 90242 | Downey | 90242 |
| 42 | Regal | CA | Hacienda Crossings Stadium 20 + IMAX (Dublin, CA) |   5000 Dublin Blvd, Dublin, CA 94568 | Dublin | 94568 |
| 43 | Regal | CA | Regal Parkway Plaza Stadium 18 & IMAX |   405 Parkway Plaza, El Cajon, CA 92020 | El Cajon | 92020 |
| 44 | Cinemark | CA | Elk Grove Laguna 16 (Elk Grove, CA) | 9349 Big Horn Blvd, Elk Grove, CA 95758 | Elk Grove | 95758 |
| 45 | Cinemark | CA | Folsom 14 (Folsom, CA) | 261 Iron Point Rd, Folsom, CA 95630 | Folsom | 95630 |
| 46 | Cinemark | CA | Century at Pacific Commons + XD (Fremont, CA) |  43917 Pacific Commons Blvd, Fremont, CA 94538 | Fremont | 94538 |
| 47 | CineGrand | CA | Cine Grand Fremont 7 | 39160 Paseo Padre Pkwy, Fremont, CA 94538 | Fremont | 94538 |
| 48 | Regal | CA | Manchester Mall 16 (Fresno, CA) | 2055 E Shields Ave, Fresno, CA 93726 | Fresno | 93726 |
| 49 | AMC | CA | Fullerton 20 |   1001 S Lemon St, Fullerton, CA 92832 | Fullerton | 92832 |
| 50 | Cinemark | CA | Movies 8 (Hanford, CA) |   1669 W Lacey Blvd, Hanford, CA 93230 | Hanford | 93230 |
| 51 | Cinemark | CA | Century at Hayward (Hayward, CA) | 1069 B St, Hayward, CA 94541 | Hayward | 94541 |
| 52 | Cinemark | CA | Huntington Beach Bella Terra 20 + XD (Huntington Beach, CA) | 7777 Edinger Ave #170, Huntington Beach, CA 92647 | Huntington Beach | 92647 |
| 53 | Regal | CA | Westpark 8 (Irvine, CA) | 3735 Alton Pkwy, Irvine, CA 92606 | Irvine | 92606 |
| 54 | Regal | CA | Irvine Spectrum 21 + IMAX & RPX (Irvine, CA) | 500 Spectrum Center Dr, Irvine, CA 92618 | Irvine | 92618 |
| 55 | AMC | CA | La Mirada 7 | 15296 Rosecrans Ave, La Mirada, CA 90638 | La Mirada | 90638 |
| 56 | Cinepolis | CA | Cinepolis Laguna Niguel | 32401 Golden Lantern, Laguna Niguel, CA 92677 | Laguna Niguel | 92677 |
| 57 | Cinemark | CA | Cinemark 22 + IMAX (Lancaster, CA) | 2600 W Ave I, Lancaster, CA 93536 | Lancaster | 93536 |
| 58 | Cinemark | CA | Cinemark 14 @ The Pike + XD (Long Beach, CA) |  99 Pine Ave, Long Beach, CA 90802 | Long Beach | 90802 |
| 59 | Regal | CA | Long Beach Stadium 26 with IMAX (Long Beach, CA) | 7501 Carson Blvd, Long Beach, CA 90808 | Long Beach | 90808 |
| 60 | Cinemark | CA | Playa Vista 9 + XD (3/12) (Los Angeles, CA) | 12746 W Jefferson Blvd #3190, Los Angeles, CA 90094 | Los Angeles | 90094 |
| 61 | Cinemark | CA | Cinemark 18 and XD (Los Angeles, CA) |  6081 Center Dr, Los Angeles, CA 90045 | Los Angeles | 90045 |
| 62 | 8K Cinemas | CA | Serra Theatres (Milpitas, CA) |  200 Serra Way #37, Milpitas, CA 95035 | Milpitas | 95035 |
| 63 | Cinemark | CA | Milpitas Great Mall 20 + XD (Milpitas, CA) | 1010 Great Mall Dr, Milpitas, CA 95035 | Milpitas | 95035 |
| 64 | Cinemark | CA | Mountain View Cinema 16 (Mountain View, CA) | 1500 N Shoreline Blvd, Mountain View, CA 94043 | Mountain View | 94043 |
| 65 | Cinemark | CA | Movies 8 Redding | 359 Park Marina Cir, Redding, CA 96001 | Redding | 96001 |
| 66 | Cinemark | CA | Century Napa Valley 12 + XD (Napa, CA) | 195 Gasser Dr, Napa, CA 94559 | Napa | 94559 |
| 67 | Cinemark | CA | Cinemark North Hollywood (North Hollywood, CA) |  12827 Victory Blvd, North Hollywood, CA 91606 | North Hollywood | 91606 |
| 68 | AMC | CA | Norwalk 20 | 12300 Civic Center Dr, Norwalk, CA 90650 | Norwalk | 90650 |
| 69 | AMC | CA | Ontario Mills 30 |   4549 Mills Cir, Ontario, CA 91764 | Ontario | 91764 |
| 70 | Cinemark | CA | Orange Stadium Promenade 25 + XD (Orange, CA) | 1701 W Katella Ave, Orange, CA 92867 | Orange | 92867 |
| 71 | Cinemark | CA | Century River Park 16 + XD (10/26) (Oxnard, CA) | 2766 Seaglass Way, Oxnard, CA 93036 | Oxnard | 93036 |
| 72 | Cinemark | CA | Palo Alto Square 2 (Palo Alto, CA) | 2 Palo Alto Square, Palo Alto, CA 94306 | Palo Alto | 94306 |
| 73 | Cinemark | CA | Century Downtown Pleasant Hill 16 + XD (Pleasant Hill, CA) | 125 Crescent Dr, Pleasant Hill, CA 94523 | Pleasant Hill | 94523 |
| 74 | AMC | CA | Poway 10 | 13475 Poway Rd, Poway, CA 92064 | Poway | 92064 |
| 75 | Cinepolis | CA | Cinepolis Rancho Santa Margarita |  30632 Santa Margarita Pkwy, Rancho Santa Margarita, CA 92688 | Rancho Santa Margarita | 92688 |
| 76 | Cinemark | CA | Richmond Hilltop 16 (Richmond, CA) | 3200 Klose Way, Richmond, CA 94806 | Richmond | 94806 |
| 77 | Cinemark | CA | Roseville 14 + XD (Roseville, CA) | 1555 Eureka Rd, Roseville, CA 95661 | Roseville | 95661 |
| 78 | Cinemark | CA | Century Arden and XD (Sacramento, CA) | 1550 Ethan Way, Sacramento, CA 95825 | Sacramento | 95825 |
| 79 | Cinemark | CA | Salinas Northridge 14 (Salinas, CA) | 350 Northridge Shopping Ctr, Salinas, CA 93906 | Salinas | 93906 |
| 80 | Cinemark | CA | Century Tanforan 20 + XD (San Bruno, CA) | 1188 El Camino Real, San Bruno, CA 94066 | San Bruno | 94066 |
| 81 | AMC | CA | Fashion Valley 18 | 7037 Friars Rd, San Diego, CA 92108 | San Diego | 92108 |
| 82 | Cinepolis | CA | Cinepolis Del Mar 11 (San Diego, CA) | 12905 El Camino Real K1, San Diego, CA 92130 | San Diego | 92130 |
| 83 | Regal | CA | Mira Mesa Stadium 17 + IMAX & RPX (San Diego, CA) |   10733 Westview Pkwy, San Diego, CA 92126 | San Diego | 92126 |
| 84 | Cinemark | CA | San Francisco Centre 9 + XD (San Francisco, CA) |  845 Market St #500, San Francisco, CA 94103 | San Francisco | 94103 |
| 85 | 8K Cinemas | CA | Towne 3 Cinemas (San Jose, CA) | 1433 The Alameda, San Jose, CA 95126 | San Jose | 95126 |
| 86 | Cinemark | CA | San Jose Oakridge 20 + XD (San Jose, CA) | 925 Blossom Hill Rd, San Jose, CA 95123 | San Jose | 95123 |
| 87 | Cinemark | CA | San Mateo 12 (San Mateo, CA) | 12 N San Mateo Dr, San Mateo, CA 94401 | San Mateo | 94401 |
| 88 | Cinemark | CA | San Rafael Northgate 15 (San Rafael, CA) | 7000 Northgate Dr, San Rafael, CA 94903 | San Rafael | 94903 |
| 89 | AMC | CA | Mercado 20 | 3111 Mission College Blvd, Santa Clara, CA 95054 | Santa Clara | 95054 |
| 90 | Regal | CA | Edwards Valentia Stadium 12 & Imax (Santa Clarita, CA) | 24435 Town Center Dr, Santa Clarita, CA 91355 | Santa Clarita | 91355 |
| 91 | Regal | CA | Civic Center Stadium 16 + IMAX (Simi Valley, CA) |   2751 Tapo Canyon Rd, Simi Valley, CA 93063 | Simi Valley | 93063 |
| 92 | AMC | CA | Thousand Oaks 14 | 166 W Hillcrest Dr, Thousand Oaks, CA 91360 | Thousand Oaks | 91360 |
| 93 | Cinemark | CA | Movies 14 (Tracy, CA) | 3200 Naglee Rd, Tracy, CA 95304 | Tracy | 95304 |
| 94 | Cinemark | CA | Union City 25 + XD (Union City, CA) | 32100 Union Landing Blvd, Union City, CA 94587 | Union City | 94587 |
| 95 | AMC | CA | Citywalk Stadium 19 | 100 Universal City Plaza, Universal City, CA 91608 | Universal City | 91608 |
| 96 | Cinemark | CA | Ventura Downtown 10 (Ventura, CA) | 10 S Ventura Ave, Ventura, CA 93001 | Ventura | 93001 |
| 97 | Cinemark | CA | Cinemark 16 +XD (Victorville, CA) |   14470 Bear Valley Rd, Victorville, CA 92392 | Victorville | 92392 |
| 98 | Cinemark | CA | Century Walnut Creek 14 + XD (Walnut Creek, CA) | 1201 Locust St, Walnut Creek, CA 94596 | Walnut Creek | 94596 |
| 99 | Cinepolis | CA | Cinepolis WestLake Village | 180 Promenade Way, Thousand Oaks, CA 91362 | WestLake Village | 91362 |
| 100 | Cinemark | CO | Century Aurora + XD (Aurora, CO) | 14300 E Alameda Ave, Aurora, CO 80012 | Aurora | 80012 |
| 101 | Cinemark | CO | Century 16 (Boulder, CO) | 1700 29th St, Boulder, CO 80301 | Boulder | 80301 |
| 102 | Harkins | CO | Harkins Northfield 18 | 8300 E. Northfield Blvd., Denver, CO 80238 | Colorado | 80238 |
| 103 | Cinemark | CO | Tinseltown 20 + XD (Colorado Springs, CO) | 1545 E Cheyenne Mountain Blvd, Colorado Springs, CO 80906 | Colorado Springs | 80906 |
| 104 | Cinemark | CO | Cinemark 16 (Fort Collins, CO) | 4721 S Timberline Rd, Fort Collins, CO 80525 | Fort Collins | 80525 |
| 105 | Cinemark | CO | Century 16 Bel Mar + XD (Lakewood, CO) | 440 S Teller St, Lakewood, CO 80226 | Lakewood | 80226 |
| 106 | Regal | CO | River Point Stadium 14 & RPX (Sheridan, CO) |   3565 S Platte River Dr, Sheridan, CO 80110 | Sheridan | 80110 |
| 107 | Natl Amuse | CT | Showcase Bridgeport 12 (Bridgeport, CT) |  286 Canfield Ave, Bridgeport, CT 06605 | Bridgeport | 06605 |
| 108 | AMC | CT | Lisbon 12 | 162 River Rd, Lisbon, CT 06351 | Lisbon | 06351 |
| 109 | Cinemark | CT | Buckland Hills 18 IMAX (Manchester, CT) | 99 Redstone Rd, Manchester, CT 06042 | Manchester | 06042 |
| 110 | Cinemark | CT | Connecticut Post 14 + IMAX (Milford, CT) | 1201 Boston Post Rd, Milford, CT 06460 | Milford | 06460 |
| 111 | Cinemark | CT | Cinemark North Haven + XD (7/23) (North Haven, CT) |  550 Universal Dr, North Haven, CT 06473 | North Haven | 06473 |
| 112 | Cinepolis | CT | Cinepolis West Hartford |  42 S Main St, West Hartford, CT 06107 | West Hartford | 06107 |
| 113 | Cinemark | DE | Christiana + XD (11/20) (Newark, DE) | 1200 Christiana Mall, Newark, DE 19702 | Newark | 19702 |
| 114 | Regal | DE | Peoples Plaza Cinema Stadium 17 (Newark, DE) |   1100 Peoples Plaza, Newark, DE 19702 | Newark | 19702 |
| 115 | Cinemark | DE | Movies 10 (Wilmington, DE) |  1796 W Newport Pike, Wilmington, DE 19804 | Wilmington | 19804 |
| 116 | Cinemark | FL | Cinemark Palace 20 + XD (Boca Raton, FL) | 3200 Airport Rd, Boca Raton, FL 33431 | Boca Raton | 33431 |
| 117 | AMC | FL | Regency-Bdn 20 | 2496 W. Brandon Blvd, Brandon, FL 33511 | Brandon | 33511 |
| 118 | Cinepolis | FL | Cinépolis Polk Co. IMAX |  5500 Grandview Pkwy, Davenport, FL 33837 | Davenport | 33837 |
| 119 | Cinemark | FL | Paradise 24 + XD (Davie, FL) | 15601 Sheridan St, Davie, FL 33331 | Davie | 33331 |
| 120 | Regal | FL | Regal Coconut Point 16 |   Cinema Way, Estero, FL 33928 | Estero | 33928 |
| 121 | Regal | FL | Regal Butler Town Center 14 (Gainesville, FL) |   3101 SW 35th Blvd, Gainesville, FL 32608 | Gainesville | 32608 |
| 122 | Cinemark | FL | Tinseltown 20 + XD (Jacksonville, FL) | 4535 Southside Blvd, Jacksonville, FL 32216 | Jacksonville | 32216 |
| 123 | Regal | FL | Avenues Stadium 20 & RPX (Jacksonville, FL) | 9525 Philips Hwy, Jacksonville, FL 32256 | Jacksonville | 32256 |
| 124 | Cinepolis | FL | Cinépolis Jupiter |  201 US-1, Jupiter, FL 33477 | Jupiter | 33477 |
| 125 | Cinemark | FL | Lakeland Square Mall 12 + XD (Lakeland, FL) | 3800 US Hwy 98 N, Lakeland, FL 33809 | Lakeland | 33809 |
| 126 | AMC | FL | Avenue 16 | 2241 Town Center Ave, Melbourne, FL 32940 | Melbourne | 32940 |
| 127 | Regal | FL | Kendall Village Stadium 16 & RPX & IMAX (Miami, FL) | 8585 SW 124th Ave, Miami, FL 33183 | Miami | 33183 |
| 128 | AMC | FL | West Oaks 14 | 9415 W Colonial Dr, Ocoee, FL 34761 | Ocoee | 34761 |
| 129 | Cinemark | FL | Cinemark Festival Bay 20 + XD (Orlando, FL) | 5150 International Dr, Orlando, FL 32819 | Orlando | 32819 |
| 130 | AMC | FL | Broward Pompana Beach 18 | 2315 N Federal Hwy, Pompano Beach, FL 33062 | Pompano Beach | 33062 |
| 131 | Regal | FL | Royal Palm Beach Stadium 18 & RPX (Royal Palm Beach, FL) | 1003 N State Rd 7, Royal Palm Beach, FL 33411 | Royal Palm Beach | 33411 |
| 132 | AMC | FL | Sunset Place 24 | 5701 Sunset Dr #300, South Miami, FL 33143 | South Miami | 33143 |
| 133 | Regal | FL | Sawgrass Stadium 23 with IMAX (Sunrise, FL) |   2600 NW 136th Ave, Sunrise, FL 33323 | Sunrise | 33323 |
| 134 | AMC | FL | Tallahassee 20 |   2415 N Monroe St, Tallahassee, FL 32303 | Tallahassee | 32303 |
| 135 | Regal | FL | Governor's Square 12 (Tallahassee, FL) | 1501 Governors square Blvd, Tallahassee, FL 32301 | Tallahassee | 32301 |
| 136 | AMC | FL | Veterans Expressway 24 |  9302 Anderson Rd, Tampa, FL 33634 | Tampa | 33634 |
| 137 | AMC | FL | Highwoods 20 | 18002 Highwood Preserve Pkwy, Tampa, FL 33647 | Tampa | 33647 |
| 138 | Regal | FL | Citrus Park Stadium 20 (Tampa, FL) | 7999 Citrus Park Town Center Mall, Tampa, FL 33625 | Tampa | 33625 |
| 139 | AMC | GA | Mansell Crossing 14 | 7730 North Point Pkwy, Alpharetta, GA 30022 | Alpharetta | 30022 |
| 140 | Regal | GA | Perimeter Pointe 10 (Atlanta, GA) | Perimeter Pointe, 1155 Mount Vernon Highway, Sandy Springs, GA 30338 | Atlanta | 30338 |
| 141 | Regal | GA | Augusta Exchange Stm 20 & IMAX | 1144 Agerton Lane Augusta, GA 30909 | Augusta | 30909 |
| 142 | Regal | GA | Mall Of Georgia Stadium 20 + IMAX & RPX (Buford, GA) | 3333 Buford Dr #3000, Buford, GA 30519 | Buford | 30519 |
| 143 | AMC | GA | Riverstone 15 |  5 Reinhardt College Pkwy, Canton, GA 30114 | Canton | 30114 |
| 144 | Regal | GA | Regal Carrollton Stadium 10 |   1135 Bankhead Hwy, Carrollton, GA 30116 | Carrollton | 30116 |
| 145 | AMC | GA | Peachtree 8 | 3131 Manchester Expy, Columbus, GA 31909 | Columbus | 31909 |
| 146 | New Vision | GA | Movies 400 (Cumming, GA) |  415 Atlanta Rd, Cumming, GA 30040 | Cumming | 30040 |
| 147 | Regal | GA | Regal Hamilton Mills 14 | 2160 Hamilton Creek Pkwy, Dacula, GA 30019 | Dacula | 30019 |
| 148 | Regal | GA | Regal Dawson 10 Cinemas | 189 N 400 Center Ln, Dawsonville, GA 30534 | Dawsonville | 30534 |
| 149 | AMC | GA | North Dekalb Mall 16 | 2042 Lawrenceville Hwy, Decatur, GA 30033 | Decatur | 30033 |
| 150 | Regal | GA | Medlock Crossing Stadium 18 & RPX (Duluth, GA) | 9700 Medlock Bridge Rd, Duluth, GA 30097 | Duluth | 30097 |
| 151 | Cinemark | GA | Movies 10 (Fayetteville, GA) | 157 Banks Station, Fayetteville, Georgia 30214 | Fayetteville | 30214 |
| 152 | AMC | GA | Barrett Commons 24 | 2600 Cobb Pl Ln NW, Kennesaw, GA 30144 | Kennesaw | 30144 |
| 153 | AMC | GA | Sugarloaf Mills 18 | 5900 Sugarloaf Pkwy, Lawrenceville, GA 30043 | Lawrenceville | 30043 |
| 154 | New Vision | GA | Stonecrest Mall 16 + IMAX (Lithonia, GA) | 8060 Mall Pkwy, Lithonia, GA 30038 | Lithonia | 30038 |
| 155 | Regal | GA | Regal McDonough Stadium 16 | 115 Foster Dr, McDonough, GA 30253 | McDonough | 30253 |
| 156 | 8K Cinemas | GA | DigiMax Theaters (Roswell, GA) |  10743 Alpharetta Hwy, Roswell, GA 30076 | Roswell | 30076 |
| 157 | MINI Theatres | GA | Aurora Cineplex (Roswell, GA) |  5100 Commerce Pkwy, Roswell, GA 30076 | Roswell | 30076 |
| 158 | Regal | GA | Cherokee 16 (Woodstock, GA) | 355 Cinema View, Woodstock, GA 30189 | Woodstock | 30189 |
| 159 | Regal | HI | Dole Cannery 18 with IMAX & RPX (Honolulu, HI) | 735 Iwilei Rd, Honolulu, HI 96817 | Honolulu | 96817 |
| 160 | Regal | HI | Regal Makalapua 10 | 74-5469 Kamakaeha Ave, Kailua-Kona, HI 96740 | Kailua-Kona | 96740 |
| 161 | Cinemark | IA | Cinemark Altoona and XD (2/11) (Altoona, IA) | 2227 Adventureland Dr, Altoona, IA 50009 | Altoona | 50009 |
| 162 | Marcus | IA | Marcus Cedar Rapids Galaxy 16 (Cedar Rapids, IA) | 5340 Council St NE, Cedar Rapids, IA 52402 | Cedar Rapids | 52402 |
| 163 | Cinemark | IA | Davenport 53 18 + IMAX (Davenport, IA) |  3601 E 53rd St, Davenport, IA 52807 | Davenport | 52807 |
| 164 | Marcus | IA | Marcus Sycamore Cinema 12 (Iowa City, IA) | 1602 Sycamore St, Iowa City, IA 52240 | Iowa City | 52240 |
| 165 | AMC | IA | Johnston 16 | 5233 Nw 86th St JOHNSTON IA 50131 | JOHNSTON | 50131 |
| 166 | Cinemark | IA | W. Des Moines Jordan Creek + XD (West Des Moines, IA) | 101 Jordan Creek Pkwy, West Des Moines, IA 50266 | West Des Moines | 50266 |
| 167 | Regal | ID | Boise Stadium 21 + IMAX (Boise, ID) |   7701 W Overland Rd, Boise, ID 83709 | Boise | 83709 |
| 168 | Marcus | IL | Marcus Addison Cinema 21 with UltraScreen (Addison, IL) | 1555 W Lake St, Addison, IL 60101 | Addison | 60101 |
| 169 | Cinemark | IL | Century Stratford Square 16 (Bloomingdale, IL) | 804 Stratford Dr, Bloomingdale, IL 60108 | Bloomingdale | 60108 |
| 170 | Marcus | IL | Marcus Bloomington Galaxy 14 Cine + IMAX (Bloomington, IL) | 1111 Wylie Dr, Bloomington, IL 61705 | Bloomington | 61705 |
| 171 | New Vision | IL | Ovation Cinema Grill (Bloomington, IL) | 415 Detroit Dr, Bloomington, IL 61704 | Bloomington | 61704 |
| 172 | AMC | IL | River East 21 | 322 E Illinois St, Chicago, IL 60611 | Chicago | 60611 |
| 173 | Kerasotes | IL | Showplace Icon with IconX (Chicago, IL) |  1011 S Delano Ct, Chicago, IL 60605 | Chicago | 60605 |
| 174 | Cinemark | IL | Deer Park 16 (Deerpark, IL) | 21600 W Field Pkwy, Deer Park, IL 60010 | Deerpark | 60010 |
| 175 | Cinemark | IL | Evanston 18 + XD (Evanston, IL) | 1715 Maple Ave, Evanston, IL 60201 | Evanston | 60201 |
| 176 | Marcus | IL | Marcus Gurnee Mills Cinema (Gurnee, IL) | 6144 Grand Ave, Gurnee, IL 60031 | Gurnee | 60031 |
| 177 | New Vision | IL | Cinema 8 Lansing (Lansing, IL) | 16621 Torrence Ave, Lansing, IL 60438 | Lansing | 60438 |
| 178 | Regal | IL | Regal Moline Stadium 14 | 4100 38th St, Moline, IL 61265 | Moline | 61265 |
| 179 | AMC | IL | Naperville 16 |   2815 Show Place Dr, Naperville, IL 60564 | Naperville | 60564 |
| 180 | 8K Cinemas | IL | MovieMax Cinemas (Niles, IL) |  9180 W Golf Rd, Niles, IL 60714 | Niles | 60714 |
| 181 | Cinemark | IL | Tinseltown 17 (North Aurora, IL) | 320 S Lincolnway St, North Aurora, IL 60542 | North Aurora | 60542 |
| 182 | New Vision | IL | Showplace 14 Pekin (North Pekin, IL) |  1124 Edgewater Dr, Pekin, IL 61554 | North Pekin | 61554 |
| 183 | Marcus | IL | Marcus O' Fallon 15 Cinema |  1320 Central Park Dr, O'Fallon, IL 62269 | O'Fallon | 62269 |
| 184 | AMC | IL | Grand Prairie 18 |   5311 West American Prairie Drive, Peoria, IL 61615 | Peoria | 61615 |
| 185 | AMC | IL | Rosemont 18 | 9701 W Bryn Mawr Ave, Rosemont, IL 60018 | Rosemont | 60018 |
| 186 | Regal | IL | Round Lake Beach Stm 18 | 550 E Rollins Rd, Round Lake Beach, IL 60073 | Round Lake Beach | 60073 |
| 187 | AMC | IL | South Barrington 30 | 175 Studio Dr, South Barrington, IL 60010 | South Barrington | 60010 |
| 188 | Regal | IL | Cantera Stadium 17 & RPX (Warrenville, IL) | 28250 Diehl Rd, Warrenville, IL 60555 | Warrenville | 60555 |
| 189 | Cinemark | IL | Cinemark Spring Hill Mall and XD (West Dundee, IL) | 2000, Spring Hill Ring Rd, West Dundee, IL 60118 | West Dundee | 60118 |
| 190 | Cinemark | IL | Cinemark 16 + IMAX (Woodridge, IL) | 6500 IL-53, Woodridge, IL 60517 | Woodridge | 60517 |
| 191 | Regal | IN | Village Park Cinema Stadium 17 (Carmel, IN) | 2222 E 146th St, Carmel, IN 46033 | Carmel | 46033 |
| 192 | Regal | IN | Regal River Falls Stadium 12 |   951 E Lewis and Clark Pkwy, Clarksville, IN 47129 | Clarksville | 47129 |
| 193 | AMC | IN | Columbus 12 | 555 Creekview Ct, Columbus, IN 47201 | Columbus | 23463 |
| 194 | AMC | IN | Ft Wayne 20 | 3930 E Dupont Rd, Fort Wayne, IN 46825 | Fort Wayne | 46825 |
| 195 | AMC | IN | Castleton Square 14 | 6020 E 82nd St, Indianapolis, IN 46250 | Indianapolis | 46250 |
| 196 | Cinemark | IN | Cinemark Movies 8 (Indianapolis, IN) | 1848 E Stop 13 Rd, Indianapolis, IN 46227 | Indianapolis | 46227 |
| 197 | Regal | IN | Regal New Albany Stadium 16 | 300 Professional Ct, New Albany, IN 47150 | New Albany | 47150 |
| 198 | AMC | IN | Perry Crossing 18 |   380 Cinema Blvd, Plainfield, IN 46168 | Plainfield | 46168 |
| 199 | AMC | KS | Hays 8 | 2918 Vine St, Hays, KS 67601 | Hays | 67601 |
| 200 | Cinemark | KS | Cinemark Tinseltown 20 + XD (Merriam, KS) | 5500 Antioch Rd, Merriam, KS 66202 | Merriam | 66202 |
| 201 | AMC | KS | Studio 28 - Kc |  12075 S Strang Line Rd, Olathe, KS 66062 | Olathe | 66062 |
| 202 | AMC | KS | Pittsburg 8 | 202 Centennial Dr, Pittsburg, KS 66762 | Pittsburg | 66762 |
| 203 | AMC | KS | Salina 10 | 2259 9th St, Salina, KS 67401 | Salina | 67401 |
| 204 | Regal | KS | Regal West Ridge 8 (Topeka, KS) | 1727 SW Wanamaker Rd, Topeka, KS 66604 | Topeka | 66604 |
| 205 | Regal | KS | Warren West 17 | 9150 West 21st Street Wichita, KS 67205 | Wichita | 67205 |
| 206 | Regal | KY | Regal Bowling Green Stadium 12 | 323 Great Escape Ave, Bowling Green, KY 42101 | Bowling Green | 42101 |
| 207 | Cinemark | KY | Florence 14 (Florence, KY) |  7860 Mall Rd, Florence, KY 41042 | Florence | 41042 |
| 208 | AMC | KY | Lexington 10 | 3151 Mapleleaf Dr, Lexington, KY 40509 | Lexington | 40509 |
| 209 | Cinemark | KY | Cinemark Fayette Mall 16 + XD (Lexington, KY) | 3401 Nicholasville Rd, Lexington, KY 40503 | Lexington | 40503 |
| 210 | Regal | KY | Hamburg Pavilion Stadium 16 & RPX (Lexington, KY) | 1949 Star Shoot Pkwy, Lexington, KY 40509 | Lexington | 40509 |
| 211 | AMC | KY | Stonybrook 20 | 2745 S Hurstbourne Pkwy, Louisville, KY 40220 | Louisville | 40220 |
| 212 | Cinemark | KY | Cinemark Tinseltown + XD (Louisville, KY) | 4400 Towne Center Dr, Louisville, KY 40241 | Louisville | 40241 |
| 213 | Cinemark | KY | Preston Crossings 16 (Louisville, KY) | 9700 Preston Crossing Blvd, Louisville, KY 40229 | Louisville | 40229 |
| 214 | Regal | KY | Regal Wilder Stadium 14 | 103 Crossing Dr, Wilder, KY 41076 | Wilder | 41076 |
| 215 | Cinemark | LA | Cinemark Perkins Rowe + XD (Baton Rouge, LA) | 10000 Perkins Rowe #125, Baton Rouge, LA 70810 | Baton Rouge | 70810 |
| 216 | Regal | LA | Bossier Corners Cinema 9 (Bossier City, LA) |   2800 Shed Rd, Bossier City, LA 71111 | Bossier City | 71111 |
| 217 | AMC | LA | Elmwood Palace 20 |   1200 Elmwood Park Blvd, Harahan, LA 70123 | Harahan | 70123 |
| 218 | Cinemark | LA | Cinemark 14 + XD (Lake Charles, LA) | 548 W Prien Lake Rd, Lake Charles, LA 70601 | Lake Charles | 70601 |
| 219 | Cinemark | LA | Cinemark Tinseltown 17 + XD (Shreveport, LA) | 8400 Millicent Way, Shreveport, LA 71115 | Shreveport | 71115 |
| 220 | Cinemark | LA | Tinseltown 17 (West Monroe, LA) | 220 Blanchard St, West Monroe, LA 71291 | West Monroe | 71291 |
| 221 | Apple Cinemas | MA | Apple Cinemas Freshpond 10 (Cambridge, MA) | 168 Alewife Brook Pkwy, Cambridge, MA 02138 | Cambridge | 02138 |
| 222 | Cinemark | MA | Cinemark 15 + XD (Hadley, MA) | 367 Russell St, Hadley, MA 01035 | Hadley | 01035 |
| 223 | Natl Amuse | MA | Showcase Lowell 14 (Lowell, MA) | 32 Relss Ave, Lowell, MA 01851 | Lowell | 01851 |
| 224 | Regal | MA | Regal Solomon Pond Stadium 15 | 591 Donald Lynch Blvd, Marlborough, MA 01752 | Marlborough | 01752 |
| 225 | AMC | MA | Methuen 20 | 90 Pleasant Valley St, Methuen, MA 01844 | Methuen | 01844 |
| 226 | Natl Amuse | MA | Showcase Randolph 16 with IMAX (Randolph, MA) | 73 Mazzeo Dr., Randolph, MA 02368 | Randolph | 02368 |
| 227 | Natl Amuse | MA | Showcase Revere 20 (Revere, MA) | 565 Squire Rd, Revere, MA 02151 | Revere | 02151 |
| 228 | Cinemark | MA | Eastfield 16 (Springfield, MA) | 1655 Boston Rd, Springfield, MA 01129 | Springfield | 01129 |
| 229 | Cinemark | MA | West Springfield 15 (West Springfield, MA) | 15 West St, West Springfield, MA 01089 | West Springfield | 01089 |
| 230 | Natl Amuse | MA | Showcase Woburn 14 (Woburn, MA) | 25 Middlesex Canal Parkway, Woburn, MA 01801 | Woburn | 01801 |
| 231 | Natl Amuse | MA | Showcase Worcester North 18 (Worcester, MA) | 135 Brooke, St, Worcester, MA 01606 | Worcester | 01606 |
| 232 | Regal | MD | UA Snowden Square Stadium 14 (Columbia, MD) |   9161 Commerce Center Dr, Columbia, MD 21046 | Columbia | 21046 |
| 233 | AMC | MD | Rio Cinemas 18 | 9811 Washingtonian Ctr.., Gaithersburg, MD 20878 | Gaithersburg | 20878 |
| 234 | Regal | MD | Germantown 14 (Germantown, MD) | 20000 Century Blvd, Germantown, MD 20874 | Germantown | 20874 |
| 235 | Cinemark | MD | Egyptian 24 + XD (Hanover, MD) | 7000 Arundel Mills Cir, Hanover, MD 21076 | Hanover | 21076 |
| 236 | Regal | MD | Laurel Towne Centre 12 (Laurel, MD) | 14716 Baltimore Ave, Laurel, MD 20726 | Laurel | 20726 |
| 237 | AMC | MD | Owings Mills 17 | 10100 Mill Run Cir, Owings Mills, MD 21117 | Owings Mills | 21117 |
| 238 | Regal | MD | Salisbury Stadium 16 & RPX (Salisbury, MD) | 2322 North Salisbury Boulevard, Salisbury, MD 21801 | Salisbury | 21801 |
| 239 | Regal | MD | Majestic Stadium 20 + IMAX (Silver Spring, MD) | 900 Ellsworth Dr, Silver Spring, MD 20910 | Silver Spring | 20910 |
| 240 | Cinemark | MD | Cinemark Towson + XD (Towson, MD) | 111 E Joppa Rd, Towson, MD 21286 | Towson | 21286 |
| 241 | MINI Theatres | ME | Cinemagic Westbrook 16 (Westbrook, ME) | 183 County Road, Westbrook, ME 04092 | Westbrook | 04092 |
| 242 | AMC | MI | Great Lakes 25 | 4300 Baldwin Rd, Auburn Hills, MI 48326 | Auburn Hills | 48326 |
| 243 | Cinemark | MI | Flint West 14 (Flint, MI) | 1591 S Graham Rd, Flint, MI 48532 | Flint | 48532 |
| 244 | AMC | MI | AMC Grand Rapids 18 | 3000 Alpine Ave Nw, Walker, Michigan 49544 | Walker | 49544 |
| 245 | Regal | MI | Lansing Mall Stadium 12 & RPX (Lansing, MI) |   5330 W Saginaw Hwy, Lansing, MI 48917 | Lansing | 48917 |
| 246 | AMC | MI | Livonia 20 | 19500 Haggerty Rd, Livonia, MI 48152 | Livonia | 48152 |
| 247 | AMC | MI | Southfield 20 | 25333 Twelve Mile Rd, Southfield, MI 48034 | Southfield | 48034 |
| 248 | AMC | MI | Forum 30 | 44681 Mound Rd, Sterling Heights, MI 48314 | Sterling Heights | 48314 |
| 249 | Cinemark | MI | Cinemark Southland Center & XD (4/21) (Taylor, MI) | 23000 Eureka Rd, Taylor, MI 48180 | Taylor | 48180 |
| 250 | Regal | MI | Commerce Township Stadium 14 (Walled Lake, MI) | 3033 Springvale Dr, Walled Lake, MI 48390 | Walled Lake | 48390 |
| 251 | Cinemark | MI | Ann Arbor 20 IMAX (Ypsilanti, MI) | 4100 Carpenter Rd, Ypsilanti, MI 48197 | Ypsilanti | 48197 |
| 252 | AMC | MN | Apple Valley 15 | 15630 Cedar Ave S, Apple Valley, MN 55124 | Apple Valley | 55124 |
| 253 | Regal | MN | Regal Eagan Stadium 16 | 2055 Cliff Rd, Eagan, MN 55122 | Eagan | 55122 |
| 254 | AMC | MN | Eden Prairie Mall 18 | 8251 Flying Cloud Dr, Eden Prairie, MN 55344 | Eden Prairie | 55344 |
| 255 | Marcus | MN | Marcus Elk River Cinema (Elk River, MN) | 570 Freeport St, Elk River, MN 55330 | Elk River | 55330 |
| 256 | Cinemark | MN | Movies 8 (Mankato, MN) | 1850 Adams St, Mankato, MN 56001 | Mankato | 56001 |
| 257 | New Vision | MN | Mounds View 15 (Mounds View, MN) |  2430 County Hwy 10, Mounds View, MN 55112 | Mounds View | 55112 |
| 258 | Marcus | MN | Marcus Oakdale Cinema (Oakdale, MN) | 5677 Hadley Ave N, Oakdale, MN 55128 | Oakdale | 55128 |
| 259 | Mann of MN | MN | Plymouth Grand 15 (Plymouth, MN) |  3400 Vicksburg Ln N, Plymouth, MN 55447 | Plymouth | 55447 |
| 260 | Marcus | MN | Marcus Rochester Galaxy 14 + IMAX (Rochester, MN) | 4340 Maine Ave SE, Rochester, MN 55904 | Rochester | 55904 |
| 261 | Kerasotes | MN | ShowPlace ICON at West End with ICON X (Saint Louis Park, MN) | 1625 West End Blvd, Minneapolis, MN 55416 | Saint Louis Park | 55416 |
| 262 | Marcus | MN | Marcus Shakopee 11 Cinema (Shakopee, MN) | 1116 Shakopee Town Square, Shakopee, MN 55379 | Shakopee | 55379 |
| 263 | Marcus | MO | Marcus Cape West 14 Cinema |  247 Siemers Dr, Cape Girardeau, MO 63701 | Cape Girardeau | 63701 |
| 264 | Marcus | MO | Marcus Chesterfield Galaxy 14 + Mega (Chesterfield, MO) | 450 THF Blvd, Chesterfield, MO 63005 | Chesterfield | 63005 |
| 265 | Regal | MO | Columbia Stadium 14 & RPX (Columbia, MO) | 2800 Goodwin Pointe Dr, Columbia, MO 65201 | Columbia | 65201 |
| 266 | Marcus | MO | Marcus Des Peres 14 Cine (Des Peres, MO) |  12701 Manchester Rd Manchester Road, Des Peres, MO 63131 | Des Peres | 63131 |
| 267 | Cinemark | MO | Palace 14 (Kansas City, MO) |  526 Nichols Rd, Kansas City, MO 64112 | Kansas City | 64112 |
| 268 | Marcus | MO | Marcus St. Charles 18 (Saint Charles, MO) | 1830 S 1st Capitol Dr, St Charles, MO 63303 | Saint Charles | 63303 |
| 269 | Marcus | MO | Marcus Mid Rivers 14 Cine (Saint Peters, MO) | 1220 Mid Rivers Mall, St Peters, MO 63376 | Saint Peters | 63376 |
| 270 | AMC | MO | Springfield 11 |   3200 E Montclair St, Springfield, MO 65804 | Springfield | 65804 |
| 271 | Marcus | MO | Marcus Ronnie's Cinema + IMAX (St. Louis, MO) |  5320 S Lindbergh Blvd, Sappington, MO 63126 | St. Louis | 63126 |
| 272 | Cinemark | MS | Cinemark 16 (Gulfport, MS) | 15171 Crossroads Pkwy, Gulfport, MS 39503 | Gulfport | 39503 |
| 273 | Cinemark | MS | Cinemark Tinseltown 17 + XD (Pearl, MS) | 411 Riverwind Dr, Pearl, MS 39208 | Pearl | 39208 |
| 274 | Cinemark | MT | Cinemark 11 Helena + XD (Helena, MT) | 750 Great Northern Blvd, Helena, MT 59601 | Helena | 59601 |
| 275 | Regal | NC | Regal Beaver Creek Stadium 12 | 1441 Beaver Creek Commons Dr, Apex, NC 27502 | Apex | 27502 |
| 276 | Cinemark | NC | The Carolina (Asheville, NC) | 1640 Hendersonville Rd, Asheville, NC 28803 | Asheville | 28803 |
| 277 | Frank Theatres | NC | Parkside Town Commons Stadium 11 & Xtreme (Cary, NC) | 1140 Parkside Main St, Cary, NC 27519 | Cary | 27519 |
| 278 | Regal | NC | Crossroads Stadium 20 + IMAX (Cary, NC) | 501 Caitboo Ave, Cary, NC 27518 | Cary | 27518 |
| 279 | AMC | NC | Carolina Pavilion 22 | 9541 South Blvd, Charlotte, NC 28273 | Charlotte | 28273 |
| 280 | Cinemark | NC | Cinemark Movie Bistro (Charlotte, NC) | 9630 Monroe Rd, Charlotte, NC 28270 | Charlotte | 28270 |
| 281 | Regal | NC | Starlight Stadium 14 (Charlotte, NC) | 11240 N Tryon St, Charlotte, NC 28262 | Charlotte | 28262 |
| 282 | Regal | NC | Stonecrest At Piper Glen Stadium 22 with IMAX (Charlotte, NC) | 7824 Rea Rd, Charlotte, NC 28277 | Charlotte | 28277 |
| 283 | ITBS | NC | Ayrsley Grand Cinemas 14 | 9110 Kings Parade Blvd, Charlotte, NC 28273 | Charlotte | 28273 |
| 284 | AMC | NC | Concord Mills 24 | 8421 Concord Mills Boulevard, Concord, NC 28027 | Concord | 28027 |
| 285 | AMC | NC | Southpoint 17 | 8030 Renaissance Pkwy, Durham, NC 27713 | Durham | 27713 |
| 286 | Cinemark | NC | Brassfield 10 (Greensboro, NC) | 2101 New Garden Rd, Greensboro, NC 27410 | Greensboro | 27410 |
| 287 | Cooperative Thtrs | NC | Red Cinemas - Midtown Stadium 15 (Greensboro, NC) | 1305 Battleground Ave, Greensboro, NC 27408 | Greensboro | 27408 |
| 288 | Regal | NC | Grande Stadium 16 (Greensboro, NC) | 3205 Northline Ave, Greensboro, NC 27408 | Greensboro | 27408 |
| 289 | AMC | NC | High Point 8 | 2705 N Main St, High Point, NC 27265 | High Point | 27265 |
| 290 | Cinemark | NC | Movies 10 (Matthews, NC) | 9508 Northeast Ct, Matthews, NC 28105 | Matthews | 28105 |
| 291 | AMC | NC | Park Place 16 |   9547 Chapel Hill Rd, Morrisville, NC 27560 | Morrisville | 27560 |
| 292 | AMC | NC | Blue Ridge 14 | 600 Blue Ridge Rd, Raleigh, NC 27606 | Raleigh | 27606 |
| 293 | Cinemark | NC | Cinemark Raleigh Grand (Raleigh, NC) | 4840 Grove Barton Rd, Raleigh, NC 27613 | Raleigh | 27613 |
| 294 | Regal | NC | Regal Brier Creek Stadium 14 | 8611 Brier Creek Pkwy, Raleigh, NC 27617 | Raleigh | 27617 |
| 295 | Cinemark | NC | Tinseltown 14 (Salisbury, NC) | 305 Faith Rd, Salisbury, NC 28146 | Salisbury | 28146 |
| 296 | Marcus | ND | Marcus West Acres Cinema 14 with UltraScreen (Fargo, ND) | 4101 17th Ave. SW, Fargo, ND 58103 | Fargo | 58103 |
| 297 | Marcus | NE | Marcus Lincoln Grand Cinema 14 with UltraScreen (Lincoln, NE) |  1101 P St, Lincoln, NE 68508 | Lincoln | 68508 |
| 298 | AMC | NE | Oak View 24 |   3555 S 140th Plaza, Omaha, NE 68144 | Omaha | 68144 |
| 299 | Marcus | NE | Marcus Village Pointe Cinema 16 with UltraScreen (Omaha, NE) | 304 N 174th St, Omaha, NE 68118 | Omaha | 68118 |
| 300 | Regal | NE | Regal Omaha Stadium 16 | 7440 Crown Point Ave, Omaha, NE 68134 | Omaha | 68134 |
| 301 | MINI Theatres | NH | Cinemagic Hooksett + IMAX (Hooksett, NH) |  1226 Hooksett Rd, Hooksett, NH 03106 | Hooksett | 03106 |
| 302 | AMC | NH | Londonderry 10 | 16 Orchard View Dr, Londonderry, NH 03053 | Londonderry | 03053 |
| 303 | MINI Theatres | NH | Cinemagic Merrimack 12 (Merrimack, NH) | 11 Executive Park Dr, Merrimack, NH 03054 | Merrimack | 03054 |
| 304 | MINI Theatres | NH | Cinemagic Stadium 10 Theater (Portsmouth, NH) | 2454 Lafayette Rd, Portsmouth, NH 03801 | Portsmouth | 03801 |
| 305 | Regal | NJ | Burlington Stadium 20 (Burlington, NJ) | 250 Bromley Blvd, Burlington, NJ 08016 | Burlington | 08016 |
| 306 | AMC | NJ | Brunswick Square 13 | 755 New Jersey 18, East Brunswick, NJ 08816 | East Brunswick | 08816 |
| 307 | 8K Cinemas | NJ | Movie City 8 (Edison, NJ) | 1655 Oak Tree Road, Edison, NJ 08820 | Edison | 08820 |
| 308 | AMC | NJ | Jersey Gardens 20 | 651 Kapkowski Rd, Elizabeth, NJ 07201 | Elizabeth | 07201 |
| 309 | Cinepolis | NJ | Cinépolis Mansfield | 1965 NJ-57, Hackettstown, NJ 07840 | Hackettstown | 07840 |
| 310 | Regal | NJ | Independence Plaza 12 & RPX (2/16) (Hamilton, NJ) |   2465 S Broad St, Hamilton Township, NJ 08610 | Hamilton | 08610 |
| 311 | AMC | NJ | Hamilton 24 | 325 Sloan Ave, Hamilton Township, NJ 08619 | Hamilton Township | 08619 |
| 312 | Cinemark | NJ | Hazlet 12 (Hazlet, NJ) | 12 Hazlet Ave, Hazlet, NJ 07730 | Hazlet | 07730 |
| 313 | AMC | NJ | Newport Centre 11 |   30-300 Mall Dr W, Jersey City, NJ 07303 | Jersey City | 07303 |
| 314 | Empire Cineplex | NJ | Hudson Cinemas | 701 Route 440 Hudson Mall, Jersey City, NJ 07304 | Jersey City | 07304 |
| 315 | Regal | NJ | Hamilton Commons 14 (Mays Landing, NJ) | 4215 E Black Horse Pike, Mays Landing, NJ 08330 | Mays Landing | 08330 |
| 316 | AMC | NJ | New Brunswick 18 |   17 US-1, New Brunswick, NJ 08901 | New Brunswick | 08901 |
| 317 | Empire Cineplex | NJ | Columbia Park Stadium 12 (North Bergen, NJ) |  3125 Kennedy Blvd, North Bergen, NJ 07047 | North Bergen | 07047 |
| 318 | Regal | NJ | Commerce Center Stadium 18 (North Brunswick, NJ) | 2399 US-1, North Brunswick Township, NJ 08902 | North Brunswick | 08902 |
| 319 | Cinepolis | NJ | Cinepolis Parsippany 12 (Parsippany, NJ) | 3165 US-46, Parsippany, NJ 07054 | Parsippany | 07054 |
| 320 | Cinepolis | NJ | Cinépolis Succasunna | 21 NJ-10, Succasunna, NJ 07876 | Roxbury Township | 07876 |
| 321 | Kerasotes | NJ | ShowPlace 14 (Secaucus, NJ) | 650 Plaza Dr, Secaucus, NJ 07094 | Secaucus | 07094 |
| 322 | Cinemark | NJ | Cinemark Movies 16 + XD (Somerdale, NJ) | 711 Evesham Ave, Somerdale, NJ 08083 | Somerdale | 08083 |
| 323 | Regal | NJ | Hadley Theatre Stadium 16 (South Plainfield, NJ) | 1000 Corporate Ct, South Plainfield, NJ 07080 | South Plainfield | 07080 |
| 324 | AMC | NJ | Voorhees 16 | 900 Haddonfield Berlin Rd, Voorhees, NJ 08043 | Voorhes | 08043 |
| 325 | AMC | NJ | Wayne 14 | 67 Willowbrook Blvd, Wayne, NJ 07470 | Wayne | 07470 |
| 326 | Cinemark | NM | Movies West 8 (Albuquerque, NM) | 9201 Coors Boulevard Northwest, Albuquerque, NM 87120 | Albuquerque | 87120 |
| 327 | Cinemark | NM | Cinemark Movies 8 (Albuquerque, NM) | 4591 San Mateo Blvd NE, Albuquerque, NM 87109 | Albuquerque | 87109 |
| 328 | Cinemark | NM | Albuquerque Rio 24 + XD (Albuquerque, NM) |  4901 Pan American Fwy NE, Albuquerque, NM 87109 | Albuquerque | 87109 |
| 329 | Cinemark | NV | Las Vegas Samstown 18 (Las Vegas, NV) | 5111 Boulder Hwy, Las Vegas, NV 89122 | Las Vegas | 89122 |
| 330 | Cinemark | NV | Las Vegas South Point 16 + XD (Las Vegas, NV) | 9777 S Las Vegas Blvd, Las Vegas, NV 89183 | Las Vegas | 89183 |
| 331 | Regal | NV | Village Square Stadium 18 (Las Vegas, NV) | 9400 W Sahara Ave, Las Vegas, NV 89117 | Las Vegas | 89117 |
| 332 | Cinemark | NV | Summit Sierra 16 (Reno, NV) | 13965 South Virginia Street,, Reno, NV 89511 | Reno | 89511 |
| 333 | Regal | NY | Crossgates Mall 18 + IMAX (Albany, NY) | 1 Crossgates Mall Rd, Albany, NY 12203 | Albany | 12203 |
| 334 | Regal | NY | Kaufman Astoria Stadium 14 & RPX (Astoria, NY) | 35-30 38th St, Astoria, NY 11101 | Astoria | 11101 |
| 335 | Regal | NY | Binghamton Stm 12 | 900 Front St, Binghamton, NY 13905 | Binghamton | 13905 |
| 336 | Regal | NY | Elmwood Regal Center 16 (Buffalo, NY) | 2001 Elmwood Ave, Buffalo, NY 14207 | Buffalo | 14207 |
| 337 | Regal | NY | UA Farmingdale 10 (Farmingdale, NY) | 20 Michael Ave, Farmingdale, NY 11735 | Farmingdale | 11735 |
| 338 | Regal | NY | Culver Ridge Plaza 16 (Irondequoit, NY) | 2255 East Ridge Road, Irondequoit, NY 14622 | Irondequoit | 14622 |
| 339 | Regal | NY | Nanuet Mall Stadium 12 & RPX (Nanuet, NY) | 6201 Fashion Dr, Nanuet, NY 10954 | Nanuet | 10954 |
| 340 | Regal | NY | New Roc City Stadium 18 + IMAX & RPX (New Rochelle, NY) | 33 Lecount Pl, New Rochelle, NY 10801 | New Rochelle | 10801 |
| 341 | AMC | NY | Empire 25 | 234 W 42nd St, New York, NY 10036 | New York | 10036 |
| 342 | Regal | NY | E-Walk Stadium 13 & RPX (New York, NY) | 247 W 42nd St, New York, NY 10036 | New York | 10036 |
| 343 | Regal | NY | Regal Niagara Falls Stadium 12 (Niagara Falls, NY) | 720 Builders Way, Niagara Falls, NY 14304 | Niagara Falls | 14304 |
| 344 | Regal | NY | Galleria Mall 16 (Poughkeepsie, NY) | 2001 South Road Poughkeepsie, NY 12601 | Poughkeepsie | 12601 |
| 345 | Cinemark | NY | Tinseltown 16 + IMAX (Rochester, NY) |   2291 Buffalo Rd, Rochester, NY 14624 | Rochester | 14624 |
| 346 | Regal | NY | Staten Island Stadium 16 + RPX (Staten Island, NY) |   2474 Forest Ave, Staten Island, NY 10303 | Staten Island | 10303 |
| 347 | AMC | NY | Stony Brook 17 | 2196 Nesconset Hwy, Stony Brook, NY 11790 | Stony Brook | 11790 |
| 348 | Regal | NY | Regal Destiny USA Stadium 19 IMAX & RPX (Syracuse, NY) | 9586 Destiny USA Dr, Syracuse, NY 13204 | Syracuse | 13204 |
| 349 | Regal | NY | Eastview Mall 13 (Victor, NY) | 70 Eastview Mall Drive, Victor, NY 14564 | Victor | 14564 |
| 350 | AMC | NY | Palisades 21 And Imax | 4403 Palisades Center Dr, West Nyack, NY 10994 | West Nyack | 10994 |
| 351 | Regal | NY | Transit Center Stadium 18 + IMAX (Williamsville, NY) | 6707 Transit Rd, Williamsville, NY 14221 | Williamsville | 14221 |
| 352 | Cinemark | OH | The Greene 14 + IMAX (Beavercreek, OH) | 4489 Glengarry Dr, Beavercreek, OH 45440 | Beavercreek | 45440 |
| 353 | Cinemark | OH | Cinemark Oakley Station + XD (Cincinnati, OH) | 3025 Disney St, Cincinnati, OH 45209 | Cincinnati | 45209 |
| 354 | Cinemark | OH | Western Hills 14 (Cincinnati, OH) |  5870 Harrison Ave, Cincinnati, OH 45248 | Cincinnati | 45248 |
| 355 | Cooperative Thtrs | OH | Atlas Eastgate Cinemas 10 (Cleveland, OH) | 1345 Som Center Rd, Cleveland, OH 44124 | Cleveland | 44124 |
| 356 | AMC | OH | Columbus 10 |   5275 Westpointe Plaza Drive, Columbus, OH 43228 | Columbus | 43228 |
| 357 | Cinemark | OH | Polaris 18 + XD (Columbus, OH) | 1071 Gemini Pl, Columbus, OH 43240 | Columbus | 43240 |
| 358 | Cinemark | OH | Movies 12 (Columbus, OH) |  2570 Bethel Rd, Columbus, OH 43220 | Columbus | 43220 |
| 359 | Marcus | OH | Marcus Crosswoods Cinema (Columbus, OH) | 200 Hutchinson Ave, Columbus, OH 43235 | Columbus | 43235 |
| 360 | AMC | OH | Dublin Village 18 | 6700 Village Pkwy, Dublin, OH 43017 | Dublin | 43017 |
| 361 | AMC | OH | Grove City 14 | 4218 Buckeye Pkwy, Grove City, OH 43123 | Grove City | 43123 |
| 362 | Cinemark | OH | Huber Heights 16 (Huber Heights, OH) |  7737 Waynetowne Blvd, Dayton, OH 45424 | Huber Heights | 45424 |
| 363 | Regal | OH | Deerfield Towne Center Stadium 16 (Mason, OH) |   5500 Deerfield Blvd, Mason, OH 45040 | Mason | 45040 |
| 364 | Cinemark | OH | Fallen Timbers 14 + XD (Maumee, OH) | 2300 Village Drive Bldg #1700, Maumee, OH 43537 | Maumee | 43537 |
| 365 | Cinepolis | OH | Cinépolis Dayton | 10251 Penny Ln, Miamisburg, OH 45342 | Miamisburg | 45342 |
| 366 | Cinemark | OH | Milford 16 (Milford, OH) | 500 Rivers Edge Dr, Milford, OH 45150 | Milford | 45150 |
| 367 | Cinemark | OH | Cinemark Movies 10 (North Canton, OH) |  6284 Dressler Rd NW, North Canton, OH 44720 | North Canton | 44720 |
| 368 | Cinemark | OH | Levis Commons 12 (Perrysburg, OH) |  2005 Hollenbeck Dr, Perrysburg, OH 43551 | Perrysburg | 43551 |
| 369 | Regal | OH | Richmond Town Square Stadium 20 (Richmond Heights, OH) | 631 Richmond Road, Richmond Heights, OH 44143 | Richmond Heights | 44143 |
| 370 | AMC | OH | Solon 16 | 6185 Enterprise Pkwy, Solon, OH 44139 | Solon | 44139 |
| 371 | Cinemark | OH | Cinemark 14 (Strongsville, OH) |  17450 Southpark Center, Strongsville, OH 44136 | Strongsville | 44136 |
| 372 | Cinemark | OH | Franklin Park 16 + XD (Toledo, OH) |  5001 Monroe St, Toledo, OH 43623 | Toledo | 43623 |
| 373 | Cinemark | OH | Valley View 24 + XD (Valley View, OH) |  6001 Canal Rd, Valley View, OH 44125 | Valley View | 44125 |
| 374 | Cinemark | OH | Dayton South 16 + XD (West Carrollton, OH) |  195 Mall Woods Dr, Dayton, OH 45449 | West Carrollton | 45449 |
| 375 | AMC | OH | West Chester 18 | 9415 Civic Centre Blvd, West Chester Township, OH 45069 | West Chester Township | 45069 |
| 376 | AMC | OK | Oakwood Mall 8 | 4125 W Owen K Garriott Rd, Enid, OK 73703 | Enid | 73703 |
| 377 | AMC | OK | Northpark 7 | 12100 N May Ave, Oklahoma City, OK 73120 | Oklahoma City | 73120 |
| 378 | Cinemark | OK | Cinemark Tinseltown 20 + XD (Oklahoma City, OK) | 6001 N M.L.K. Ave, Oklahoma City, OK 73111 | Oklahoma City | 73111 |
| 379 | Harkins | OK | Harkins Bricktown 16 | 150 E. Reno Ave., Oklahoma City, OK 73104 | Oklahoma City | 73104 |
| 380 | AMC | OK | Owasso 12 |   12601 East 86th St N, Owasso, OK 74055 | Owasso | 74055 |
| 381 | Cinemark | OK | Cinemark 17 + IMAX (Tulsa, OK) | 10802 E 71st St, Tulsa, OK 74133 | Tulsa | 74133 |
| 382 | AMC | OK | West End Pointe 8 | 12825 NW 10th St, Yukon, OK 73099 | Yukon | 73099 |
| 383 | Cinemark | OR | Beaverton Cedar Hills 16 (Beaverton, OR) | 3200 SW Hocken Ave, Beaverton, OR 97005 | Beaverton | 97005 |
| 384 | Regal | OR | Movies On Tv Stadium 16 (Hillsboro, OR) | 2929 SW 234th Ave, Hillsboro, OR 97123 | Hillsboro | 97123 |
| 385 | Cinemark | OR | Tinseltown 15 (Medford, OR) | 651 Medford Center, Medford, OR 97504 | Medford | 97504 |
| 386 | Cinemark | OR | Century Clackamas Town Center + XD (Portland, OR) | 12000 SE 82nd Ave #3000, Happy Valley, OR 97086 | Portland | 97086 |
| 387 | Cinemark | OR | Portland Eastport Plaza (Portland, OR) | 4040 SE 82nd Ave, Portland, OR 97266 | Portland | 97266 |
| 388 | Cinemark | OR | Cinemark 17 (Springfield, OR) | 2900 Gateway St, Springfield, OR 97477 | Springfield | 97477 |
| 389 | Regal | OR | Regal Bridgeport Village Stadium 18 & IMAX (Tigard, OR) |   7329 SW Bridgeport Rd, Tigard, OR 97224 | Tigard | 97224 |
| 390 | AMC | PA | Allentown 16 |   1700 Catasauqua Rd, Allentown, PA 18109 | Allentown | 18109 |
| 391 | New Vision | PA | Tilghman square |  4608 Broadway, Allentown, PA 18104 | Allentown | 18104 |
| 392 | AMC | PA | Neshaminy 24 |   660 Neshaminy Mall, Bensalem, PA 19020 | Bensalem | 19020 |
| 393 | AMC | PA | Bloomsburg 11 | 1879 Columbia Blvd, Bloomsburg, PA 17815 | Bloomsburg | 17815 |
| 394 | AMC | PA | Camp Hill 12 | 3432 Simpson Ferry Rd, Camp Hill, PA 17011 | Camp Hill | 17011 |
| 395 | Regal | PA | Regal Dickson City Stadium 14 | 3909 Commerce Blvd, Dickson City, PA 18519 | Dickson City | 18519 |
| 396 | Regal | PA | Downingtown Cinema Stadium 16 + IMAX (Downingtown, PA) |   100 Quarry Rd, Downingtown, PA 19335 | Downingtown | 19335 |
| 397 | Regal | PA | Barn Plaza Stadium 14 (Doylestown, PA) |   1745 S Easton Rd, Doylestown, PA 18901 | Doylestown | 18901 |
| 398 | Cinemark | PA | Tinseltown 17 (Erie, PA) | 1910 Rotunda Dr, Erie, PA 16509 | Erie | 16509 |
| 399 | Regal | PA | Regal Harrisburg Mall Stadium 14 |   3501 Paxton St, Harrisburg, PA 17111 | Harrisburg | 17111 |
| 400 | Regal | PA | King of Prussia Stadium + IMAX + RPX (King Of Prussia, PA) |   300 Goddard Blvd, King of Prussia, PA 19406 | King Of Prussia | 19406 |
| 401 | Regal | PA | Manor Stadium 16 (Lancaster, PA) | 1246 Millersville Pike, Lancaster, PA 17603 | Lancaster | 17603 |
| 402 | Regal | PA | Oxford Valley Theatre Stadium 14 (Langhorne, PA) |   403 Middletown Blvd, Langhorne, PA 19047 | Langhorne | 19047 |
| 403 | Regal | PA | Regal Lebanon Valley Stadium 10 |   2200 Lebanon Valley Mall Road, Lebanon, PA 17042 | Lebanon | 17042 |
| 404 | Cinemark | PA | Cinemark Ctr Township 12 (Monaca, PA) | 99 Wagner Rd, Monaca, PA 15061 | Monaca | 15061 |
| 405 | Cinemark | PA | Cinemark Monroeville Mall 12 & XD (11/8) (Monroeville, PA) | 600 Mall Cir Dr, Monroeville, PA 15146 | Monroeville | 15146 |
| 406 | Cinemark | PA | Moosic 20 + XD (Moosic, PA) | 40 Glenmaura National Blvd, Moosic, PA 18507 | Moosic | 18507 |
| 407 | Regal | PA | Marketplace @ Oaks Stadium 24 (Oaks, PA) | 180 Mill Rd, Oaks, PA 19456 | Oaks | 19456 |
| 408 | Regal | PA | Regal Williamsport Lycoming Mall 12 | 965 Lycoming Mall Cir, Muncy, PA 17756 | Pennsdale | 17756 |
| 409 | Cinemark | PA | University 6 (Philadelphia, PA) | 6 University Mews, Philadelphia, PA 19139 | Philadelphia | 19139 |
| 410 | AMC | PA | South Hills Village 10 |   700 Fort Couch Rd, Pittsburgh, PA 15241 | Pittsburgh | 15241 |
| 411 | Cinemark | PA | Cinemark North Hills + XD (9/19) (Pittsburgh, PA) | 851 Providence Blvd, Pittsburgh, PA 15237 | Pittsburgh | 15237 |
| 412 | AMC | PA | Pottsgrove 12 | 110 Upland Square Dr, Pottstown, PA 19464 | Pottstown | 19464 |
| 413 | AMC | PA | Fairground 10 | 3050 N 5th Street Hwy, Reading, PA 19605 | Reading | 19605 |
| 414 | Cinemark | PA | Cinemark Robinson Township + XD (Robinson Township, PA) | 2100 Settler's Ridge Center Drive, Pittsburgh, PA 15205 | Robinson Township | 15205 |
| 415 | AMC | PA | Selinsgrove 12 |   1 Susquehanna Valley Mall Dr, Selinsgrove, PA 17870 | Selinsgrove | 17870 |
| 416 | Cinemark | PA | Pittsburgh Mills Mall 18 + IMAX (Tarentum, PA) | 425 Pittsburgh Mills Cir, Tarentum, PA 15084 | Tarentum | 15084 |
| 417 | Regal | PA | Crown Center Stadium 14 (Washington, PA) |   1500 W Chestnut St, Washington, PA 15301 | Washington | 15301 |
| 418 | AMC | PA | Waterfront 22 |   300 W Waterfront Dr, West Homestead, PA 15120 | West Homestead | 15120 |
| 419 | AMC | PA | Williamsport 11 | 300 W 4th St, Williamsport, PA 17701 | Williamsport | 17701 |
| 420 | Natl Amuse | RI | Providence Place 16 with IMAX (Providence, RI) | 10 Providence Pl, Providence, RI 02903 | Providence | 02903 |
| 421 | Regal | SC | Columbiana Grande Stadium 14 (Columbia, SC) |   1250 Bower Pkwy, Columbia, SC 29212 | Columbia | 29212 |
| 422 | Regal | SC | Hollywood Stadium 20 - Greenville & RPX (Greenville, SC) |   1029 Woodruff Rd, Greenville, SC 29607 | Greenville | 29607 |
| 423 | Regal | SC | Charles Towne Square Stm 18 | 2401 Mall Dr, North Charleston, SC 29406 | North Charleston | 29406 |
| 424 | AMC | SC | Rock Hill 7 | 2150 Cherry Rd, Rock Hill, SC 29730 | Rock Hill | 29730 |
| 425 | Regal | SC | Simpsonville Stadium 14 & IMAX (Simpsonville, SC) | 780 South St, Simpsonville, SC 29681 | Simpsonville | 29681 |
| 426 | AMC | SC | Spartanburg 7 | 1640 John B White Sr Blvd, Spartanburg, SC 29301 | Spartanburg | 29301 |
| 427 | Cinemark | SD | Century Stadium 14 + XD (Sioux Falls, SD) | 2400 S Carolyn Ave, Sioux Falls, SD 57106 | Sioux Falls | 57106 |
| 428 | Cinemark | SD | Century East at Dawley Farm (Sioux Falls, SD) | 1101 S Highline Pl, Sioux Falls, SD 57110 | Sioux Falls | 57110 |
| 429 | AMC | TN | ANTIOCH 8 | 901 Bell Rd, Antioch, TN 37013 | Antioch | 37013 |
| 430 | AMC | TN | Eastridge 18 | 5080 South Terrace, Chattanooga, TN 37412 | Chattanooga | 37412 |
| 431 | Regal | TN | Hamilton Place 10-17 (Chattanooga, TN) | 2000 Hamilton Place Blvd, Chattanooga, TN 37421 | Chattanooga | 37421 |
| 432 | Regal | TN | Regal Clarksville Stadium 16 |   1810 Tiny Town Rd, Clarksville, TN 37042 | Clarksville | 37042 |
| 433 | AMC | TN | Thoroughbred 20 | 633 Frazier Dr, Franklin, TN 37067 | Franklin | 37067 |
| 434 | AMC | TN | Windsor Square 7 | 175 S Seven Oaks Dr, Knoxville, TN 37922 | Knoxville | 37922 |
| 435 | Malco | TN | Malco Wolfchase Cinema Grill (Memphis, TN) | 2766 N Germantown Pkwy, Memphis, TN 38133 | Memphis | 38133 |
| 436 | Regal | TN | Hollywood Stadium 27 & RPX - Nashville (Nashville, TN) | 719 Thompson Lane, Nashville, TN 37204 | Nashville | 37204 |
| 437 | Cinemark | TN | Tinseltown 14 (Oak Ridge, TN) | 755 Main St W, Oak Ridge, TN 37830 | Oak Ridge | 37830 |
| 438 | Cinemark | TX | Cinemark Abilene and XD (Abilene, TX) | 672 E Overland Trail, Abilene, TX 79601 | Abilene | 79601 |
| 439 | Cinemark | TX | Cinemark 16 Allen + XD (Allen, TX) | 921 SH 121, Allen, TX 75013 | Allen | 75013 |
| 440 | Cinemark | TX | Hollywood 16 (Amarillo, TX) |  9100 Canyon Dr, Amarillo, TX 79119 | Amarillo | 79119 |
| 441 | Cinemark | TX | Southpark Meadows 14 (Austin, TX) | 9900 I-35, Austin, TX 78748 | Austin | 78748 |
| 442 | Independent Reporting | TX | FilmDesi (Austin, TX) | 13729 Research Blvd., #1500, Austin, TX 78750 | Austin | 78750 |
| 443 | Cinemark | TX | Tinseltown USA 15 (Beaumont, TX) | 3855 I-10, Beaumont, TX 77705 | Beaumont | 77705 |
| 444 | Cinemark | TX | Cinemark Hill Country Galleria 14 (Bee Cave, TX) |  12812 Hill Country Blvd, Bee Cave, TX 78738 | Bee Cave | 78738 |
| 445 | AMC | TX | Burleson 14 | 301 W Rendon Crowley Rd, Burleson, TX 76028 | Burleson | 76028 |
| 446 | 8K Cinemas | TX | Venetian Cinemas (Carrollton, TX) | 2661 Midway Rd STE 200, Carrollton, TX 75006 | Carrollton | 75006 |
| 447 | Cinemark | TX | Cedar Hills 14 (Cedar Hill, TX) | 280 Uptown Blvd, Cedar Hill, TX 75104 | Cedar Hill | 75104 |
| 448 | Cinemark | TX | Cinemark Cedar Park 12 (Cedar Park, TX) | 1335 E Whitestone Blvd, Cedar Park, TX 78613 | Cedar Park | 78613 |
| 449 | Cinemark | TX | College Station + XD (College Station, TX) | 1401 Earl Rudder Fwy, College Station, TX 77845 | College Station | 77845 |
| 450 | AMC | TX | Corpus 16 | 5218 Silverberry Dr, Corpus Christi, TX 78417 | Corpus Christi | 78417 |
| 451 | Cinemark | TX | Century 16 + IMAX (Corpus Christi, TX) |  6685 S Padre Island Dr, Corpus Christi, TX 78412 | Corpus Christi | 78412 |
| 452 | Cinemark | TX | Dollar Cinema 7 (Corpus Christi, TX) | 5858 So. Padre Island Drive, Corpus Christi, TX 78412 | Corpus Christi | 78412 |
| 453 | Cinemark | TX | Cinemark 12 + XD (Cypress, TX) | 25720 Northwest Fwy, Cypress, TX 77429 | Cypress | 77429 |
| 454 | Cinemark | TX | Cinemark 17 + IMAX (Dallas, TX) |  11819 Webb Chapel Rd, Dallas, TX 75234 | Dallas | 75234 |
| 455 | Cinemark | TX | Cinemark 14 (Denton, TX) | 2825 Wind River Ln, Denton, TX 76210 | Denton | 76210 |
| 456 | AMC | TX | East Pointe 12 | 8300 Gateway Blvd E #200, El Paso, TX 79907 | El Paso | 79907 |
| 457 | Cinemark | TX | Cinemark West + XD (El Paso, TX) | 7440 Remcon Cir, El Paso, TX 79912 | El Paso | 79912 |
| 458 | Cinemark | TX | Cinemark Cielo Vista Mall + XD (El Paso, TX) | 8401 Gateway Blvd W, El Paso, TX 79925 | El Paso | 79925 |
| 459 | Cinepolis | TX | Cinépolis Euless | 2601 Brazos Blvd, Euless, TX 76039 | Euless | 76039 |
| 460 | AMC | TX | Forney 12 | 600 FM 548, Forney, TX 75126 | Forney | 75126 |
| 461 | AMC | TX | Hulen 10 | 6330 Hulen Bend Blvd, Fort Worth, TX 76132 | Fort Worth | 76132 |
| 462 | Cinemark | TX | Cinemark Alliance Towne Center + XD (Fort Worth, TX) | 9228 Sage Meadow Trail, Fort Worth, TX 76177 | Fort Worth | 76177 |
| 463 | AMC | TX | Stonebriar Mall 24 | 2601 Preston Rd #300, Frisco, TX 75034 | Frisco | 75034 |
| 464 | Cinemark | TX | Cinemark Frisco Square + XD (Frisco, TX) | 5655 Frisco Square Blvd, Frisco, TX 75034 | Frisco | 75034 |
| 465 | Cinemark | TX | Hollywood USA Garland |  4040 S Shiloh Rd, Garland, TX 75041 | Garland | 75041 |
| 466 | Cinemark | TX | Grand Prairie 15 (Grand Prairie, TX) |  220 W Westchester Pkwy, Grand Prairie, TX 75052 | Grand Prairie | 75052 |
| 467 | AMC | TX | Grapevine Mills 30 | 3150 Grapevine Mills Pkwy, Grapevine, TX 76051 | Grapevine | 76051 |
| 468 | Cinemark | TX | Cinemark Tinseltown 17 + XD (Grapevine, TX) | 911 TX-114, Grapevine, TX 76051 | Grapevine | 76051 |
| 469 | Cinemark | TX | Movies 10 Harlingen |  629 N 13th St, Harlingen, TX 78550 | Harlingen | 78550 |
| 470 | AMC | TX | Studio 30 - Hou |   2949 Dunvale Rd, Houston, TX 77063 | Houston | 77063 |
| 471 | AMC | TX | Houston 8 |   510 Texas Ave, Houston, TX 77002 | Houston | 77002 |
| 472 | Cinemark | TX | Memorial City 16 (Houston, TX) | 310 memorial city way Houston TX 77024 | Houston | 77024 |
| 473 | Cinemark | TX | Tinseltown 290 16 + XD (Houston, TX) | 12920 Northwest Fwy, Houston, TX 77040 | Houston | 77040 |
| 474 | Regal | TX | Houston Marque Stadium 23 & IMAX (Houston, TX) |   7620 Katy Fwy, Houston, TX 77024 | Houston | 77024 |
| 475 | Regal | TX | Edwards West Oaks Mall Stadium 14 & RPX | 700 West Oaks Mall Houston, TX 77082 | Houston | 77082 |
| 476 | AMC | TX | Irving 10 | 4205 W Pioneer Dr, Irving, TX 75061 | Irving | 75061 |
| 477 | Regal | TX | Macarthur Marketplace Stadium 16 (Irving, TX) | 8505 Walton Blvd, Irving, TX 75063 | Irving | 75063 |
| 478 | Cinemark | TX | Cinemark 19 + XD (Katy, TX) | 1030 N Grand Pkwy, Katy, TX 77449 | Katy | 77449 |
| 479 | AMC | TX | Brazos 14 | 100 TX-332, Lake Jackson, TX 77566 | Lake Jackson | 77566 |
| 480 | Cinemark | TX | Lancaster-Desoto 14 (Lancaster, TX) | 3250 W Pleasant Run Rd, Lancaster, TX 75146 | Lancaster | 75146 |
| 481 | Cinemark | TX | Mall Del Norte (Laredo, TX) |  5300 San Dario Ave, Laredo, TX 78041 | Laredo | 78041 |
| 482 | Cinemark | TX | Cinemark 15 (Lewisville, TX) |  2401 Stemmons Fwy, Lewisville, TX 75067 | Lewisville | 75067 |
| 483 | Regal | TX | Longview Stadium 14 & RPX (Longview, TX) | 3070 N Eastman Rd, Longview, TX 75605 | Longview | 75605 |
| 484 | Cinemark | TX | Movies 16 + XD (Lubbock, TX) | 5721 58th Street, Lubbock, TX 79424 | Lubbock | 79424 |
| 485 | Cinemark | TX | Cinemark Mansfield 12 + XD (Mansfield, TX) | 2041 US-287 #901, Mansfield, TX 76063 | Mansfield | 76063 |
| 486 | Cinemark | TX | McAllen Main Place | 1800 S 16th St, McAllen, TX 78503 | McAllen | 78503 |
| 487 | Cinemark | TX | Movies 14 (McKinney, TX) | 1701 S Central Expy, McKinney, TX 75069 | McKinney | 75069 |
| 488 | AMC | TX | Mesquite 10 | 227 US-80, Mesquite, TX 75150 | Mesquite | 75150 |
| 489 | Cinemark | TX | Movies 10 Brownsville | 3471 Old Hwy 77, Brownsville, TX 78520 | Brownsville | 78520 |
| 490 | Cinemark | TX | Odessa 12 (Odessa, TX) |  4221 Preston Smith Rd, Odessa, TX 79762 | Odessa | 79762 |
| 491 | Cinemark | TX | Hollywood Usa 20 (Pasadena, TX) | 2101 E. Beltway 8, Pasadena, TX 77503 | Pasadena | 77503 |
| 492 | Cinemark | TX | Cinemark 12 + XD (Pearland, TX) | 3311 Silverlake Village Dr, Pearland, TX 77581 | Pearland | 77581 |
| 493 | Cinemark | TX | Tinseltown 20 + XD (Pflugerville, TX) | 15436 F.M. 1825, Pflugerville TX 78660 | Pflugerville | 78660 |
| 494 | Cinemark | TX | Stone Hill Town Center (Pflugerville, TX) | 500 Limestone Commercial Dr, Pflugerville, TX 78660 | Pflugerville | 78660 |
| 495 | Cinemark | TX | Cinemark West Plano 20 + XD (Plano, TX) | 3800 Dallas Pkwy, Plano, TX 75093 | Plano | 75093 |
| 496 | Cinemark | TX | Legacy 24 + XD (Plano, TX) | 7201 North Central Expressway, Plano, TX 75025 | Plano | 75025 |
| 497 | Cinemark | TX | Movies 10 (Plano, TX) | 1818 Coit Rd, Plano, TX 75075 | Plano | 75075 |
| 498 | Regal | TX | Grand Parkway 22 (Richmond, TX) | 7301 West Grand Parkway South, Richmond, TX 77407 | Richmond | 77407 |
| 499 | Cinemark | TX | Cinemark Roanoke and XD (8/13) (Roanoke, TX) |  850 TX-114, Roanoke, TX 76262 | Roanoke | 76262 |
| 500 | Cinemark | TX | Cinemark Rockwall 12 (Rockwall, TX) | 2125 Summer Lee Dr, Rockwall, TX 75032 | Rockwall | 75032 |
| 501 | Cinemark | TX | Cinemark 12 (Rosenberg, TX) | 3420 Vista Dr, Rosenberg, TX 77471 | Rosenberg | 77471 |
| 502 | Cinemark | TX | Movies 8 (Round Rock, TX) |  2132 N Mays St #800, Round Rock, TX 78664 | Round Rock | 78664 |
| 503 | Cinemark | TX | Dollar Movies 16 (San Antonio, TX) | 5063 NW Loop 410, San Antonio, TX 78229 | San Antonio | 78229 |
| 504 | Cinemark | TX | Cinemark McCreless Mall 10 (San Antonio, TX) |  4224 S New Braunfels Ave, San Antonio, TX 78223 | San Antonio | 78223 |
| 505 | AMC | TX | First Colony 24 |   3301 Town Center Blvd, Sugar Land, TX 77479 | Sugar Land | 77479 |
| 506 | Cinemark | TX | Cinemark Temple & XD (12/20) (Temple, TX) | 4501 S General Bruce Dr, Temple, TX 76502 | Temple | 76502 |
| 507 | Cinemark | TX | Tinseltown 22 + XD (The Woodlands, TX) | 1600 Lake Robbins Dr, The Woodlands, TX 77380 | The Woodlands | 77380 |
| 508 | Regal | TX | Lone Star 19 & IMAX (Tomball, TX) |   24720 Tomball Pkwy, Tomball, TX 77375 | Tomball | 77375 |
| 509 | Regal | TX | Regal Tyler Rose 14 |   1250 S SW Loop 323, Tyler, TX 75701 | Tyler | 75701 |
| 510 | AMC | TX | Galaxy 16 | 333 S Valley Mills Dr, Waco, TX 76710 | Waco | 76710 |
| 511 | Regal | TX | Regal Jewel 16 | 7200 Woodway Dr, Waco, TX 76712 | Waco | 76712 |
| 512 | Cinemark | TX | Cinemark 18 + XD (Webster, TX) | 20915 Gulf Fwy, Webster, TX 77598 | Webster | 77598 |
| 513 | Cinemark | TX | Cinemark 14 (Wichita Falls, TX) |  2915 Glenwood Ave, Wichita Falls, TX 76308 | Wichita Falls | 76308 |
| 514 | Harkins | TX | Harkins South lake 14 | 1450 Plaza Pl., Southlake, TX 76092 | Southlake | 76092 |
| 515 | Cinemark | UT | Salt Lake City 16 (Salt Lake City, UT) | Century 16, 125 E 3300 S, South Salt Lake, UT 84115 | Salt Lake City | 84115 |
| 516 | Cinemark | UT | Cinemark Movies 9 (Sandy, UT) | 9539 So. 700 E #2, Sandy, UT 84070 | Sandy | 84070 |
| 517 | Cinemark | UT | Cinemark 24 + XD (West Jordan, UT) | 7301 Jordan Landing Blvd, West Jordan, UT 84084 | West Jordan | 84084 |
| 518 | Cinemark | UT | Cinemark West Valley + XD (West Valley City, UT) | 5412 West High Market Drive, West Valley City UT 84120 | West Valley City | 84120 |
| 519 | Regal | VA | Ballston Common Stadium 12 (Arlington, VA) | 671 N Glebe Rd, Arlington, VA 22203 | Arlington | 22203 |
| 520 | Regal | VA | Regal Fox Stadium 16 & IMAX, Brambleton Town Center | 22875 Brambleton Plaza, Brambleton, VA 20148 | Ashburn | 20148 |
| 521 | Cinemark | VA | Tinseltown 14 (Bristol, VA) | 3004 Linden Dr, Bristol, VA 24202 | Bristol | 24202 |
| 522 | Cinemark | VA | Centreville 12 (Centreville, VA) | 6201 Multiplex Dr, Centreville, VA 20121 | Centreville | 20121 |
| 523 | Cinemark | VA | Fairfax Corner 14 + XD (Fairfax, VA) | 11900 Palace Way, Fairfax, VA 22030 | Fairfax | 22030 |
| 524 | 8K Cinemas | VA | DC Cinemas (Falls Church, VA) | 7291 Arlington Blvd, Falls Church, VA 22042 | Falls Church | 22042 |
| 525 | Regal | VA | Virginia Center Stadium 20 (Glen Allen, VA) | 10091 Jeb Stuart Pkwy, Glen Allen, VA 23059 | Glen Allen | 23059 |
| 526 | AMC | VA | Worldgate 9 | 13025 Worldgate Dr, Herndon, VA 20170 | Herndon | 20170 |
| 527 | Regal | VA | Kingstowne Stadium 16 & RPX (Kingstowne, VA) |   5910 Kingstowne Center, Alexandria, VA 22315 | Kingstowne | 22315 |
| 528 | Regal | VA | Manassas 14 with IMAX (Manassas, VA) |   10091 Jeb Stuart Pkwy, Glen Allen, VA 23059 | Manassas | 23059 |
| 529 | Regal | VA | Commonwealth Stadium 20 with IMAX (Midlothian, VA) | 5001 Commonwealth Centre Pkwy, Midlothian, VA 23112 | Midlothian | 23112 |
| 530 | Cinemark | VA | Military Circle 18 (Norfolk, VA) | 880 N Military Hwy, Norfolk, VA 23502 | Norfolk | 23502 |
| 531 | Regal | VA | Macarthur Center Stadium 18 & RPX (Norfolk, VA) | 300 Monticello Ave Ste 330, Norfolk, VA 23510 | Norfolk | 23510 |
| 532 | Regal | VA | Valley View Grande 16 (Roanoke, VA) |   4730 Valley View Blvd NW, Roanoke, VA 24012 | Roanoke | 24012 |
| 533 | Regal | VA | Countryside Stadium 20 (Sterling, VA) | 45980 Regal Plaza, Sterling, VA 20165 | Sterling | 20165 |
| 534 | Cinemark | WA | Lincoln Square Cinema 16 with IMAX (Bellevue, WA) | 700 Bellevue Way NE, Bellevue WA 98004 | Bellevue | 98004 |
| 535 | Cinemark | WA | Cinemark Bistro Bellevue (Bellevue, WA) |  Lincoln Square North Tower, 700 Bellevue Way NE #310, Bellevue, WA 98004 | Bellevue | 98004 |
| 536 | AMC | WA | Gateway 8 | 2501 S Gateway Center Plaza, Federal Way, WA 98003 | Federal Way | 98003 |
| 537 | Cinemark | WA | Century Sea Tac Mall 16 (Federal Way, WA) |  2001 S Commons, Federal Way, WA 98003 | Federal Way | 98003 |
| 538 | Regal | WA | Columbia Mall Stadium 8 (Kennewick, WA) |   1321 N Columbia Center Blvd, Kennewick, WA 99336 | Kennewick | 99336 |
| 539 | Cinemark | WA | Century Capital Mall 14 (Olympia, WA) | 625 Black Lake Blvd. SW, Olympia, WA 98502 | Olympia | 98502 |
| 540 | Regal | WA | Bella Botega Stadium 11 Cinema (Redmond, WA) |   8890 161st Avenue Northeast, Redmond, WA 98052 | Redmond | 98052 |
| 541 | Regal | WA | Meridian 16 (Seattle, WA) | 1501 7th Ave, Seattle, WA 98101 | Seattle | 98101 |
| 542 | Cinemark | WA | Century Point Ruston + XD (Tacoma, WA) | 5057 Main St, Tacoma, WA 98407 | Tacoma | 98407 |
| 543 | Regal | WA | Parkway Plaza Stadium 12 (Tukwila, WA) |   5910 S 180th St, Tukwila, WA 98188 | Tukwila | 98188 |
| 544 | Marcus | WI | Marcus Majestic Cinema of Brookfield 16 with UltraScreen (Brookfield, WI) |  770 Springdale Rd, Waukesha, WI 53186 | Brookfield | 53186 |
| 545 | New Vision | WI | Fitchburg 18 + IMAX (Fitchburg, WI) | 6091 McKee Rd, Fitchburg, WI 53719 | Fitchburg | 53719 |
| 546 | Marcus | WI | Marcus Hollywood Cinema 14 with UltraScreen (Grand Chute, WI) | 513 N Westhill Blvd, Appleton, WI 54914 | Grand Chute | 54914 |
| 547 | Marcus | WI | Marcus Green Bay East Cinema 12 (Green Bay, WI) |  1000 Kepler Dr, Green Bay, WI 54311 | Green Bay | 54311 |
| 548 | Cinemark | WI | Tinseltown 14 (Kenosha, WI) | 7101 70th Ct, Kenosha, WI 53142 | Kenosha | 53142 |
| 549 | Marcus | WI | Marcus Point Cinema 15 with UltraScreen (Madison, WI) |  7825 Big Sky Dr, Madison, WI 53719 | Madison | 53719 |
| 550 | Marcus | WI | Marcus Ridge Cinema 19 (New Berlin, WI) | 5200 S Moorland Rd, New Berlin, WI 53151 | New Berlin | 53151 |
| 551 | Marcus | WI | Marcus Palace Cinema 14 with UltraScreen (Sun Prairie, WI) |  2830 Hoepker Rd, Sun Prairie, WI 53590 | Sun Prairie | 53590 |
| 552 | AMC | WI | Mayfair 18 |   2500 N Mayfair Rd M186, Wauwatosa, WI 53226 | Wauwatosa | 53226 |
| 553 | Cinemark | WV | Cinemark 12 (Barboursville, WV) | 500 E Mall Rd, Barboursville, WV 25504 | Barboursville | 25504 |
| 554 | Regal | WV | Regal Nitro Stadium 12 |   12 JW Dr, Charleston, WV 25313 | Charleston | 25313 |
| 555 | Regal | WY | Regal Fox 6-Laramie | 505 S 20th St, Laramie, WY 82070 | Laramie | 82070 |
| | Canada | | | | | |
| 556 | Independent Reporting | ON | Albion Cinema (New Sound System) | 1530 Albion Road, Etobicoke, Toronto , ON, CANADA - M9V1B4 | Toronto | |
| 557 | Independent Reporting | ON | Woodside Cinema (New Sound System) | 1571 Sandhurst circle, Scarborough , ON,CANADA -M1V5K2 | Scarborough | |
| 558 | Independent Reporting | ON | York Cinemas (New Silver Screens & Dloby 7.1 sound) | 115 York Blvd, Richmond Hill, ON, CANADA-L4B 3B4 | Richmond | |
| 559 | Independent Reporting | ON | Cine Starz | 250 Centrum Blvd, Orléans, ON K1E 3J1- Ottawa ,ON, CANADA | Ottawa | |
| 560 | Independent Reporting | ON | Lake Shore Cinemas Windsor | Lake Shore Cinemas, Windsor, ON, Canada | Windsor | |
| 561 | Independent Reporting | QC | Cine Starz, Plaza Côte-des-Neiges | 6700 ch. Côte-des-Neiges, Montreal, QC H3S 2B2 | Montreal | |
| 562 | Independent Reporting | BC | Rio Theatre | 1660 E.Brodway, Vancouver ,BC, CANADA | Vancouver | |
| 563 | Independent Reporting | BC | Hollywood 3 Cinemas | Surrey , BC, CANADA | Surrey | |
| 564 | Independent Reporting | BC | Dunbar Theater | 4555 Dunbar St, Vancouver, BC V6S 2G7 | Vancouver | |
| 565 | Independent Reporting | BC | Victoria VIC theatre | 808 douglas st, Victoria, BC, Canada | Victoria | |
| 566 | Independent Reporting | AB | Globe Cinema | 621 – 8 Avenue SW, Calgary, AB, CANADA | Calgary | |
| 567 | Independent Reporting | AB | Princess Theatre | 10337 82 Ave, Edmonton, AB T6E 1Z9 | Edmonton | |
| 568 | Independent Reporting | NS | Acadia Cinema | Cooperative to 450 Main St. Wolfville, Halifax, NS , B4P 1E2. | Halifax | |
| 569 | Independent Reporting | SK | Rainbow Cinemas Regina | 3806 Albert St, Regina, SK, Canada | Regina | |
| 570 | Independent Reporting | SK | Rainbow Cinemas Saskatoon | Saskatoon, SK, Canada | Saskatoon | |
| 571 | Independent Reporting | MB | Cinematheque | 100 Arthur St, Winnipeg , MB R3B 1H3 | Winnipeg | |
| 572 | Independent Reporting | MB | Strand theatre | 11 station road, Thompson , MB R8N 0N4 | Thompson | |
| | | | | | | |
| | | | | | | |
| | | | | | | |
| | | | | | | |
| | | | | | | |
| | | | | | | |
| | | | | | | |
| | | | | | | |
| | | | | | | |
| | | | | | | |
Telugu360 is always open for the best and bright journalists. If you are interested in full-time or freelance, email us at
Krishna@telugu360.com