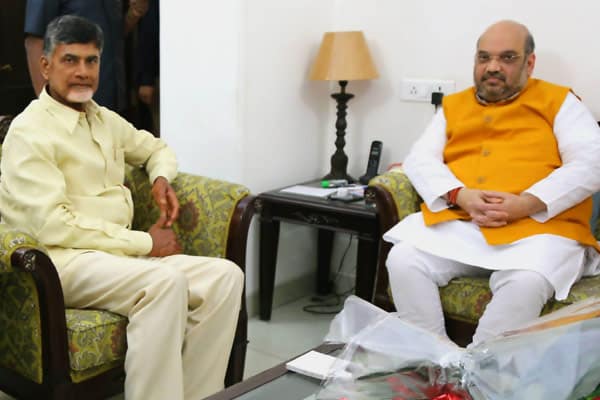 BJP President Amit Shah on Friday spoke to Andhra Pradesh Chief Minister N. Chandrababu Naidu over phone, hours after his Telugu Desam Party decided to intensify its fight over the Centre not honouring the commitments made to the state.
Shah rang up the TDP chief and invited him for talks over the commitments made at the time of bifurcation of the state. Naidu conveyed to the BJP chief that he will send a delegation led by the central minister Sujana Chowdary.
According to TDP sources, Naidu made it clear that there will be no compromise on the commitments made in Andhra Pradesh Reorganisation Act 2014. He conveyed to Shah that the TDP's fight is not against the BJP but for the justice to the state.
The BJP President called up Naidu a couple of hours hours after TDP Parliamentary Party meeting chaired by Naidu decided to step up the fight over the raw deal meted out to the state in Union Budget 2018-19.
The TDP, a partner in BJP-led NDA government at the Centre, had stalled proceedings in Parliament during the first leg of the budget session and it is gearing up to continue the protest in the second leg, beginning next week.
TDP MP Galla Jayadev told reporters after the meeting that if the Finance Bill is not amended to make allocations to the state to fulfil the commitments, the party will oppose it.
Jayadev said since the Centre had promised to extend all assistance under the special package, the TDP had agreed for the same but as nothing has been done so far, they were pressing for their original demand of special category status. The MP said the party decided to take the issue to the national level by writing letters to all the parties, their floor leaders and MPs.
"If necessary we will go to the court," said the Lok Sabha member.
Meanwhile, Andhra Pradesh State Planning Commission Vice-Chairman Kutumba Rao, who along with TDP MP Rammohan Naidu met Amit Shah in Delhi on Thursday, said the talks were disappointing.
He said instead of mooting a formula as assured by Finance Minister Arun Jaitley, Amit Shah asked them to present their formula. Kutumba Rao the state had already made its demands clear and hence the Centre should respond to them instead of asking it to present a formula.
The TDP has been demanding that the Centre make financial allocations to the state to fulfil the commitments made to Andhra Pradesh at the time of its bifurcation in 2014 to carve out Telangana state.
Stating that residuary state of Andhra Pradesh suffered huge loss due to the division, the TDP is urging the Centre to handhold the state till it comes up at par with other southern states.