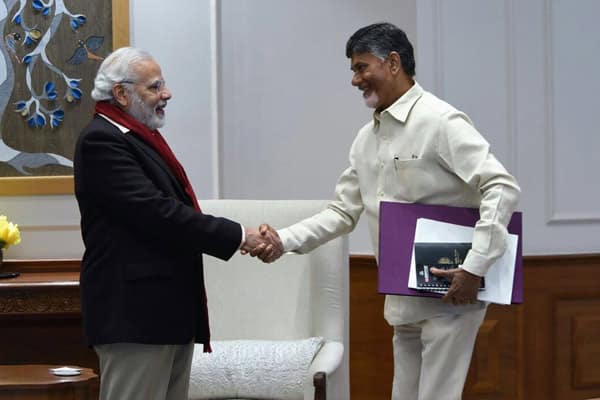 The recent meeting of Andhra Pradesh Chief Minister Nara Chandrababu Naidu with Prime Minister Narendra Modi in New Delhi has more to it than meets the eye. The meeting comes after a gap of one year and as expected, the CM had given the Prime Minister a long list of demands totalling Rs 16,447 crores. He also poured out AP's financial problems, budget deficit, Centre's aid commitment made during the passage of AP State Reorganization Bill (bifurcation) and how the BJP government has reneged on special status to AP in his 19-page memorandum submitted to Modi. After one hour of talks, Chandrababu returned only with 'assurances.'
The positive thing, however, is Modi was able to spare an hour for AP Chief Minister who is hoping for adequate funds for the state's development in the next month's Union Budget. TDP members of Parliament had already met Finance Minister Arun Jaitley to impress upon him the need for funds and CM's meeting with Modi was a follow-up and to keep himself in the good books of PM.
It's playing a diplomatic game with finesse, unlike some other chief ministers, political analysts say. With 2019 parliament and Assembly elections looming large, BJP and TDP need each other. 'Do they' is another observation, of course. Though they are allies, their differences are well known and there is strong public resentment against the saffron party's leaders for their step-motherly attitude towards AP. And, BJP has no grassroots level support in the Andhra region. People's unhappiness with the Centre is also being exploited by the main opposition YSR Congress Party. In a way, that's a blessing in disguise for TDP as it reflects the overall public sentiment.
To say BJP doesn't have any hope of getting a sizable number of seats in AP in 2019 is an understatement. Even if the talk of BJP-YSRCP joining hands comes true, the former will be the loser in an alliance. But BJP needs Lok Sabha seats that have to be won either on its own or in tie-up with TDP or YSRCP. For Amit Shah and company, striking a deal with the incumbent chief minister is easier than negotiating terms with an untested aspiring chief minister.
When we look at this future political scenario, it is obvious that Chandrababu seems to have played his cards cautiously well during his Delhi meeting. Surely, the subtle message Chandrababu is capable of delivering with an uncanny smile, wouldn't have lost on Modi. Now, the ball is in PM's court.